Fees plan set to fail as weakest universities charge top rates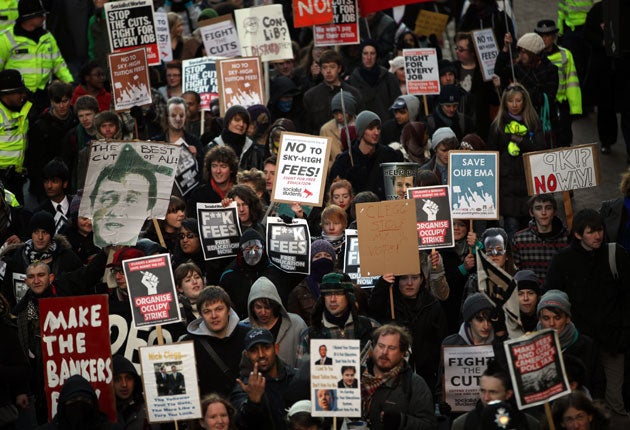 Some of the worst universities in the country plan to charge students close to the maximum fee of £9,000 a year and not one of them plans to charge average fees of £6,000 a year or less – the level which ministers said would be the norm when they announced the controversial proposals. Most of the bottom 20 plan to charge more than £7,500 a year.
Universities had until yesterday to indicate privately if they intended to charge more that £6,000 a year for students entering higher education in 2012 – although they have until later this month to set their exact fee levels.
The Independent understands that every single university in England and Wales has expressed an interest in charging more and that the Office for Fair Access, which universities have to inform of their plans, is taking on additional staff to cope. At least 60 universities will announce they intend to charge £9,000 a year. This is despite a pledge by David Cameron that universities would only be able to charge £9,000 in "exceptional circumstances".
All this could end up costing the Government £1bn more than budgeted each year as it will have to provide upfront fees to universities, long before students repay them.
It comes as new figures reveal that almost a third of universities are still admitting fewer pupils from state schools than they should be. Thirty per cent of UK universities – 47 in total – are not meeting their targets, the Higher Education Statistics Agency reported. This includes 14 out of 20 of the leading Russell Group universities, considered to be the top institutions in the UK.
Under the new system universities which want to charge more than £6,000 a year per student will have to agree principles to broaden access for those from poorer backgrounds.
Last year, when fee levels were set, ministers expected that this would only apply to the most elite universities – and suggested that average fees across the 130-odd universities in the UK would be no more than £7,500.
That now looks like a significant underestimate. So far 22 universities have declared their planned tuition fee, with an average charge of £8,684.78. Even those which consistently come in the bottom 20 of university league tables say privately that their fees will be "significantly more" than £6,000.
Buckinghamshire New University – where more than half of graduates are still unemployed six months after leaving – is yet to announce its fees but confirmed that it would set them above £6,000. "We have looked at various options. In the current circumstances, like everybody, we have to balance the books," said a spokeswoman.
At Anglia Ruskin University – where nearly one in four students drop out during their course – a spokesman said: "We are still deliberating and our proposals to our Board are that we should charge more than £6,000 and less than £9,000."
At least two more of the worst performers admitted, anonymously, that they are looking at fees between £6,000 and £9,000. "It's not going to be around the lower end. It will be at the upper end of the £6,000 to £9,000 range," said one.
The high fee levels are a huge embarrassment to ministers – particularly the Liberal Democrat Business Secretary, Vince Cable, who is in charge of the reforms.
According to the Complete University Guide, compiled in conjunction with The Independent, the 20 top-performing universities could boast that 71.5 to 88.9 per cent of their students got a graduate job within six months of leaving. Among the 20 worst performers it fell to 46 to 64.7 per cent. The Government points out that only graduates who are earning more than £21,000 a year will have to repay the fees.
In a Commons exchange yesterday, Simon Hughes, the Government's advocate on access to education, asked Mr Cable: "Are you still reminding universities that it is unreasonable to charge fees significantly above the cost of providing the course and asking them to make sure that they honour what they said they would charge some months ago when they set their final fees for the coming weeks?"
Mr Cable replied that universities could restrict fees to £6,000 if they made efficiency savings.
Last month it emerged that the Government had assumed Offa would be able to put a cap on fees charged by institutions – but the head of the body, Sir Martin Harris, pointed out that it did not have the power to do so.
He told a conference in London: "The Treasury made assumptions... they thought that Offa was going to be in a position to have legal powers to impose certain fee levels.
"How they came to that view I cannot say because it was obvious to me from day one that [Offa] didn't [have the authority]. Now the Government is in some difficulty in limiting expenditure to the levels that the Treasury has assumed."
In order to balance the Treasury's books, ministers are investigating reducing "central" funding to universities in other areas such as research. They are also looking at a scheme whereby some universities would have to cut the number of undergraduates they are allowed to take on by 10 per cent. If they wanted to expand beyond this the Government would only fund them at a lower rate.
However this would have the effect of forcing students to pay more for their education, while not getting the benefit of the extra resources from the university they were studying at.
£83,791 The amount a student will have to pay back if they borrow £39,000 (£9,000 a year in fees and £4,000 a year for maintenance over a three-year course), then begin their career on average earnings, get a £2,000 pay rise a year, and pay back entire debt after 25 years.
Unis with declared fees
Aston University: £9,000
University of Bath: £9,000
Bishop Grosseteste University: £7,500
University of Cambridge: £9,000
Coventry University: £7,500-£9,000
University of Exeter: £9,000
University of Essex: £9,000
Imperial College London: £9,000
Lancaster University: £9,000
Leeds Metropolitan University: £8,500
London Metropolitan: £6,000-£7,000
St Mary's University College: £8,000
University of Manchester: £9,000
University of Oxford: £9,000
University Campus Suffolk: £8,000
University College London: £9,000
Join our commenting forum
Join thought-provoking conversations, follow other Independent readers and see their replies