Four win Independent's MBA awards
Women on top with record entries in our 12-year campaign to find talent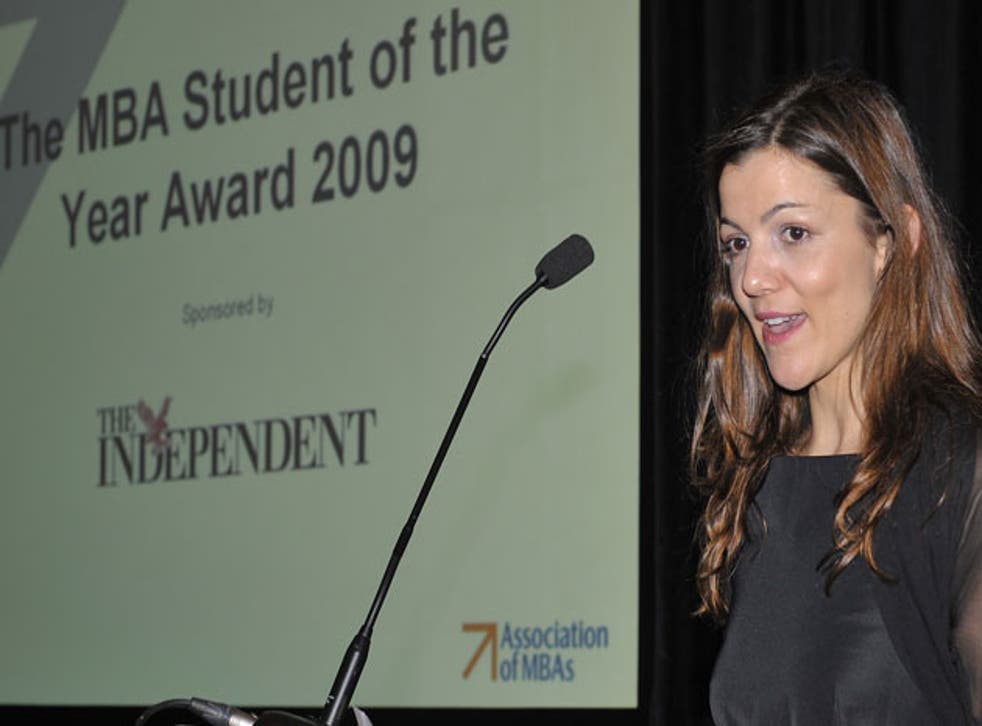 Two years ago, Cambridge graduate Lindsey Nefesh-Clarke, 38, was in the Philippines, working with families in the slums when a huge fire broke out in Cebu City. She was suddenly thrown into helping with emergency relief.
"It was a dangerous time," she said. "The local people faced a critical shortage of food, shelter and medical care as well as the risks of epidemics."
When she left to return to Paris where she works as director of the Philippines programme for the humanitarian organisation, Enfants d'Asie, she resolved to improve her skills by taking an MBA at the business school, ESCP Europe, to make her a more effective manager.
She has done that, and more. Last Thursday, her ability was rewarded when she won The Independent MBA Student of the Year award at a gala dinner in London. This competition, set up by The Independent 12 years ago and run with the Association of MBAs (Amba), recognises exceptional MBA students with a talent for leadership. It now draws entrants from every continent.
"The criteria used to assess the entrants look at far more than being a good student," said Pippa Watkins, head of student advertising at The Independent and The Independent on Sunday. "They include contributing towards the development of the MBA programme, the business school and the wider environment."
There were 60 entries this year and Hilary Sears, chairman of the Amba board, said: "There were some very good women. This is the first time we have had such good women candidates. We're looking for leaders of society, people who are impressive and can make a difference."
Will Hutton, executive vice-chairman of the Work Foundation, presented awards to the winner and the three runners-up, Jeannette Adu Bobie, of Imperial Business School in London, Tiffany Wang Lam-Balfour, of Shanghai Jiao Tong University in China, and Andres Barragan Montana, of Universidad de los Andes in Bogota, Colombia.
Three of the four are involved in philanthropic work. Kenya-born Adu Bobie, 36, had to overcome immense odds. As a scientist who contracted septicaemia while working in New Zealand studying meningococcal disease, she signed up for an MBA to get her life back. She said: "I learnt new skills with my MBA. Normally, people are sceptical about MBAs but this was really helpful for me."
At 28, Wang Lam-Balfour was the youngest to be shortlisted for the award. Working for UBS Global Asset Management in Chicago, analysing consumer and retail stocks, she noticed that many big companies wanted to expand in China and, conversely, that Chinese companies were beginning to list their shares in the USA.
As a Chinese-American and a Mandarin speaker, she realised she was well-placed to study cultural nuances and to liaise between Eastern and Western businessmen by becoming a corporate diplomat. "I would like to work for a multinational corporation on international business strategy," she said. "I have learnt to work with people, Chinese and other nationalities, across the globe."
The Colombian, Barragan Montana, a former punk rocker, now owns his publishing company and believes passionately that creativity, art and culture need good management to survive. His publishing company is more than about producing books.
"We are in this to educate and move people, to, for example, not go to war with Venezuela," he said.
Nefesh-Clarke: 'I want to take my humanitarian work further'
*After Lindsey Nefesh-Clarke graduated from Cambridge in 1994, she moved to New York to work for Human Rights Watch. Now she lives in Paris and works for the humanitarian organisation Enfants d'Asie, where she helps bring food, shelter, medical care and education to slum children. In June 2009, she graduated from the business school ESCP Europe.
"I wanted the business management leadership skills to take my humanitarian work further," she says. "I want to work in the field of micro-finance, which is about enabling poor people to borrow small amounts to help themselves and their businesses flourish. This is one of the most important ways to alleviate poverty.
Ms Nefesh-Clarke is also the founder of the Women's Worldwide Web, a not-for-profit online platform that seeks to give women small loans to help them make a living and get an education.
Join our new commenting forum
Join thought-provoking conversations, follow other Independent readers and see their replies