'Shameful': Children set to miss out on free school meals amid closures, school leaders warn
Parents are struggling to access food parcels amid lockdown measures, heads say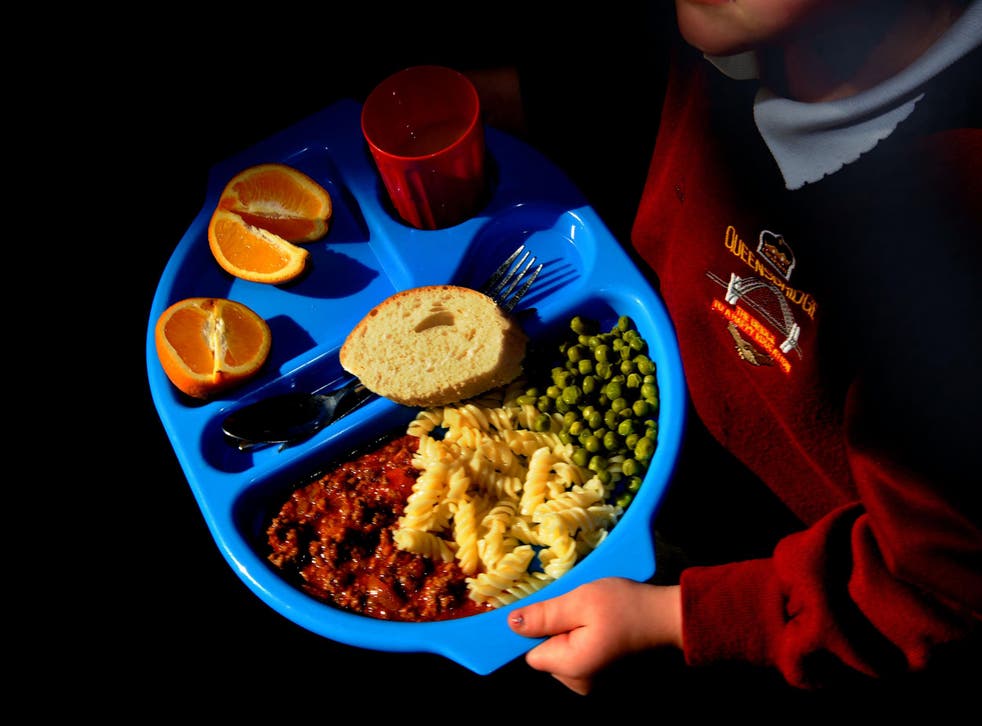 Children who need free school meals could miss out on food parcels amid stricter coronavirus lockdown measures and delays to the government's voucher scheme, heads have warned.
Ensuring that food is collected or delivered to all families in need is becoming more difficult amid the pandemic, prompting fears that children at home during closures could go hungry.
School leaders are calling on the government to introduce its national scheme, which will provide schools with supermarket vouchers to children eligible for free school meals, urgently.
It comes as a headteacher in Bristol criticised a free school meals contractor after it charged the school £11 per child for a stringent weekly ration of food which 185 pupils required.
Peter Overton, head of Easton CE Academy, said it was "shameful" that children who relied on the food as their main meal were offered some biscuits, crisps, yoghurts, bread, butter and cheese.
Speaking to The Independent, Mr Overton said parents who arrived to pick up the weekly food parcel were "underwhelmed" and some questioned whether it was a daily portion.
He added that a large number of families struggled to collect the meals despite desperately needing it amid the coronavirus pandemic. "Families are a bus ride away and they don't want to risk it," he said.
Last week, the government committed to developing a national scheme to provide schools with supermarket and shop vouchers that they can hand out to families with free school meal pupils.
But so far, no details have been released so headteachers have been left to work out how best to support around 1.3 million children entitled to free school meals amid lockdown measures.
Mr Overton wants the national scheme, announced a week ago, to be rolled out as soon as possible to ensure all eligible children receive high quality food.
"A number of parents have contacted us and said they have very little food in the house and they don't have the income to go and buy some," he said.
Some schools have already begun contacting local supermarkets directly to offer families vouchers – but some heads fear going down this route as they say there is a lack of supplies in shops.
Ruth Wilkes, head of Castle Newnham school in Bedford, believes the scheme needs to be a national one to ensure families do not go to the local shop with a voucher to find everything is sold out.
On Monday, staff spent nearly three hours dropping off weekly food hampers to homes to ensure children had healthy ingredients to make meals.
But the numbers needing food are expected to more than double by next week and Ms Wilkes is worried that some children may miss out on food amid closures.
Mark Cottingham, head of Shirebrook Academy near Mansfield, started the week delivering grab-bags to drop-off points in the rural community. But he has now moved to collections to protect school staff.
He added that he was concerned that supermarkets would have limited supplies – but also he is worried that the attainment gap between poorer children and their more affluent peers will widen amid closures.
On Wednesday, MPs announced that they would look at the impact of coronavirus on education, children and young people.
The education select committee is launching an inquiry that will look at how the outbreak may have longer-term implications for pupils – particularly for the most vulnerable children.
Professor Becky Francis, CEO of the Education Endowment Foundation charity, said: "The attainment gap will almost certainly widen when children are not in school. But there are practical steps we can take to minimise the size of the gaps that may open up.
"By providing opportunities for children to access support from their teachers online and giving parents clear advice about their role."
Julie McCulloch, director of policy at the Association of School and College Leaders, said: "At the moment schools are operating their own systems to provide free school meals to eligible children whether they are at home or in school. For example, this may involve working with supermarkets to provide vouchers which can be exchanged for meals, or with existing contractors to source food parcels."
On plans to introduce a national voucher system for children on free school meals, she added: "We have made it clear to the government that this needs to be sorted out as soon as possible."
Addressing concerns about the food offered in Bristol, a city council spokesperson said: "We are in contact with our free school meals provider and are investigating this situation as a matter of urgency."
A spokesperson for Chartwells, the provider of the free school meals in Bristol, said the company had apologised to schools and families for the issues providing packed lunches.
They said: "Unfortunately, given the short turnaround time following the government's decision to close schools, and difficulties faced in the food supply chain resulting from Covid-19, we were forced to use contingency suppliers and we recognise the provision was not what we'd hoped to supply.
"Our teams are working hard to ensure every child is fed, and to ensure we meet the varying dietary and logistical needs of schools and their students. These are being reviewed on a regular basis and we are committed to playing our role in the response to coronavirus."
Children and families minister Vicky Ford said: "While schools are closed, they have the flexibility to provide free school meals in the way which works best for them. However, we would always encourage suppliers to work with schools to ensure pupils are provided with healthy and nutritious meals which represent good value for money.
"We are working urgently to set up a national voucher scheme for pupils entitled to free school meals who are staying at home to protect our NHS and save lives. This is a major undertaking and I thank schools for the work they are doing to help support families while it is being set up. We have already said we will reimburse schools for any additional costs incurred."
Register for free to continue reading
Registration is a free and easy way to support our truly independent journalism
By registering, you will also enjoy limited access to Premium articles, exclusive newsletters, commenting, and virtual events with our leading journalists
Already have an account? sign in
Register for free to continue reading
Registration is a free and easy way to support our truly independent journalism
By registering, you will also enjoy limited access to Premium articles, exclusive newsletters, commenting, and virtual events with our leading journalists
Already have an account? sign in
Join our new commenting forum
Join thought-provoking conversations, follow other Independent readers and see their replies