Free schools: Lifting limits on faith selection could boost the number being established, claims charity
Restrictions prevent Churches from expanding the sector, ministers told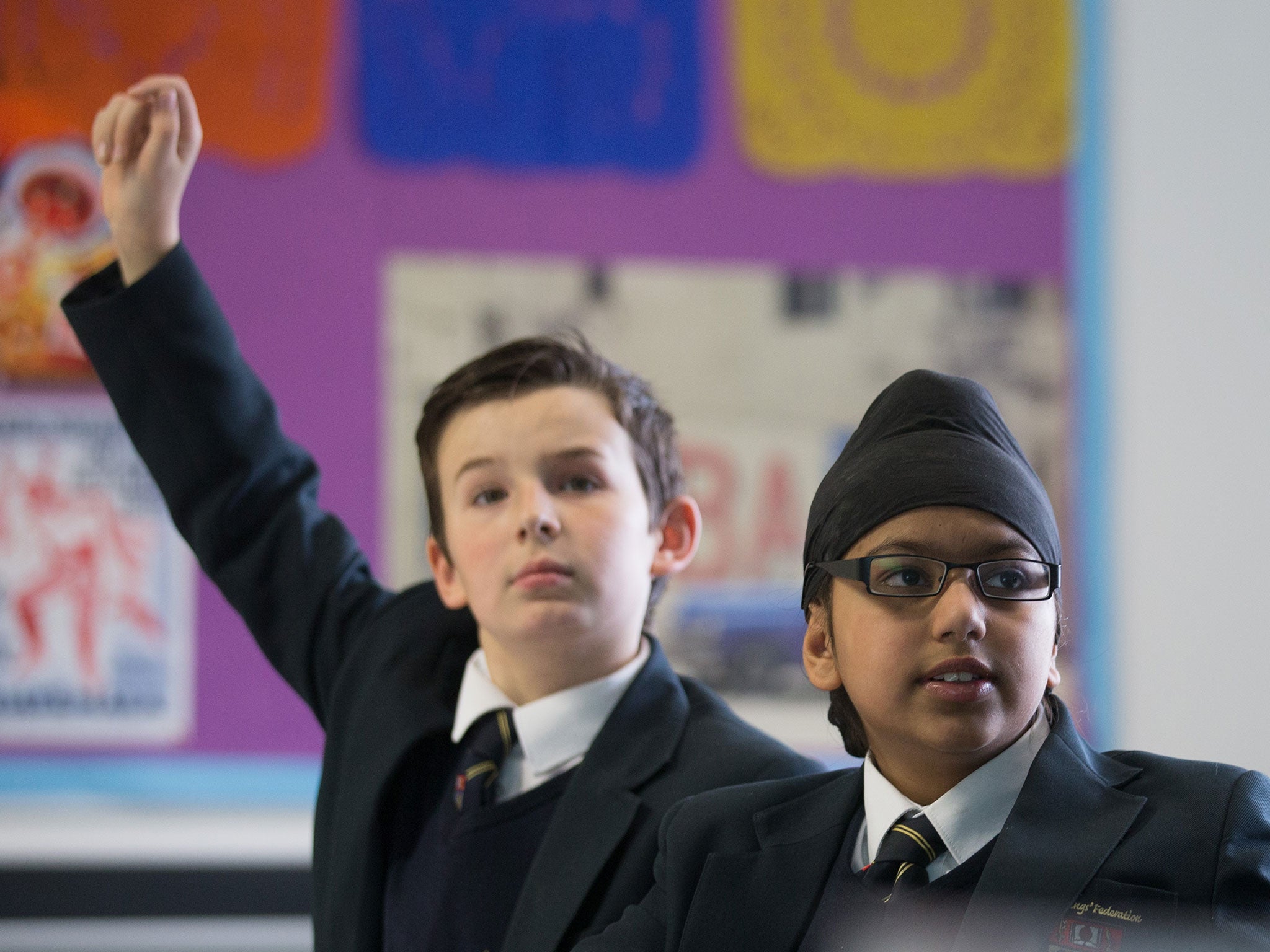 Free schools set up by religious groups should be able to select more pupils from their particular faiths to encourage others to open, a leading figure in the sector has suggested.
Official restrictions currently prevent free schools from choosing more than 50 per cent of children according to the school's chosen faith, resulting in a boycott of the programme by the Roman Catholic Church.
Nick Timothy, director of the New Schools Network – a charity set up to support free schools, which has influence in government circles – said relaxing the limits could boost the number being established. "The rule is deterring good providers from entering the system," said Mr Timothy. "It would be very interesting to see what would happen if it was changed so the Roman Catholic Church could enter the programme.
"I think there should be more diversity in the provision of free schools. Parents like the idea of faith schools and the strong ethos they have."
Such a move is now likely to be raised with ministers in discussions over the future of the programme; about 400 free schools have either already opened or have been given the green light. The Government wants to open another 500 during this parliament.
The idea has proved contentious, however. Rabbi Jonathan Romain, chair of the Accord Coalition – which campaigns for equal access to faith schools – said: "This is an astonishingly regressive proposal and suggests the only way of instilling a particular ethos is to isolate pupils from wider society.
"It also ignores the reality that faith-based free schools have found they have been able to both maintain their identity and be open to children from other backgrounds – why change the formula?"
He said that Accord had written to the Education Secretary, Nicky Morgan, suggesting the opposite – that the 50 per cent limit should be extended to the whole of the state sector. That follows evidence in a report by Accord arguing that selection on grounds of faith had led to a segregation of ethnic groups, which was "pernicious for the growth of mutual understanding and community cohesion in society".
The report cited the instances of four faith schools in areas with large Asian communities that had few pupils from that ethnic group because their admission procedures gave almost exclusive priority to children of their faith. In one, Bury Church of England school, there were no Asian pupils.
Paul Barber, director of the Catholic Education Service, said: "We remain open to the idea of free schools but are currently unable to engage with this programme due to the cap on faith-based admissions.
"The cap prevents the Church meeting demands from Catholic parents for Catholic places and could cause schools to turn Catholic families away on the grounds that they are Catholics. To do so not only contravenes canon law but common sense."
A spokesman for the Department for Education said: "The requirement for all oversubscribed faith free schools to make at least 50 per cent of their places available to those of another or no faith helps to tackle segregation and ensures young people will experience the diversity or religious beliefs that make up modern Britain."
Join our commenting forum
Join thought-provoking conversations, follow other Independent readers and see their replies