Fresh crowded classes scandal - now it's the infants
Political dogma combines with the baby boom to create huge rise in primary-school crush
Jane Merrick
Saturday 20 July 2013 18:34 Comments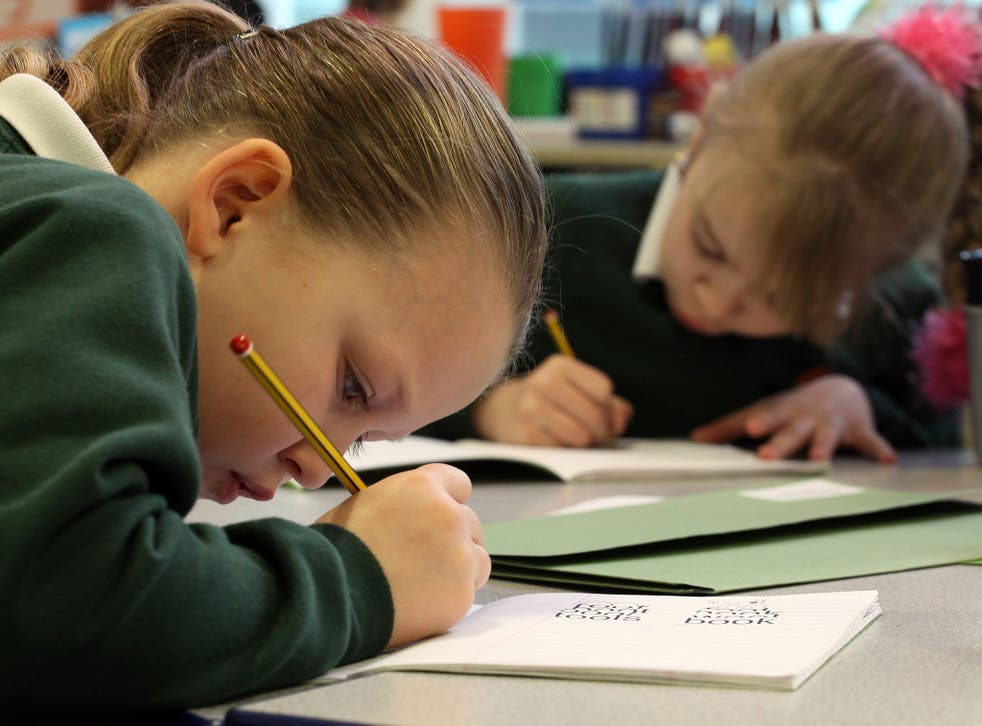 The number of children in infant classes larger than 30 has more than doubled under the coalition Government, official figures revealed yesterday.
Nearly 72,000 pupils aged five to seven are being taught in oversized classes, an increase from 31,265 in 2010, the Department for Education's own data shows. The largest rise came between 2012 and this year, from 47,290 in classes over 30, soaring to 71,935 today.
The figures illustrate the pressure on parents and schools as the number of new classrooms are not keeping pace with the ballooning population, which is growing faster than at any time since the 1950s. Michael Gove, the Education Secretary, ended the limit of one year that a class can remain above 30, and David Cameron has refused to rule out further extensions because of shortages. Money for new classrooms in high-demand areas has been cut, yet at the same time a third of new free schools are being planned where there is already a surplus of places.
While the proportion of pupils is small, and has increased from 2.2 per cent in 2010 to 4.6 per cent of the total children at key stage one, the numbers are nevertheless large and will be alarming to parents.
Experts warn that large class sizes hamper children's ability to learn, particularly at the young ages where pupils' attention is more difficult to hold. The figures apply to all state-funded key stage one classes, including those in academies and free schools.
In areas of acute demand, temporary classrooms are being established to cope with "bulge" years as the effects of a 60 per cent cut in capital spending on education in the 2010 spending review are being felt.
The shadow Education Secretary, Stephen Twigg, said yesterday: "David Cameron and Michael Gove are presiding over a primary school crisis. There is a huge shortfall in school places, and now class sizes are rising again. Tens of thousands of young children are now in large classes, breaching the limits Labour had in place since Michael Gove relaxed the rules."
Christine Blower, general secretary of the National Union of Teachers, said: "Instead of local authorities being funded to address the primary place shortage that is gripping many parts of the country, some councils are instead facing a growing and excessive surplus of unnecessary secondary school places because the Secretary of State has approved new secondary free schools in local areas in which there is demonstrably no need.
"Until the Government takes urgent steps to address this growing crisis, it will be extremely difficult to maintain a limit of 30 children in key stage one classes. This will have a direct impact on the teaching and learning of children."
A report from the Public Accounts Committee earlier this month warned: "In areas where there is pressure on school places and a shortage of suitable land, authorities may have to convert communal spaces and specialist areas (such as libraries or music rooms) into classrooms."
Barking and Dagenham Council is examining plans to rent out a former Woolworths store, an MFI warehouse and even a disused pub to cater for extra schoolchildren.
According to analysis by the Labour Party, there will be a shortfall of 120,000 primary school places this September. The National Audit Office predicts that the primary school population will rise from 3.97 million in 2011/12 to 4.2 million in 2013/14, based on the DfE's figures.
Mr Gove said: "Labour cut 200,000 primary places, slashed the amount spent on areas of population growth, and let immigration soar – and all this in the middle of a baby boom. The coalition government has, however, taken swift action to repair the damage. We have more than doubled funding for new school places."
Register for free to continue reading
Registration is a free and easy way to support our truly independent journalism
By registering, you will also enjoy limited access to Premium articles, exclusive newsletters, commenting, and virtual events with our leading journalists
Already have an account? sign in
Join our new commenting forum
Join thought-provoking conversations, follow other Independent readers and see their replies