From fail to world's best: A lesson from the East End
What can we learn from the remarkable 15-year turnaround at Tower Hamlets' schools?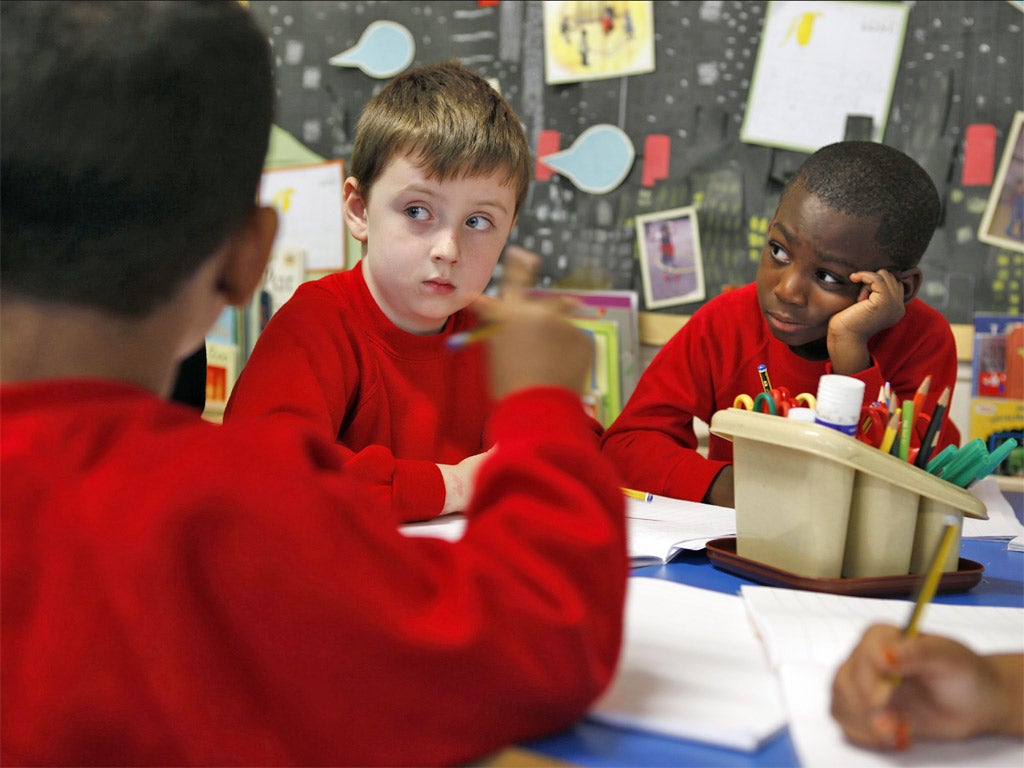 Fifteen years ago, the schools in Tower Hamlets were derided as the worst performing in the country. Things were so bad that Ofsted, the education standards watchdog, insisted that its damning report on them should be presented in full to every councillor in the east London borough to underline how much they were failing local children.
But from today, the history books need a new chapter: a report on education in Tower Hamlets has reached the conclusion that it has some of the best modern urban schools in the world. It is a remarkable achievement for what is one of the poorest boroughs in England, where 57 per cent of pupils are entitled to free school meals and 89 per cent speak English as a second language.
National curriculum test results have shown its schools now post above-average grades for the UK in reading and writing, even outperforming wealthy Kent in English tests for 11-year-olds. It was not always so.
In 1997, the borough came last out of 149 English education authorities in terms of performance. An earlier Ofsted report described reading standards as poor and the quality of teaching often unsatisfactory. The following year, Chris Woodhead, Chief Schools Inspector at the time, was so angered by the standards that he insisted Ofsted's work should be put in front of all councillors.
Since then, the authority has moved to a position where all 15 of its secondary schools are ranked good or outstanding. Its primary schools are also excelling, with no school below the 2012 floor standard of 60 per cent of pupils achieving the required ability in maths and English.
One of its biggest success stories is the 672-pupil Manorfield Primary School, which went from failing to outstanding in Ofsted's eyes in the space of just over a year – one of the four quickest turnarounds seen by inspectors in the watchdog's history.
The school's newly appointed headteacher, Wendy Hick, began involving parents in their children's education and set ambitious targets for the pupils' performance.
The report, by a triumvirate of academics – Professor David Woods, a former senior government adviser, Professor Chris Husbands, director of the University of London's Institute of Education, and Dr Chris Brown, a researcher at the same institute – says Tower Hamlets' transformation is "a genuinely exceptional achievement, worth celebrating, worth understanding, but above all worth learning from".
It adds that one of the authority's proudest boasts is that it achieved the turnaround before any of its schools became academies – showing standards can be improved by local education authorities on their own. One of the ways it sought to improve performance is by reducing truancy and unauthorised absence. Attendance is now above the average for London.
One of the methods it used was to hold discussions with the borough's imams and persuade them to press Muslim families not to take their children out of school for holidays during term time – a move has had a considerable effect in reducing absence.
In addition, the borough set key goals for all schools, giving all pupils targets to hit. With the help of high levels of funding – the borough gains significantly more resources under the Government's pupil premium to help teach disadvantaged pupils because of the large number of children entitled to free school meals – it has been able to entice quality headteachers and other staff to run its schools. It also placed a strong focus on literacy in every primary school.
Remarkably, none of the teachers observed in recent Ofsted reports in the borough has been rated as "inadequate", while the majority were either good or outstanding. The report cites the fact that the council resisted "politically motivated pressure to build new high school academies", believing it had the ability to transform its schools on its own.
"The experience of Tower Hamlets since 1998 [when Ofsted produced its report] is inspirational," it concludes. "It shows that improvement is not only possible but achievable, that improvement in some schools does not need to be bought at the expense of others and that improvement, once attained, can not only be sustained but surpassed.
"As a result, it is not unreasonable to argue that what Tower Hamlets has created are some of the best urban schools in the world."
Key to the success story, the report argues, was the appointment of two energetic heads of its education service – Christine Gilbert, who went on to become Chief Schools Inspector, and Kevan Collins, a former senior adviser at the Department for Education.
Ironically, Collins reckons the election of a BNP councillor to represent the borough in 1994 my have unwittingly been a catalyst for transformation. He said it has acted as "a dynamic for political cohesion, drawing Bengali councillors into politics in the following election when the BNP was defeated – and drawing in councillors with strong ambitions for education".
Oliur Rahman, the council's cabinet member for children, schools and families, said in response to the report: "Education is a top priority of this administration and, as the report points out, we refuse to accept that poverty should hold back our young people from fulfilling their potential."
Join our commenting forum
Join thought-provoking conversations, follow other Independent readers and see their replies