Gaddafi son's LSE thesis 'written by Libyan academic'
College sets up inquiry into Saif Gaddafi's PhD and the £1.5m donation he later made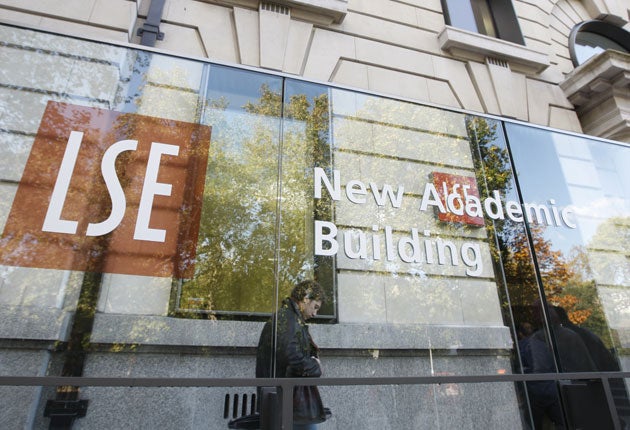 Fresh evidence emerged yesterday revealing how Saif Gaddafi, the son of the Libyan leader, plagiarised his PhD thesis at the London School of Economics. One Libyan academic drafted in to help Saif Gaddafi was later rewarded with an ambassador's posting to Europe. The new details came as a Tory MP called for the LSE's entire governing council to resign. The beleaguered institution also faced allegations that an academic had been pressured to admit a relative of an aide to President Bill Clinton to study there.
The LSE, widely criticised for the way it solicited funding from Libya, resulting in it being dubbed the "Libyan School of Economics", has launched an inquiry into the plagiarism and funding controversy.
Colonel Gaddafi's son enlisted Libyan academics to help ghost-write his thesis, according to Professor Abubakr Buera of Benghazi's Garyounis University. "I learnt that Saif gathered some PhD holders from Garyounis University in Benghazi, Libya, to help him write his doctoral dissertation. Among the people he consulted was a professor of economics who was a graduate from Germany. His name is Dr Menesi; what gives credibility to this allegation is that Dr Menesi, who was then retired, was brought back to active service as a government bank chairman in Libya, then governor to the Central Bank in Libya, then minister of finance, and finally Libya's ambassador to Austria."
Professor Buera described Saif Gaddafi as a "war criminal", and called for the LSE to strip him of his doctorate. "After Saif's stand and lies against the Libyan people, it should be no longer an honour for the LSE to keep him as one of its graduates; from now on, he is being looked down at by many Libyans as a war criminal," he said.
The Libyan embassy in Austria did not respond to requests for comment. The LSE said it has "no evidence" of the allegation.
The university has asked Lord Woolf, the former Lord Chief Justice, to carry out an inquiry into the circumstances in which Saif Gaddafi was awarded a doctorate in 2008, only to make a £1.5m donation to the university the following year. The inquiry followed the resignation of the LSE's director, Howard Davies, after revelations that, as well as the £1.5m donation from the Gaddafi International Charity and Development Foundation (GICDF), the LSE had also benefited from a £2.2m contract with Libya to train its civil servants. Robert Halfon, the Tory MP for Harlow, called for the LSE's entire governing council to resign. "It is the only way the LSE can restore its name," he said.
Among the people who will feature in the inquiry is Professor David Held, the co-director of the Centre for the Study of Global Governance and one of Saif Gaddafi's mentors. He had argued in favour of the grant for his centre being accepted and was appointed a trustee of GICDF in June 2009, but was forced to quit several months later by the LSE's council over concerns of a potential conflict of interests. He denies any impropriety.
But questions about Professor Held were raised over claims that he pressured an admissions tutor to accept the niece of former Clinton aide Sydney Blumenthal on a master's course.
Erik Ringmar, a professor in international relations at Shanghai Jiaotong University, said: "I was David Held's colleague from 2001 until 2007. For the first two years we worked closely together as fellow members of the MSc in comparative politics." He described an incident in late 2002, when Professor Held "insisted I accept a student to our MSc programme who was a relative of Sidney Blumenthal, a Clinton crony. Unusually, I was sent an applicant's file not from the admissions office, as always was the case, but straight from the office of the LSE director – at that time Anthony Giddens. In the [applicant's] file was a handwritten note from 'Sid' to 'Tony,' making the case that accepting his niece to do a degree at the LSE would be a wonderful opportunity to 'continue to deepen our trans-Atlantic ties'."
Professor Ringmar claimed that Professor Held telephoned him and said: "You should consider it very carefully, just read the name again. It's Blumenthal, OK? That Blumenthal'."
He added: "In the end, I accepted her, although her grades were substantially lower than what we usually required. I'm not proud of this but I felt intimidated by all the pressure from Giddens, the LSE director, and from David Held. I was a mere lecturer at the time – and easily intimidated."
The LSE dismissed the claim as that of "a disgruntled member of staff who no longer works at LSE".
The role of Middle Eastern regimes in British universities
From Saddam Hussein to Saif Gaddafi, there appears to be no shortage of would-be benefactors from questionable regimes keen to help British universities. Robin Simcox, a researcher at the Centre for Social Cohesion, which has studied the issue, said controversies were "inevitable". Here are some of the centre's findings:
Iran
£10,000 – University of Durham (2009) joint books, conferences and research with the government.
£100,000 – University of St Andrews (2006) from a former high-ranking member of the regime.
£35,000 – School of Oriental and African Studies (SOAS) (1999) for two studentships.
Saudi Arabia
£8m – University of Cambridge from Prince Alwaleed.
£8m - University of Edinburgh (2008) to establish the Alwaleed Bin Talal Centre.
£1m – Oxford's Middle East Centre (2001) from the King Abdul Aziz Foundation.
£20m – Oxford Centre for Islamic Studies (OCIS) (1997) from King Fahd.
£1m – SOAS (1995) from King Fahd to help establish the Centre for Islamic Studies.
Join our commenting forum
Join thought-provoking conversations, follow other Independent readers and see their replies