Thousands of pupils to receive 'incorrect' grades on GCSE results day
Thousands of pounds in public money to be spent on explaining 'confusing' new GCSE grading system, but experts warn employers still likely to favour those who sat papers under the old system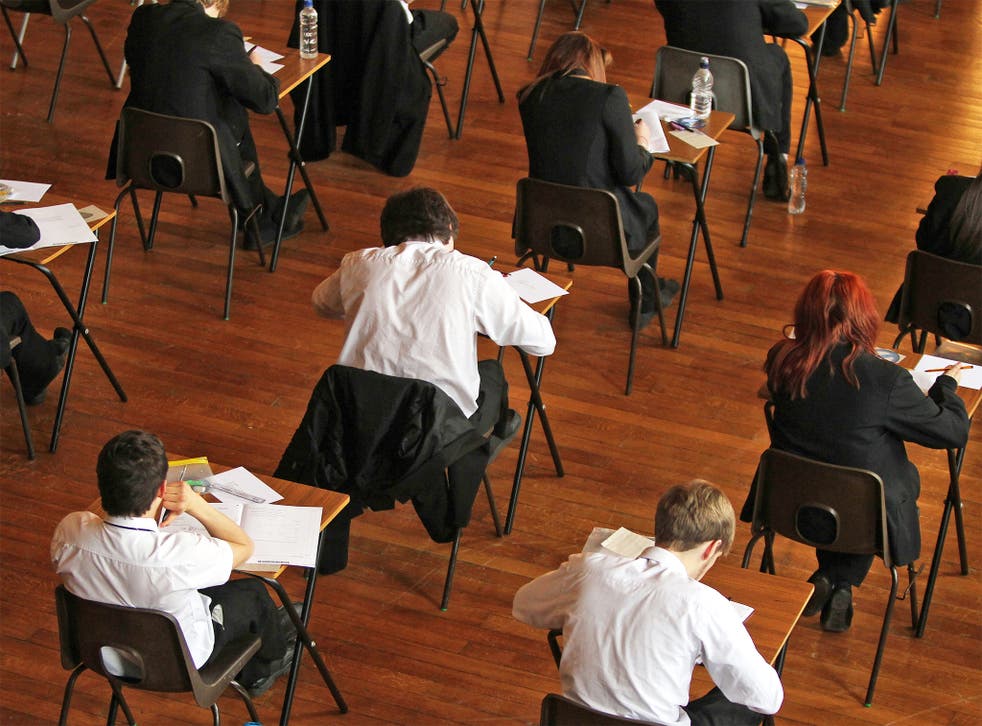 Thousands of GCSE students are set to receive the wrong grades this week under a confusing new marking system that experts warn could cause pupils to lose out on jobs.
Pupils in England taking their exams this year are the first to be awarded numerical grades – from 9, the highest, down to 1 – instead of traditional A*-G grades.
The move comes as part of dramatic curriculum reforms designed to improve the value and reduce inflation of top grades, allowing schools, colleges and employers to better differentiate between candidates.
Could you pass a GCSE exam?
Experts have warned the system is "unreliable", however, and that pupils should expect to find discrepancies within their results on Thursday.
The proportion of pupils who will receive an unreliable grade for their English GCSE in particular is set to rise from 30 per cent to 45 per cent, statisticians predict, as they call for a system where students are awarded percentages rather than grades.
Robert Coe, a professor in Durham University's School of Education, said that in some cases a child's grade will be "not much more than chance".
"Part of the reason for the regrading process was because the top grades had become a bit too common, and you want something that discriminates a bit more," he said.
"But the trade-off is that it is more likely to be wrong, with people awarded a grade that they shouldn't have. When you start to look, it is quite alarming. Individual subject grades can make a huge difference to someone's whole life course. They really do matter."
UK news in pictures

Show all 50
Earlier this week, the Institute of Directors – which represents top UK business leaders – labelled the new GCSE grades "gibberish", warning that employers are likely to favour job candidates with the old-style lettered GCSE grades instead.
Seamus Nevin, head of employment and skills policy at the institute, told TES he believes many employers will only discover that the GCSE grades have changed once they begin receiving CVs from pupils.
He said: "They might think, 'What is this gibberish, and what does it mean, and how has it changed from previous grading systems?'"
"If the employer is time-poor and resource-constrained then they can, on occasions, be quite keen to get through as many [CVs] as possible.
"So if they have a CV that they don't understand, then they might opt for the ones that they do."
Last month it was revealed more than half a million pounds of public money is to be spent on explaining the new numerical system, following widespread confusion over what the changes mean in real terms.
In addition, another £121,500 is set to be spent over the summer publicising the reforms, according to information released in response to a parliamentary question.
Research undertaken by exams regulator Ofqual last year revealed the vast majority of students, schools, parents and employers did not understand the changes.
An Ofqual spokesman said: "With some 600,000 students taking the new GCSEs this summer, it has been essential to communicate these changes to a wide audience, including students, teachers, parents and employers."
The new 9 to 1 grading scale is to be used for the reformed GCSE subjects English language, English literature and maths – taken by pupils this summer.
All GCSE subjects will be revised by 2018 and the changes will be rolled out across all examinations by 2020.
Register for free to continue reading
Registration is a free and easy way to support our truly independent journalism
By registering, you will also enjoy limited access to Premium articles, exclusive newsletters, commenting, and virtual events with our leading journalists
Already have an account? sign in
Register for free to continue reading
Registration is a free and easy way to support our truly independent journalism
By registering, you will also enjoy limited access to Premium articles, exclusive newsletters, commenting, and virtual events with our leading journalists
Already have an account? sign in
Join our new commenting forum
Join thought-provoking conversations, follow other Independent readers and see their replies