Four in five school leaders say tougher GCSEs have detrimental effect on lower-ability students
Pupils are being 'failed' by new qualifications, headteachers say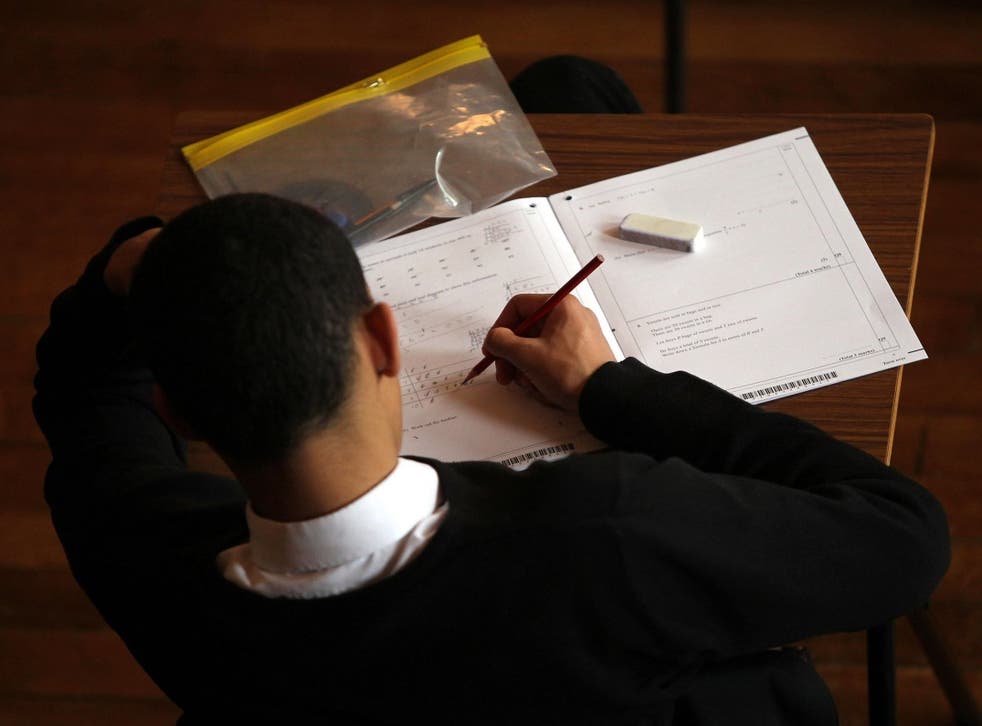 Four in five school leaders think the government's new tough GCSEs are having a detrimental effect on struggling students, survey finds.
Lower-achieving pupils have been left "demoralised" by the exam reforms, school leaders have said.
The findings, from the Association of School and College Leaders (ASCL), have been released ahead of GCSE results day when pupils across England, Wales and Northern Ireland will receive grades.
Eight in 10 school leaders believe that pupils with lower prior attainment are detrimentally affected by the tougher courses, while 79 per cent said the GCSEs are causing higher levels of student stress.
The survey, of more than 500 school leaders in England, also found that virtually all leaders think the new GCSEs, which are being phased in over four years, are more difficult than the old courses.
UK news in pictures

Show all 50
Under the biggest shake-up of exams in England for a generation, GCSEs have been toughened up, with less coursework, and exams at the end of the two-year courses, rather than throughout.
Traditional A*-G grades have been replaced with a 9-1 system, with 9 the highest result.
The headteachers' union is concerned that the exam overhaul has "sacrificed the interests" of the most vulnerable students for the "supposed benefits of raising the bar for the most able".
One school leader told the union: "A large proportion of students are being failed by the new GCSEs.
"Not everyone is suited to them and, while they may be a good pathway for those students going on to A-level or degree level, they are simply not fit for purpose for students who may thrive with a more vocational route.
"These students are made to feel they are constantly failing no matter how hard they work because they struggle to retain the list of endless facts they need for their exams."
An assistant head said: "These have been designed without a thought for low prior attaining or special educational needs (SEN) students.
"I cannot think of anything more dispiriting than going through school thinking every day 'I cannot do this' – but that is the reality for many students."
Another school leader added that the harder exams had left students from disadvantaged backgrounds feeling "more stressed, anxious and depressed", while another said it was "soul-destroying" to see hardworking pupils struggle to cope with the high volume of exams.
Geoff Barton, general secretary of the ASCL, said: "The findings of this survey reflect widespread concern that reformed GCSEs have sacrificed the interests of the most vulnerable students for the supposed benefits of raising the bar for the most able students.
"The government has seen increased rigour as an end in itself without fully considering what it wants the exam system to achieve for all students of all abilities.
"As a result, we now have a set of GCSEs which are extremely hard to access for students with lower prior attainment. This is incredibly stressful and demoralising for these young people."
Mr Barton is calling for the exam system for youngsters to be reviewed to make it "more humane".
A separate poll, from the National Education Union (NEU), found that nearly three in four teachers (73 per cent) say the assessment method of the new GCSEs has made student mental health worse.
In addition, 63 per cent of the 650 members polled said their school started teaching GCSEs before year 10, which they argue puts more pressure on students from a younger age.
Nansi Ellis, NEU assistant general secretary, said the new GCSE exam system is "largely about regurgitating facts with very little time for thinking or deeper learning".
She added that it has led to many students "feeling disillusioned, disengaged and stressed".
Support free-thinking journalism and attend Independent events
A Department for Education spokesperson said: "We reformed GCSEs over a period of several years because employers told us they were failing to prepare young people for the future, and we want to give every child the best start in life and the greatest opportunity to fulfil their potential.
"Exams are an essential part of ensuring that young people have acquired the knowledge and skills they need, but should never be at the expense of a young person's wellbeing. We trust schools to work with parents and support young people so they do their best."
Register for free to continue reading
Registration is a free and easy way to support our truly independent journalism
By registering, you will also enjoy limited access to Premium articles, exclusive newsletters, commenting, and virtual events with our leading journalists
Already have an account? sign in
Register for free to continue reading
Registration is a free and easy way to support our truly independent journalism
By registering, you will also enjoy limited access to Premium articles, exclusive newsletters, commenting, and virtual events with our leading journalists
Already have an account? sign in
Join our new commenting forum
Join thought-provoking conversations, follow other Independent readers and see their replies