Government interference sees pupils flock to English IGCSE exams
Richard Garner
Thursday 22 May 2014 18:50 Comments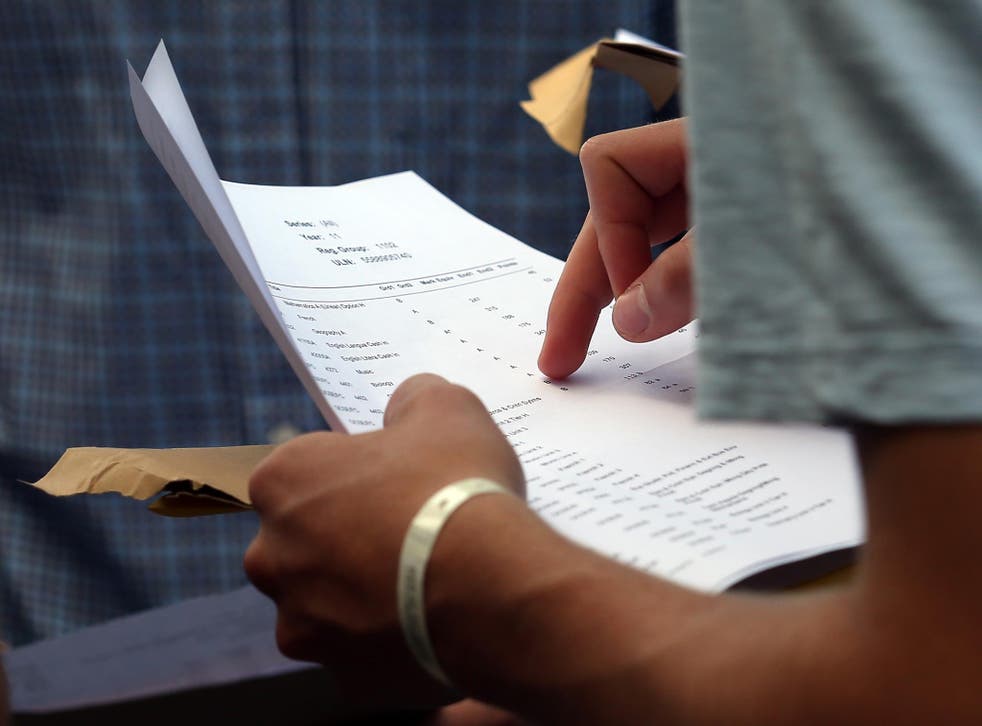 Thousands of pupils have abandoned English GCSE exams this summer as a result of what their teachers term claim is continuous Government interference with the exam.
Figures show a massive 96 per cent rise in the number of students opting for its international equivalent, the IGCSE, modelled on traditional O-level lines, instead.
In all, it means 139,000 students will be sitting the IGCSE this year, 105,000 from year 11.
Brian Lightman, general secretary of the Association of School Colleges, said: "The main reason is that after all that has happened in the last few years teachers lack confidence in how they can forecast the outcomes of their pupils and the advice they should give.
"The structure of the IGCSE has been very attractive to a lot of schools; there is a coursework element in there and more of a choice over the content they can select."
Other heads said it was a better preparation for A-levels with more opportunity for creative writing. In addition, the skills of speaking and listening still count towards a student's final grade, which is no longer the case with the GCSE.
Two years ago, there was a major controversy over the marking of GCSE English as exam boards raised the grade boundaries between the winter and summer sittings following advice from exams regulator Ofqual that marking had been too generous.
This year, for the first time, the accent will be put more heavily on the end-of-course exam, which is now responsible for 60 per cent of the marks compared with 40 per cent previously.
Michael O'Sullivan, chief executive of Cambridge International Examinations, said: "Take-up of Cambridge IGCSE in the UK and worldwide has been growing for several years. In fact exam entries in the UK have grown significantly each year since it was made available to state schools in 2010."
Ofqual, in its statistical bulleting published today, said the switch from GCSE to IGCSE in English "may be as a result of changes made to GCSE English and English language from summer 2014", singling out the decision to downgrade speaking and listening and increase the emphasis on written exam content.
A spokesman for the Department for Education said: "Schools can now choose whether they enter pupils for GCSEs or IGCSEs. It is important that all children take exams that are right for them and in their best interests."
Otherwise, the statistics showed a major fall in the number of pupils entered for their GCSE exams early with numbers falling by 40 per cent to 505,000.
This follows the decision by Education Secretary Michael Gove to only allow the results of a student's first sitting of the exam to count towards league tables ranking schools. In the past, Ofqual and Mr Gove had complained schools were putting in pupils for exams early to allow them to "bank" crucial C grade passes. They would then resit them again until they achieved it.
Education Minister Elizabeth Truss said: "A situation had developed where children were being speculatively entered for GCSEs in the hope they could bank a C grade. If they didn't get a C grade they were being entered again and again until they did. Often this was not being done in the child's best interests but to help schools' league table rankings.
"It was essential we took action and today's figures vindicate our decision. Many more pupils are now taking their GCSEs at the right time, having studied it fully and when they are likely to achieve the best grade they can."
What is the IGCSE?
The IGCSE emerged from the decision to abandon O-levels and the more vocational CSEs back in the 1980s.
Several Commonwealth countries whose students sat O-levels wanted to continue with them and thus the IGCSE was born.
Its strengths, say teachers, are allowing a broader range of studies than the GCSE, with students being allowed to write more discursive essays and engage in creative thinking.
They are not prone to changes in Government thinking and so therefore teachers become more adept at predicting their pupils' progress.
Its English paper is particularly popular with schools because it still allows speaking and listening ability to count towards the exam grade - unlike GCSEs - and retains an optional element of coursework.
Ironically, some of the items singled out as its strengths are exactly what Education Secretary Michael Gove is trying to instil into his revamped GCSEs; more scope for creative writing, for instance.
However, many schools say they have lost their confidence in GCSEs because of constant changes, in particular the marking controversy of two years ago when grade boundaries were changed between the winter and summer sittings because it was felt marking had been too lenient.
Register for free to continue reading
Registration is a free and easy way to support our truly independent journalism
By registering, you will also enjoy limited access to Premium articles, exclusive newsletters, commenting, and virtual events with our leading journalists
Already have an account? sign in
Join our new commenting forum
Join thought-provoking conversations, follow other Independent readers and see their replies