Government falls short of teacher training targets in most secondary school subjects
'We are at a crisis in secondary teacher recruitment'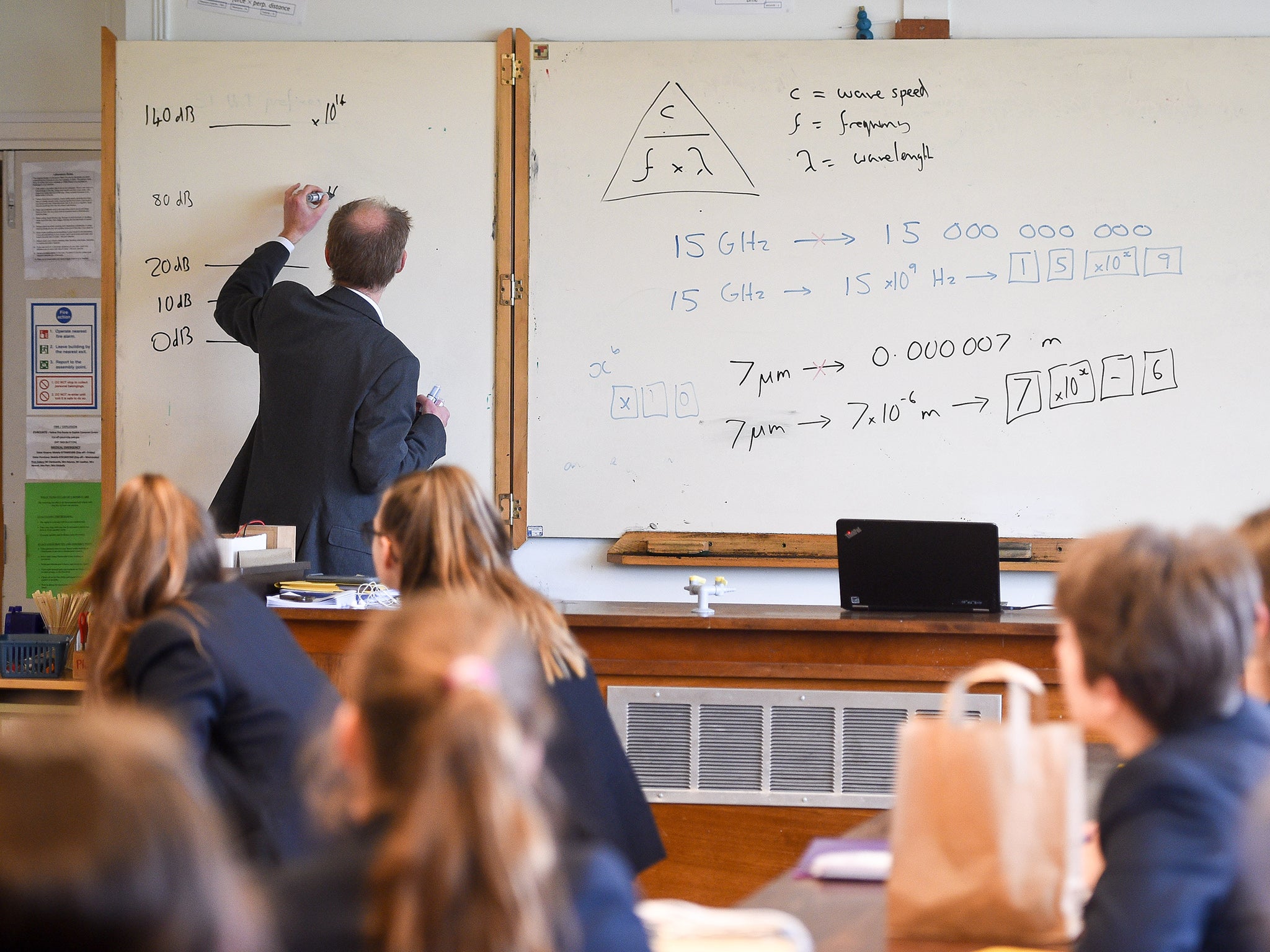 The government has missed its teacher training targets in most secondary school subjects this year, new government statistics have revealed.
Fewer than half (47 per cent) of the trainees required were recruited in physics and just a quarter of the design and technology trainees required were taken on, the figures show.
The postgraduate trainee recruitment targets were only met in physical education, English, history and Biology, despite millions of pounds being spent by the government on advertising for teachers.
Last year, two-thirds of the physics teachers required were recruited – but this year, this has fallen to 47 per cent, the latest figures from the Department for Education (DfE) reveal.
Other subjects that have fallen short of the targets include computing, art and design, music, maths and religious education – where less than three-quarters of trainees needed were recruited.
Overall, a total of 29,255 new postgraduate trainees were recruited this year in England, against a government target of 32,226, the figures show.
They come after the government spent an estimated £38m on their national teacher recruitment campaign, Get Into Teaching, from 2010 to 2017.
Kevin Courtney, joint general secretary of the National Education Union, said he has "serious concerns" that the government does not have teacher supply under control – especially in light of predictions showing that nearly half a million more pupils will enter secondary schools by 2025.
He said: "We are at a crisis in secondary teacher recruitment. For the sixth year in a row, the DfE has failed to recruit enough secondary teachers overall, based on its own targets. They will say they are training more teachers than ever but the problem is compounded year on year, as each year's targets do not seek to address pre-existing shortages or previous missed targets.
"Physics has only recruited 47 per cent of the number of trainees the DfE says it needs, down 19 percentage points on its performance against target last year. Maths recruitment is also worse this year, as are chemistry and modern foreign languages."
Angela Rayner, Labour's shadow education secretary, said: "The Conservatives have created a crisis in teacher recruitment and retention, and now we know they have missed their own teacher recruitment target six years in a row."
She added: "Years of real terms pay cuts have made it impossible for schools to recruit the staff they need, and there will be a generation of children paying the price for Tory failure."
Support free-thinking journalism and attend Independent events
The government has unveiled a series of initiatives over recent years in an effort to ease the recruitment crisis – including allowing aspiring teachers to fail multiple compulsory numeracy and literacy skills entry tests needed to enter the profession.
Nick Gibb, school standards minister, said: "The fact that more than 34,500 new trainee teachers started teacher training courses this year, over 2,600 more than in 2017, despite a competitive labour market shows that teaching continues to be an attractive career for able graduates.
"This includes the highest number of new postgraduates since 2011/12, and the quality of entrants remains high with 19 per cent holding a first-class degree."
Join our commenting forum
Join thought-provoking conversations, follow other Independent readers and see their replies