Government vows crackdown on universities giving out too many firsts
Pressure on universities to maintain degree value could result in a cap on the number of first-class degrees awarded to students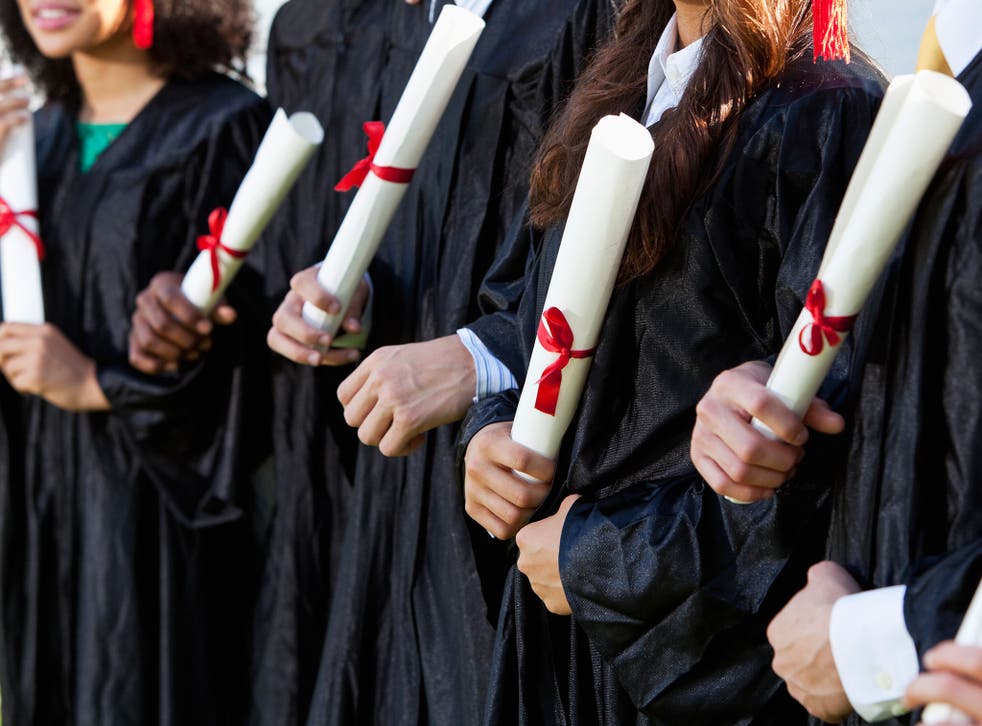 The Government is preparing a crackdown on the rapidly increasing proportion of top degrees being awarded by universities, amid fears that the value of higher education is being eroded.
Ministers are drawing up plans to stop the growth in students receiving first-class degrees so that university education continues to carry "prestige", raising the prospect that quotas could be introduced to limit the numbers of top awards.
Jo Johnson, the universities minister, said that "tackling degree inflation will be a priority" for the Office for Students, the new regulator of the higher education sector, when its framework is drawn up later this year.
The move comes as hundreds of thousands of A-level students receive their results on Thursday and decide whether to go on to university, with many institutions competing to attract undergraduates. Even leading Russell Group institutions are offering places through clearing this year, as a fall in application rates has left universities scrambling to attract students and fill thousands of places.
As of Wednesday morning, the day before clearing opens, there were more than 27,000 courses listed on the Ucas clearing website, with around nine in 10 institutions advertising at least one course. Last year, almost 65,000 applicants found places through clearing,
But a sharp rise in the number of students receiving first class and 2:1 degrees has prompted accusations that higher education standards may be falling, especially as universities compete for undergraduate talent.
Sir Billy Connolly: The closest I got to university was delivering coal
Data published last month by the Higher Education Statistics Agency shows as many as one in four students - around 104,000 - graduated with a first class degree classification last year.
One third of UK universities and colleges awarded the top grade to at least a quarter of their students - four times as many as five years ago - while ten institutions awarded more than one third of their student graduates a first.
This represents a 59 per cent increase on the number of firsts awarded before tuition fees rose from £3,000 to £9,000 in 2011.
The University of Surrey alone awarded a first-class degree to 41 per cent of its students last year, more than double the proportion on five years ago. Firsts awarded at the University of East Anglia have almost trebled to 37 per cent.
With increases in tuition fees also an increasing cause of concern for students, the government has now vowed to take action to protect the reputation of degrees.
"Tackling degree inflation is a priority for the forthcoming regulatory framework consultation [of the Office for Students]," Mr Johnson said.
"Students across the country have just finished their exams and are looking for high quality graduate jobs. They rightly want their hard work to be recognised and the degrees they are awarded to be in a currency that holds its value over time and carries prestige in the eyes of employers."
Pressed on whether that meant a quota could be introduced to limit the number of first-class degrees, a spokesman for the Department for Education said: "The DfE is consulting on the OfS' regulatory framework in the Autumn and will provide more detail in due course."
Some leaders in higher education have expressed concern about the new regulator - created this year as part of a bid to ensure the rights of students as consumers are met – suggesting it could be used as a way for the Government to hold greater control over higher education providers.
Professor Alan Smithers, director of the Centre for Education and Employment Research at the University of Buckingham, said the rate at which degrees had inflated showed universities had acted "very irresponsibly".
"This has been fuelled partly by their concern about where they come in the league tables because the percentage of good degrees is one of the contributors to the score," he told The Independent.
UK news in pictures

Show all 50
"There has been inflation in A-level grades [in previous years] - which the regulator has now controlled. But universities set and mark their own examinations and there is no regulator there.
"It would impinge greatly on their autonomy to put an artificial cap on the proportion of firsts, for example if students at some universities are entering on A*s while others are entering on two Es, how do you set the proportion of firsts they can award, because the student entering with two Es might not even get a degree."
A spokesman for the Russell Group rejected the idea of external control over the awarding of degrees. "Universities are best-placed to set academic standards in their own institutions and understand the importance of maintaining a robust qualification system," he said.
"The Higher Education and Research Act 2017 is clear that the new Office for Students (OfS) must protect students, institutional autonomy and academic freedom and we will be responding to the Government consultation on the OfS framework in the autumn."
A spokesperson for Universities UK also insisted degree classification was a matter for individual institutions, but suggested that there were other factors for improving results.
"The sector has changed significantly since 2010, with universities putting more emphasis on the quality of teaching and investing in learning support, alongside the fact that with higher fees students may be working harder to achieve higher grades," the spokesperson said.
Earlier this week, the universities minister insisted the current tuition fee system was "fair and equitable", claiming more young people from disadvantaged backgrounds were accessing higher education as a result.
Register for free to continue reading
Registration is a free and easy way to support our truly independent journalism
By registering, you will also enjoy limited access to Premium articles, exclusive newsletters, commenting, and virtual events with our leading journalists
Already have an account? sign in
Register for free to continue reading
Registration is a free and easy way to support our truly independent journalism
By registering, you will also enjoy limited access to Premium articles, exclusive newsletters, commenting, and virtual events with our leading journalists
Already have an account? sign in
Join our new commenting forum
Join thought-provoking conversations, follow other Independent readers and see their replies