Students should sit national assessments for degrees to stop 'rocketing' grade inflation, report says
Proportion of firsts has risen by 26 per cent since £9,000-per-year tuition fees introduced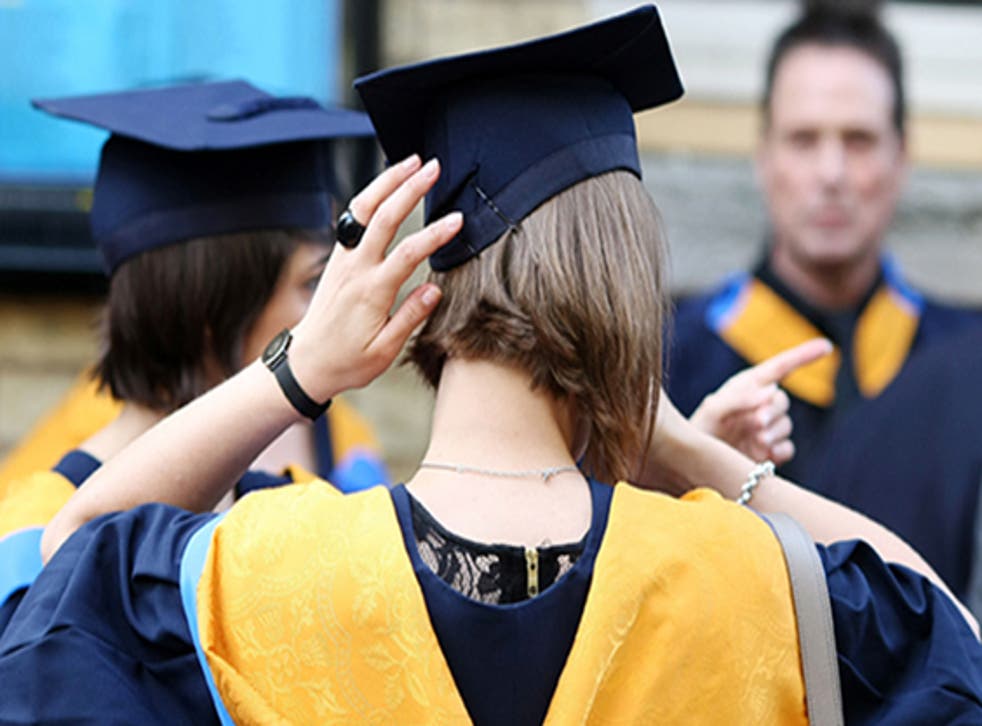 University students should sit national assessments for each degree course to tackle "rocketing" grade inflation, a think tank has said.
A new assessment body should set the standards across a particular subject, with all final-year students sitting national exams, to curb the proportion of first class degrees, a report suggests.
Reform said individual universities should lose the right to select their student's final degree grades following a rise in the number of top grades being awarded by institutions.
The proportion of firsts almost doubled from 7 per cent to 13 per cent from 1997 to 2009 – and since 2010, when £9,000-per-year tuition fees were announced, it has gone up to 26 per cent.
The proportion of 2:1 degrees has risen from 40 per cent to 49 per cent since 1995, meaning three-quarters of students now achieve top degrees, compared with 47 per cent in the mid-1990s.
The education secretary, Damian Hinds, has called on universities to act on grade inflation, saying students deserve a grading system which recognises their hard work.
Under the think tank's proposals, the results of national assessments would determine the proportions of each degree grade universities can award in each subject – rather than individual universities making their own decisions.
The proportion of degree grades awarded at a national level for each subject would be fixed at 10 per cent of students receiving a first, 40 per cent a 2:1, 40 per cent a 2:2 and 10 per cent a third.
"It is in the interests of both students and universities to stop grade inflation," the report says.
Tom Richmond, the report's author and a former ministerial adviser at the Department for Education, said: "Rocketing degree grade inflation is in no one's interest.
"Universities may think easier degrees are a way to attract students, but eventually they will lose currency and students will go elsewhere, even overseas.
"Restoring the currency of degrees would also mean better value for money for the £18bn that universities receive each year in tuition fees."
There was considerable evidence "degree algorithms" – which translate the marks achieved by students over the course of their studies into a final classification – contribute to grade inflation, the report said.
The pressure placed on academics by senior managers was also "strongly implicated".
Mr Hinds, the education secretary, said: "Students across the country work hard for their results and they deserve a grading system that recognises their hard work. Grade inflation undermines this.
"That is why this government has put an end to grade inflation in GCSEs and A-levels, and why it is time for universities to do the same."
Student news in pictures

Show all 34
Nicola Dandridge, chief executive of the Office for Students (OfS), the new regulator for universities, said: "It is important that degrees hold their value over time, and if there is artificial grade inflation this is not in the interests of students, employers or the higher education sector."
A Universities UK spokesperson told The Independent: "The independence of universities to decide what they teach and how is at the heart of successful systems around the world, of which the UK is a leading example.
"Universities have always recognised the need for a shared national framework to award degrees. These standards are set out in the Quality Code and the Framework for Higher Education Qualifications.
"Different universities teach different curriculums that reflect their specialisms. Universities cannot teach students according to a national curriculum while maintaining the breadth and diversity of courses that students and employers rightly value.
"Universities UK has been working with the Quality Assurance Agency, GuildHE and the UK Standing Committee for Quality Assessment to understand the evidence around grade inflation and propose effective and sustainable solutions. This work is due to report in September 2018."
Register for free to continue reading
Registration is a free and easy way to support our truly independent journalism
By registering, you will also enjoy limited access to Premium articles, exclusive newsletters, commenting, and virtual events with our leading journalists
Already have an account? sign in
Register for free to continue reading
Registration is a free and easy way to support our truly independent journalism
By registering, you will also enjoy limited access to Premium articles, exclusive newsletters, commenting, and virtual events with our leading journalists
Already have an account? sign in
Join our new commenting forum
Join thought-provoking conversations, follow other Independent readers and see their replies