Graduate pay gap: Same degrees. Same jobs. But, for women, still not the same pay
Study reveals newly qualified women still earn thousands of pounds less than men
Jonathan Brown
Thursday 07 March 2013 01:00 Comments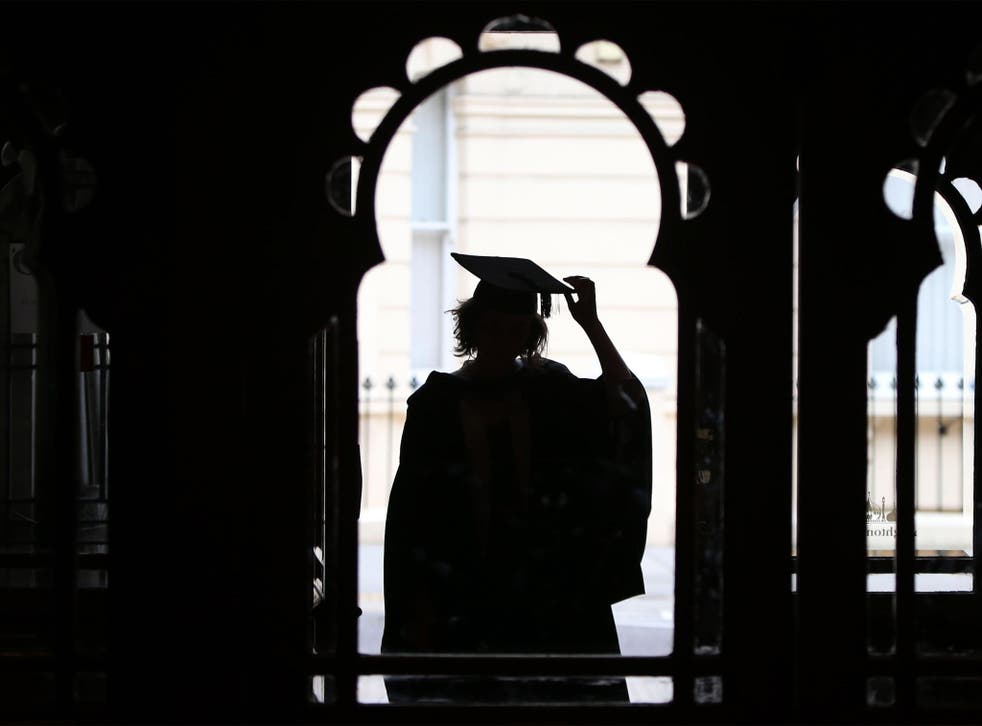 Equality campaigners demanded urgent action today to tackle the gender pay gap after a new study showing female graduates can expect to earn thousands of pounds a year less than their male counterparts.
Women who had just received their degree were more consistently at the lower end of the salary range, taking home pay of between £15-17,999 and £21-23,999.
Men by contrast were more likely to earn salaries of £24,000 or more. Women studying law – the worst affected degree subject – can anticipate starting on £20,000 a year whereas men graduating in the same discipline command an annual salary of £28,000.
The gap remained stubbornly high even when graduates had studied the same subject, achieved an identical Ucas score or attended the same institution, according to the study by the Warwick Institute for Employment Research on behalf of the Higher Education Careers Services Unit (Hecsu).
It found the problem was replicated across nearly all chosen career paths except the not-for-profit sector.
The private sector had a larger gender gap in annual earnings for recent graduates than the public sector. Education provided the most equal employment path whilst the biggest differences in starting salaries were in banking and finance, followed by agriculture, mining, oil and gas, and the utilities.
The report says: "Underlying all of the analyses… is a continuing and seemingly permanent finding – the fact that male graduates earn more than females. We drew attention to this in our studies of the 1995 and 1999 graduating cohorts.
"The same results are still in evidence some 10 years later. Again, we can highlight specific sectors of the economy and types of work where the gender differential in earnings is endemic."
Jane Artess, Hecsu director of research, said the reason for the difference, which persists despite the legal requirement for employers to offer equal access to jobs and pay, remained a mystery and more studies needed to be carried out. "Equal opportunity to access jobs and pay has been enshrined in legislation for 40 years yet the study found that being female can make a difference to a graduate's earning power," she said.
"It could be perhaps that women are not bargaining quite as effectively as men. It could be that women expect lower salaries and are therefore happier to take them. It could be that men are more mobile and chase higher salaries or that men are more willing to wait for better pay," she added.
The Futuretrack study examined the career progression of those that had applied to higher education in 2006 so was unlikely to take into account the impact of women taking maternity leave.
The report found that the recession had resulted in real graduate early annual earnings declining by more than a fifth in the past decade. Men who began their studies in 2009 were earning 23.8 per cent less than those who enrolled on their degree in 1999. Women had fared slightly better and were only 20.7 per cent worse off. Equality campaigners said that across the entire full-time workplace women were still taking home 85p for every £1 earned by a man.
Ceri Goddard, chief executive of the Fawcett Society, said women starting their careers were still earning substantially less than men.
"We urgently need a comprehensive women's employment strategy. This should address unequal pay, and must also consider action to increase the value of low-paid work, encourage businesses to utilise flexible working practices and include measures to tackle the underrepresentation of women in male-dominated, and better paid, industries such as science and technology," she said.
Charles Levy, senior economist at the Work Foundation, said the report showed many of the best-paid sectors continued to be male dominated.
"These are the people that you least expect to affected by the gender gap. These are the best and the brightest hopes for the future. It is the most difficult work environment for a generation and this is something we should be very wary about," he said.
Register for free to continue reading
Registration is a free and easy way to support our truly independent journalism
By registering, you will also enjoy limited access to Premium articles, exclusive newsletters, commenting, and virtual events with our leading journalists
Already have an account? sign in
Join our new commenting forum
Join thought-provoking conversations, follow other Independent readers and see their replies