Grammar schools do not boost social mobility, report finds
Exclusive: Findings come just after decision by Nicky Morgan to allow a 450-pupil grammar to be created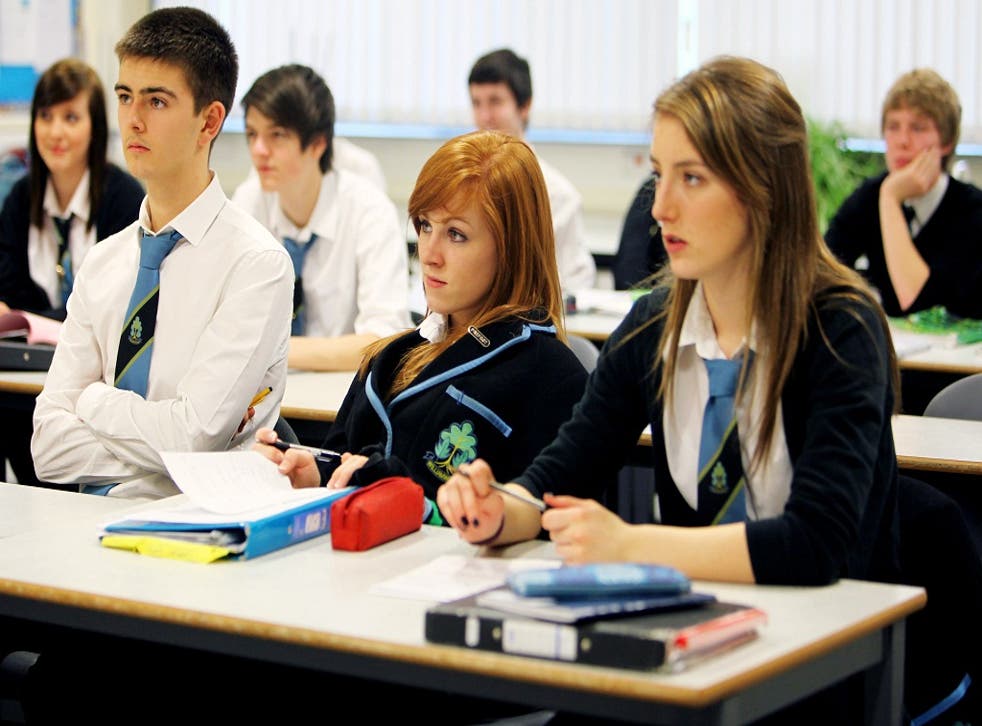 Grammar schools do not boost social mobility and a new "tutor-proof" test has done nothing to stop children from wealthier backgrounds being coached to win places at selective schools, according to a new report.
New figures from Buckinghamshire – which has a fully selective system, so all state school pupils are entered for an 11-plus exam – reveal that pupils from private schools are two-and-a-half times more likely to pass the 11-plus while the pass rate for children on free school meals is one-eighth of the average.
The findings come just after the decision by Education Secretary Nicky Morgan to allow a 450-pupil school to be created in Sevenoaks, Kent, as an "annexe" to an existing grammar 10 miles away. The decision has sparked fears that there will be a "wave" of applications from selective schools wanting to create satellite campuses.
A new, supposedly "tutor-proof" test was introduced in Buckinghamshire in 2013 to reduce the impact of coaching and be fairer to poorer children. But the campaign group Local Equal Excellent used Freedom of Information requests to reveal how 11-plus pass rates varied according to the type of schools pupils attended and where they lived.
Grammar school growth defended
The report suggests that the new test has failed to reduce the large achievement gap between children from the richest and poorest backgrounds. It says: "In addition to the growing body of research showing that grammar schools do not contribute to social mobility … there is now further compelling evidence that it is impossible to devise a fair test of ability to be used as the basis for education separation from age 11 which will not discriminate according to social background and prior opportunity."
In 2014, only 4 per cent of children eligible for free school meals passed the 11-plus compared with an average of 30 per cent. Campaigners found that children in Bucks' state primaries continued to perform worse than other children.
Overall, in 2015 one in three children passed the exam (which is open to pupils outside the county) compared with one in five in the county's state schools – equivalent to 101 fewer local state school pupils and fewer than before the new test was introduced.
Meanwhile, the pass rate of Bucks' private pupils increased by 5 per cent. These children were two-and-a-half times more likely to pass the test than a child at a local state primary school.
The group's Rebecca Hickman said: "The claim that grammar schools will be an engine for social mobility is exposed as fallacious. It is absurd to maintain that they offer a route out of poverty when they routinely fail to offer places to children from disadvantaged backgrounds."
"The evidence shows quite clearly that selection serves to reproduce and reinforce existing patterns of disadvantage. It's like taking every inequality that has emerged in the first 10 years of a child's life and then saying, 'Right, let's institutionalise that through a parallel schooling system.'"
A Buckinghamshire County Council spokeswoman declined to comment saying it merely administered the test.
Register for free to continue reading
Registration is a free and easy way to support our truly independent journalism
By registering, you will also enjoy limited access to Premium articles, exclusive newsletters, commenting, and virtual events with our leading journalists
Already have an account? sign in
Register for free to continue reading
Registration is a free and easy way to support our truly independent journalism
By registering, you will also enjoy limited access to Premium articles, exclusive newsletters, commenting, and virtual events with our leading journalists
Already have an account? sign in
Join our new commenting forum
Join thought-provoking conversations, follow other Independent readers and see their replies