Grammar schools receiving share of £50m government fund struggle to attract poorer children, figures suggest
Exclusive: 'Attempts to widen access to selective schools have failed'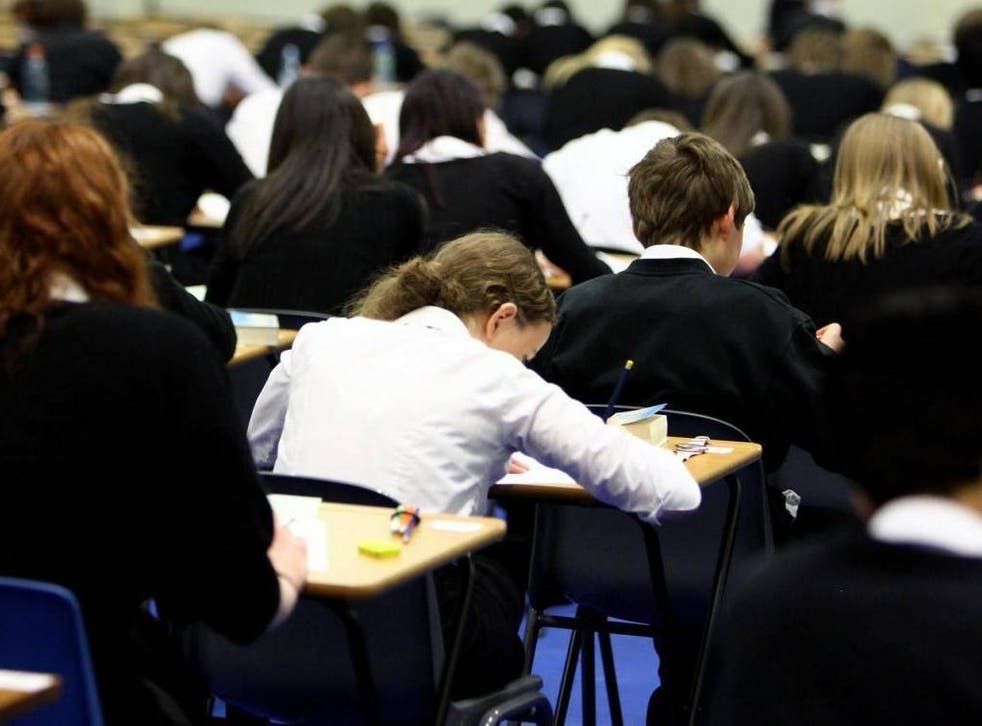 Grammar schools awarded a share of £50m of government funding to widen access have seen only 22 more pupils from poorer backgrounds sit the 11-plus exam, figures reveal.
Some ​grammar schools have even seen the number of pupil premium children – those on free schools meals – applying for entry drop since the funding was introduced.
Campaigners say the figures show that the government's flagship policy to boost social mobility through existing grammar schools has "failed" as the number of disadvantaged children applying remains low.
Of the grammar schools that provided full data, nine of the 16 schools given funding, the number of poorer children sitting the test rose by just 3.8 per cent in the past year – from 569 to 591.
In four of the schools, the number of disadvantaged pupils who sat the 11-plus in autumn fell compared to last year despite funds being granted, figures obtained by The Independent reveal.
UK news in pictures

Show all 50
The Department for Education (DfE) announced a £50m expansion fund for selective schools that committed to improving access for poorer children.
In December last year, the identities of the first 16 grammar schools awarded a share of the fund were unveiled by the government.
The grammar schools were chosen based on their plans to diversify intakes through increased outreach work and altered admission policies.
Currently around 2.6 per cent of grammar school pupils are on free school meals, compared to 14.1 per cent across all school types.
Dr Nuala Burgess, chair of the campaign group Comprehensive Future, is calling for the government fund to be axed and for taxpayers' money to be reallocated into comprehensive education.
She said: "All the evidence shows that disadvantaged pupils are unlikely to attend selective schools. There is an attainment gap for poorer pupils; inevitably, therefore, few pass the 11-plus test. It seems very wrong to spend millions expanding schools most likely to offer places to middle-class kids.
"It's clear that the government's attempt to widen access to grammar schools has failed. With the current crisis in school funding, it is wholly misguided and unfair to reward schools which work for only a tiny percentage of pupils."
But the schools that saw a fall in the number of poorer children sitting the 11-plus this year suggested the figures could be higher as some parents do not disclose pupil premium status on registration.
Mark Fenton, chief executive of the Grammar School Heads Association, has argued it is "too early" to judge whether the selective schools' proposals for widening access have worked.
He added that only a small percentage of children eligible for pupil premium currently achieve top results in Sats exams at primary school so grammar schools are "targeting a very small group".
Mr Fenton said: "This is a real challenge which will take years of patient effort. Work has only just started since the 16 successful schools only had their bids approved midway through the last school year.
"Though an important aspiration, boosting the numbers taking the test is only one part of the equation. The changes schools have made to their admissions policies will, given time, have a greater impact."
The number of poorer children given places at grammar schools for September 2020 will only become apparent after March when thousands of pupils find out their allocated school.
Last year, figures revealed that the proportion of poorer children admitted to the group of grammar schools due to share the £50m fund fell despite pressure from ministers.
Geoff Barton, general secretary of the Association of School and College Leaders, said: "It is incredibly hard to leverage greater social mobility through selective education because the reality is that middle-class parents have the resources to pay for supplementary private tuition to prepare their children for entrance tests while poorer families cannot afford to do so."
He added: "Expanding selective education simply is not the answer – however that expansion takes place – and the priority needs to be in providing more investment in high-quality comprehensive education which gives all young people the best start in life regardless of their circumstances."
A DfE spokesperson said: "We do not recognise this data. We are seeing an increase in the numbers of pupil premium admissions to selective schools in many that we talk to.
"Selective schools can only receive expansion funding if they clearly set out how they will increase access for pupils from disadvantaged backgrounds.
"We are collecting information from schools to monitor the progress of their plans and we will also monitor the number of pupil premium children joining the schools.''
Register for free to continue reading
Registration is a free and easy way to support our truly independent journalism
By registering, you will also enjoy limited access to Premium articles, exclusive newsletters, commenting, and virtual events with our leading journalists
Already have an account? sign in
Register for free to continue reading
Registration is a free and easy way to support our truly independent journalism
By registering, you will also enjoy limited access to Premium articles, exclusive newsletters, commenting, and virtual events with our leading journalists
Already have an account? sign in
Join our new commenting forum
Join thought-provoking conversations, follow other Independent readers and see their replies