Universities minister compares 'decolonisation' of history to 'Soviet Union-style' censorship
Historians say MP 'talking out of her arse' and 'completely misunderstands' efforts to place Britain's past in context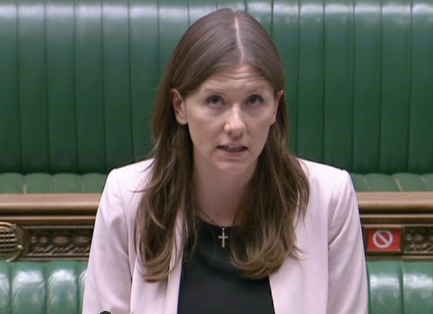 The universities minister has claimed courses are facing "decolonisation" by tutors who she complained were "censoring history" like the Soviet Union.
Michelle Donelan suggested books were being removed from reading lists in an effort to prevent students being forced to confront "hate speech".
The Tory MP for Chippenham insisted that "a lot of the talk" surrounding the issue was about removing elements of history rather than adding alternative viewpoints.
However, the minister's comments were criticised by historians who suggested she had misunderstood attempts to place subjects such as the British empire in the context of questions of race and slavery.
Speaking to a Daily Telegraph podcast, Ms Donelan said: "As a history student, I'm a vehement protector and champion of safeguarding our history.
"It otherwise becomes fiction, if you start editing it, taking bits out that we view as stains.
"A fundamental part of our history is about learning from it, not repeating the mistakes, being able to analyse and challenge why those events happened, how those decisions were made so that we don't repeat those actions in the future."
Oxford University's student council passed a Student Union motion last year condemning the use of "hateful material" which is "ableist, misogynistic, classist or transphobic" in mandatory teaching.
The motion also mandated the Student Union to lobby for trigger warnings on readings lists and for lectures, tutorials, and examinations with content deemed prejudicial against groups such as trans, non-binary, disabled, working class, and women to be non-compulsory for students.
Ms Donelan said: "If we're going down this road of taking bits out, are we then going to end up putting bits in that we wish had happened?
"It's a very dangerous and odd road to go down, and certainly it has no place in our universities, I would argue, and it has no place in academic study.
"And it just doesn't work when governments try to remove elements of history. Look at the Soviet Union, look at China. There are multiple examples where it's been tried. It doesn't work."
Ms Donelan said she was in favour of adding sources from "less well-known sources and often overlooked individuals in history" but claimed that "most of the narrative that is coming out ... is about removing elements of history, about whitewashing it and pretending that it never happened, which I just think is naive and almost irresponsible".
But the minister's comments were met with exasperation among academics.
Charlotte Lydia Riley, a lecturer in 20th century British history at the University of Southampton, tweeted: "This historian says Michelle Donelan is talking out of her arse... she doesn't understand decolonising the curriculum, she doesn't understand the purpose of history and she seems a bit hazy on the Soviet Union."
Laura O'Brien, a historian of 19th and 20th century France, said there was "absolutely no evidence" key texts were being removed from reading lists as the minister claimed.
She added that Ms Donelan "completely misunderstands and misrepresents" deconolonisation, writing: "Efforts to decolonise curricula do not seek to 'leave out the bits we see as stains'. Hardly! If anything, they draw greater attention to questions of race, empire, slavery, colonisation, and to diversify – not censor! – the voices included in reading lists."
Ms Donelan's intervention comes after schools minister Nick Gibb rejected compulsory lessons about the British empire and the slave trade and said they would risk lowering "standards".
Equalities minister Kemi Badenoch has also claimed that some campaigners wanted UK history to be taught "in a way that [suggests] good people [are] black people" and "bad people [are] white people".
Join our commenting forum
Join thought-provoking conversations, follow other Independent readers and see their replies