King Edward VI Foundation school considers becoming 'multi-academy trust' after successfully taking over comprehensives
Now the Government wants to see Birmingham's success story repeated across the country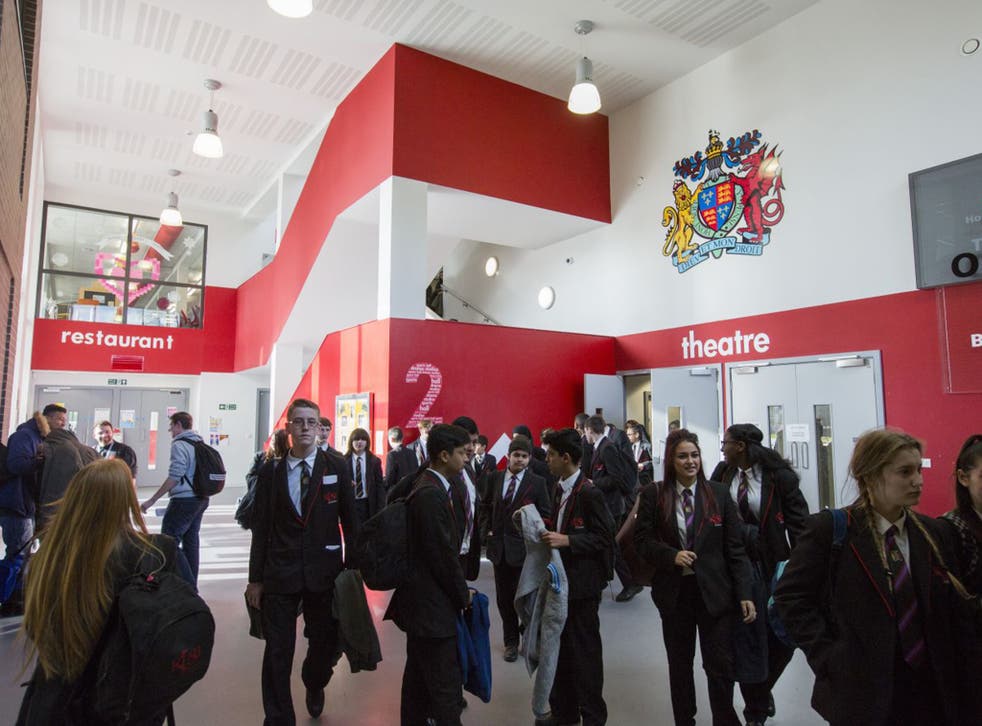 For more than 450 years, Birmingham's King Edward VI Foundation has worked to fulfil its pledge to educate all of the city's children.
But now the "Birmingham model" could spread across the country, after the charity's successful take–over of a comprehensive school.
Previously, it ran seven selective schools – two public and five grammar – all considered highly successful. Then, six years ago, the foundation took over Sheldon Heath Community Arts College, renamed King Edward VI Sheldon Heath Academy, or "Kesh", as it soon became known.
It was a culture clash that might have gone badly wrong, but the turnaround was dramatic.
In 2008, government inspectors said Sheldon Heath was "inadequate" and required "significant improvements". Yet, today, 70 per cent of Kesh's sixth form go on to university and others are able to take up high-level apprenticeships with companies operating locally such as Jaguar and Deutsche Bank. A number have successfully applied to Russell Group universities; Oxford and Cambridge are being targeted, too.
The foundation is now considering turning itself into a "multi- academy trust" (MAT), which would allow it to take over more comprehensives in Birmingham and beyond.
It is understood that the Government is keen to see it take over more non-selective schools – especially at a time when at least two of the country's biggest academy chains, AET and E-ACT, are under criticism from Ofsted over the standards in some of their schools.
Judging by the foundation's first foray into comprehensive education, this would be no bad thing – despite initial misgivings at Sheldon Heath. John Morris, the school's sixth-form head, said: "Some people knew of its connection with independent and grammar schools and thought that 'this is not for the likes of us'."
10 best primaries and secondary schools

Show all 20
Part of Kesh's success, however, came from a simple change in mindset. "It is a cultural shift. It challenges pupils to succeed and is more aspirational – even the kids who don't want to achieve, we somehow sort of make them achieve," Mr Morris said. As another teacher put it: "It's a bit more cool."
At GCSE level, the school now has 50 per cent of its pupils getting five A*to C grades including maths and English and is recognised in exam league tables as improving upon the expectations of its pupils.
In fact, it is ninth in a list of 55 schools throughout the country, in similar circumstances, which are expected to achieve similar results.
It has also had success in increasing the percentage of pupils obtaining the English Baccalaureate – given to those who achieve top grade GCSE passes in English, maths, the sciences, a foreign language and history or geography – to 39 per cent, which is above the national average.
"I wouldn't have thought of studying a language before," said 15-year-old Nathanial. "It is a different type of learning and I enjoy it."
The consultation over whether to become a multi-academy trust is due to end next month. Its consultation document says: "There are no current proposals for other schools to join the KEVI [King Edward VI] MAT, but the foundation has an open door for discussions with other schools. A MAT is the best way of welcoming other schools, provided their addition is in the best interests of the KEVI MAT as a whole."
Some schools have already beat a path to Kesh's door to ask how they have achieved what they have. The head, John Allen, said: "The foundation is quite light-touch, but they're educationalists. I think, most of all, they [wanted], in the 21st century, to fulfil their founders' pledge about educating all the kids in Birmingham – and sponsoring the academy seemed like a good idea."
Join our new commenting forum
Join thought-provoking conversations, follow other Independent readers and see their replies