Lecturers at the University of Bedfordshire turn on 'pay and perks' vice-chancellor
Former Labour minister Bill Rammell has called for redundancies while claiming huge expenses for world travel
Paul Gallagher
Sunday 12 April 2015 00:00 Comments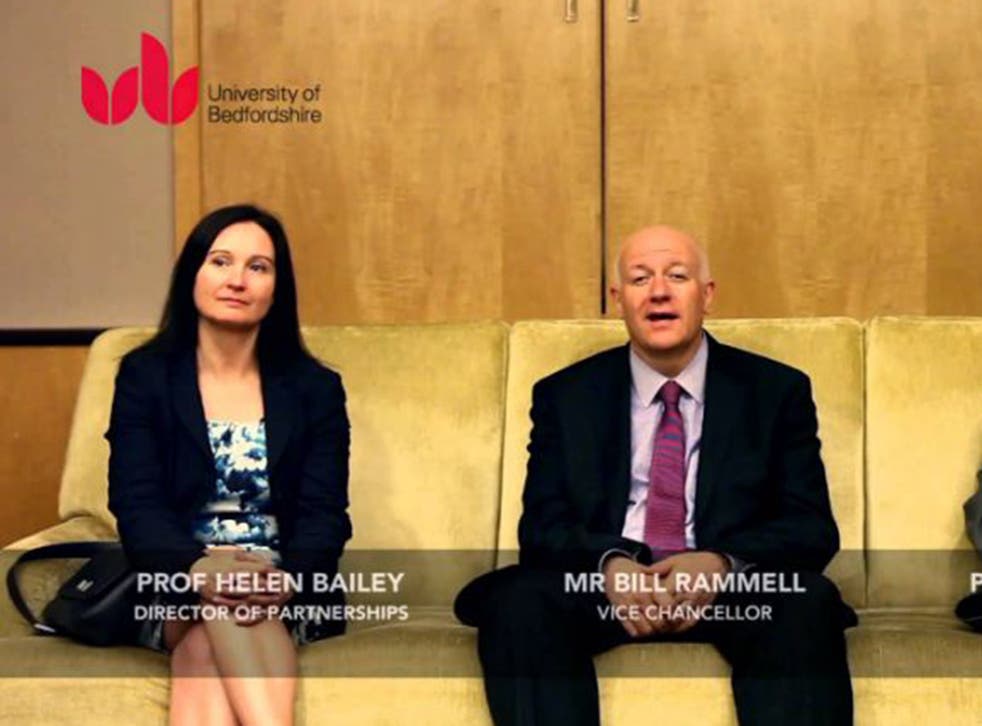 A university vice-chancellor who has run up thousands of pounds in travel expenses by taking international business trips with his partner has been criticised for inviting 1,400 of his staff to apply for redundancy.
University of Bedfordshire chief Bill Rammell, the former Labour MP who was Gordon Brown's higher education minister, says he needs 50 employees to take up the offer by 20 April before a "final outcome" is announced on 5 May.
In an email to staff, Mr Rammell said the job cuts form part of a £2.5m cost-cutting plan. But staff and unions are angry that their vice-chancellor is calling for deeper cuts at a time when the university is near the bottom of academic league tables. They are also incensed that he flew first or business class three times to Beijing and once to Miami with Helen Bailey, a professor of dance who was promoted to executive dean on a six-figure salary last year.
The China and US trips all took place between August 2013 – when Mr Rammell and Ms Bailey began a relationship – and June last year. The cost of air fares alone is believed to be more than £30,000. First- and business-class air travel is a contractual right of the vice-chancellor.
Mr Rammell, 55, is the 12th highest spending vice-chancellor in the UK, according to the University and College Union (UCU). He also spent £27,000 on flights in 2013-14 travelling to destinations including Singapore, Vietnam and Oman. The UCU study revealed the average spend by vice-chancellors on business-class travel is £9,706 a year.
In October 2013, the university announced that Mr Rammell and Ms Bailey had formed a relationship. The board of governors was said to have been alerted to the situation at the earliest opportunity and stated that Mr Rammell and Ms Bailey had acted with professionalism and integrity.
Mr Rammell lost his Harlow seat to the Conservatives in 2010. He joined the university in September 2012 and earned £211,000 during his first 11 months before he was awarded a £20,000 pay rise last year. The 9 per cent rise took his annual remuneration package to £251,000.
The University of Bedfordshire said in its latest annual report that salaries would continue to rise. Given that the £9,000 annual tuition fee would not rise in line with inflation, burgeoning pay packets would lead to greater "financial pressures".
The university, whose 14,000 students study at campuses in Bedford, Luton and Milton Keynes, made a surplus of £5.5m in the last financial year to add to the £15.3m surplus it made in 2013. It has total funds of almost £150m.
The top 20 world universities by reputation

Show all 21
Mr Rammell was previously accused of "staggering hypocrisy" by the UCU for imposing a 2013 pay freeze on staff while spending more than £28,000 on international travel during his first year in post.
UCU general secretary Sally Hunt said: "The growing disconnect between those in charge of our universities and their staff has been a cause of embarrassment for the sector in recent years. Massive pay rises for a few at the top, while staff pay is kept down and jobs are put at risk, only highlight the urgent need for proper transparency of pay and perks in universities."
Despite opening a new £25m "centre of learning" in Bedford in February, Mr Rammell has presided over a slide in academic performance: the university fell 10 places to 117th, of 123 institutions, in the Complete University Guide league table this year.
A university spokesman said: "The university derives between £25m and £35m of its income annually from international students and its partnerships with international institutions. Overseas travel is necessary to maintain and drive this very important business for the university."
He added that Ms Bailey was the "strategic lead" for maintaining partnerships with other universities.
Register for free to continue reading
Registration is a free and easy way to support our truly independent journalism
By registering, you will also enjoy limited access to Premium articles, exclusive newsletters, commenting, and virtual events with our leading journalists
Already have an account? sign in
Register for free to continue reading
Registration is a free and easy way to support our truly independent journalism
By registering, you will also enjoy limited access to Premium articles, exclusive newsletters, commenting, and virtual events with our leading journalists
Already have an account? sign in
Join our new commenting forum
Join thought-provoking conversations, follow other Independent readers and see their replies