LGBT+ issues could be taught in school sex education for the first time in history
Gay, lesbian and transgender pupils 'are some of the most vulnerable and under-served... They mostly lack affirmation of their identity and the provision of life-saving safer-sex advice'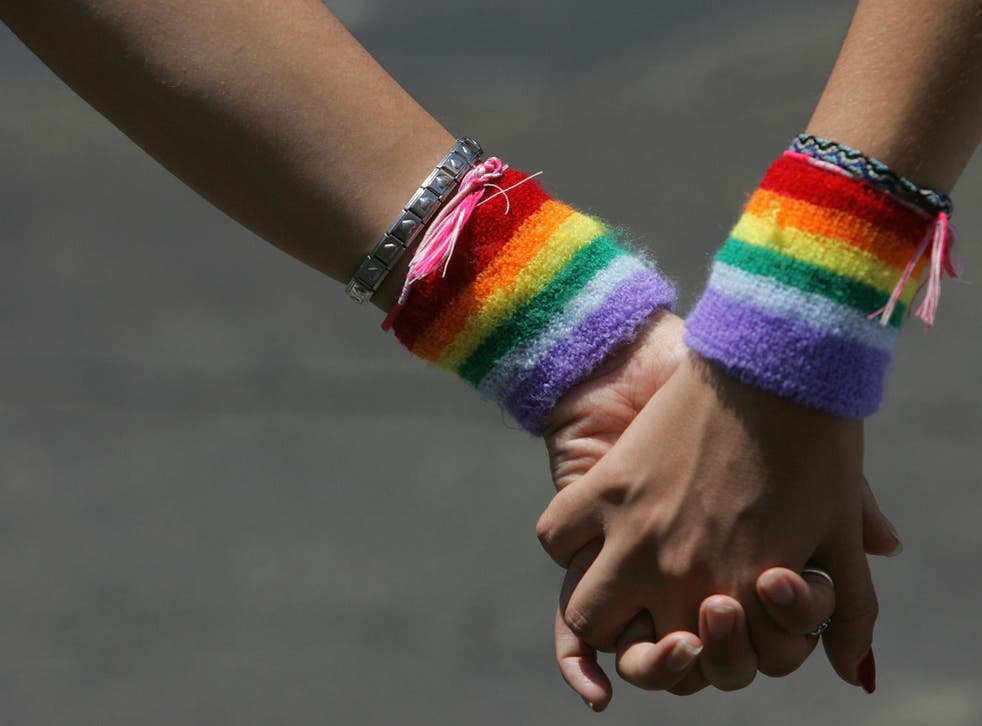 Issues surrounding sexuality and different genders could be taught in classrooms for the first time ever as part of the biggest shake-up of relationships and sex education (RSE) in almost 20 years.
Parents, teachers and pupils themselves are being called upon by the government to help shape a new RSE curriculum that will equip young people with the knowledge they need to properly navigate the pitfalls of modern living.
It marks the first opportunity for LGBT+ issues to be written into the national curriculum since the abolition of Section 28, which was a clause in the Local Government Act put into place by Margaret Thatcher's government in 1988 explicitly forbidding the "promotion of homosexuality" by local authorities - including schools and councils.
The current statutory guidance for teaching RSE was rolled out in 2000, whereas Section 28 was only overturned in England and Wales under New Labour in 2003, meaning it has never been compulsory for local authority schools to offer education and guidance on different sexualities and genders.
An eight-week consultation has been launched by the Government giving people a chance to have their say on the inclusion of issues like sexting, pornography, mental wellbeing and consent.
A letter from the Department for Education to human rights activist Peter Tatchell, seen by The Independent, said that officials "expect all schools to ensure that young people, whatever their developing sexuality or identity, feel that RSE is relevant to them and sensitive to their needs".
Mr Tatchell, who has been a activist and LGBT+ rights campaigner for 40 years, said that the introduction of LGBT+ issues into the school curriculum was long overdue.
"LGBT+ pupils are some of the most vulnerable and under-served pupils in the school system," he said. "They mostly lack affirmation of their identity and the provision of life-saving safer-sex advice. Nearly half suffer bullying, which can have negative knock-on effects, including truancy, academic under-achievement, depression, anxiety and self-harm."
Ruth Hunt, chief executive of LGBT+ charity Stonewall, also said she welcomed the government's move to deliver an "inclusive education" by bringing LGBT+ issues into RSE.
"The current guidance, published 17 years ago, contains no mention of LGBT+ people. Schools that teach LGBT-inclusive RSE are in the minority, leaving many LGBT+ young people without the information they need to make safe, informed decisions.
"Just 13 per cent of LGBT+ young people have learnt about health same-sex relationships.
"In schools where pupils receive an inclusive education, LGBT+ pupils are less likely to experience bullying. They are also more likely to report feeling safe, welcome and happy at school.
"We've been approached by many teachers who want to deliver inclusive education, but lack the confidence or knowledge to do so. We would encourage all pupils, teachers and parents to have their say to ensure schools offer a curriculum that serves all young people."
Transgender campaigner Juno Roche and author of Queer Sex, a book that explores sex and dating in the trans and non-binary communities, told The Independent that parents and teachers had a duty to equip young people with the proper tools when it comes to LGBT+ issues in a bid to break the stigma around its members.
"As someone who spent time teaching, I know how vital it is that children understand that their place in the world is 'usual'," she said.
"Creating pockets of otherness only exacerbates children feeling 'wrong' and isolated. As a trans woman, a grown-up, I can look back at the eight-year-old me who'd already asked the world to see me. I was called a 'pansy' at school and see that I suffered terribly because I felt I was the only one and I therefore must be wrong.
"We have a duty to nurture every child and to encourage them towards happiness and ease, and not away from it. Teaching about difference could eventually eradicate the insidious stigma that comes with feeling different."
The RSE guidance is being updated after legislation was passed earlier this year to make relationships education compulsory in all primary schools and relationships and sex education compulsory in all secondary schools.
The move to make RSE compulsory was welcomed by the teaching profession and organisations such as Stonewall, the Catholic Education Service, NSPCC, Barnardo's and the End Violence Against Women coalition.
Justine Greening, education secretary, said: "It's unacceptable that RSE guidance has not been updated for almost 20 years, especially given the online risks, such as sexting and cyber bullying, our children and young people face.
"Young people must have an education that teaches them the importance of healthy and stable relationships."
UK news in pictures

Show all 50
The call for evidence will be lead by Ian Bauckham, who is a headteacher of a large 11-18 Church of England comprehensive in Kent and a National Leader of Education (NLE).
"Since I started work as a teacher more than 30 years ago, enormous changes have taken place both in the lives of young people and in the wider world in which we are preparing them to live," he said.
"I hope that the call for evidence being launched now gives us the chance to find out about the best teaching and to improve provision for all our young people in all types of schools."
Register for free to continue reading
Registration is a free and easy way to support our truly independent journalism
By registering, you will also enjoy limited access to Premium articles, exclusive newsletters, commenting, and virtual events with our leading journalists
Already have an account? sign in
Register for free to continue reading
Registration is a free and easy way to support our truly independent journalism
By registering, you will also enjoy limited access to Premium articles, exclusive newsletters, commenting, and virtual events with our leading journalists
Already have an account? sign in
Join our new commenting forum
Join thought-provoking conversations, follow other Independent readers and see their replies