Primary schools should not consult parents before teaching LGBT+ relationships, watchdog chief says
Exclusive: Government urged to strengthen guidance to ensure children learn about same-sex families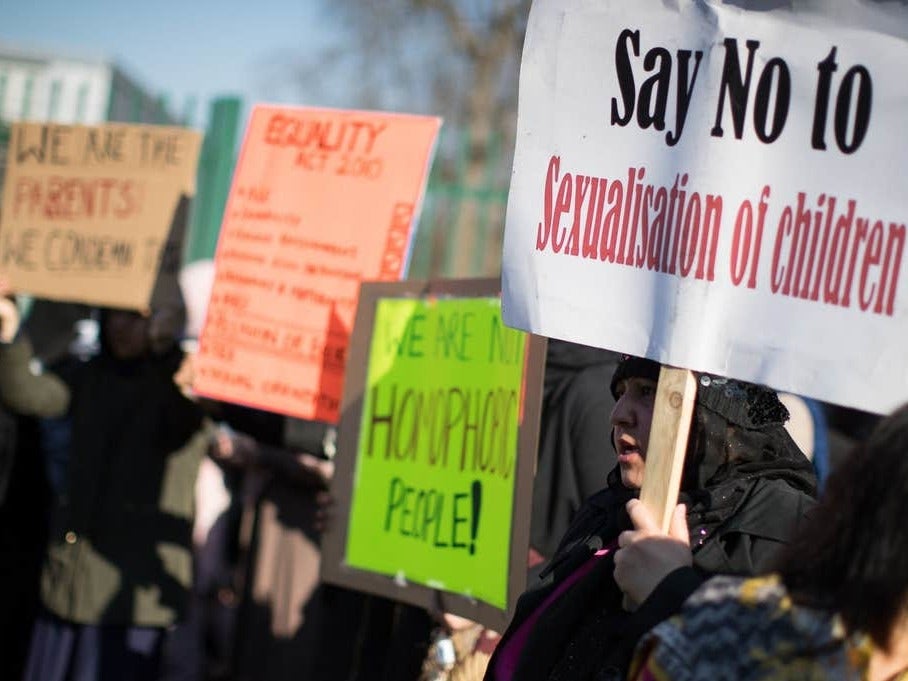 Primary schools should be free to teach children about LGBT+ relationships without consulting parents, the chair of the country's equality watchdog has said.
David Isaac, the chair of the Equality and Human Rights Commission, said headteachers should not be obliged to seek consent from parents before teaching pupils that same-sex families exist.
The requirement to consult parents on relationships education can create more anxiety and negativity, he told The Independent.
It comes as a row over LGBT+ lessons continues at schools in Birmingham following months of protests from parents who say children are too young to learn about same-sex couples.
The equality chief is also calling on the government to strengthen its guidance – which says primary schools are only "encouraged" to cover LGBT+ content if they consider it "age appropriate."
He said: "This is not a zero-sum game. If children are being taught about same-sex families that doesn't mean to say that is a direct attack upon anybody else's religious beliefs or the tenets of their faith.
"We obviously need to be sensitive to that but children need to understand this. My view is those things should be taught at primary school. Just talking about the existence of these families doesn't mean that they are advocating for them. This is just what 21st-century Britain is and what the law requires."
Ministers have previously said that schools should consult parents over their relationships education policies – which includes teaching about families with same-sex parents.
But Mr Isaac argues that the government's requirement for consultation "encourages parents to be negative or anxious" about the topic.
When asked whether he believed parental consultation should not have to take place, he answered: "As an absolute requirement before these things are taught – yes I do think that."
His comments come as protesters against LGBT+ lessons went head to head with senior leaders at Anderton Park Primary School in Birmingham in a high court hearing last month.
Birmingham City Council has applied for an exclusion zone – banning activists against LGBT+ equality lessons from demonstrating outside the school's gates – to be extended and made permanent.
Anderton Park was the second school in the city to face protests from families, after Parkfield Community School temporarily suspended lessons on LGBT+ relationships earlier in the year following weekly protests.
After months of consultation with parents, Parkfield brought back the No Outsiders programme, which uses storybooks to teach about same-sex couples.
Andrew Moffat, the pioneer of the No Outsiders programme and the assistant headteacher of Parkfield, said he believes consultation is needed to "debunk myths" and show parents what is actually being taught.
He told The Independent: "Most parents when they see that we are just teaching about different families understand this as part of community cohesion and a wider picture of equality preparing children for life in modern Britain.
"I remain in favour of parent engagement – in fact more so now than ever before."
Statutory guidance on relationships education, produced by the Department for Education (DfE), says "schools must consult parents in developing and reviewing their policy."
It adds that schools should ensure that the policy "meets the needs of pupils and parents and reflects the community they serve."
Paul Whiteman, general secretary of the National Association of Head Teachers (NAHT), said the duty for schools to consult with parents "does not exist" for other subjects.
He said: "It is for schools to decide what is taught and how – school leaders and teachers are experienced professionals who must be trusted to make decisions in the best interests of their pupils."
Support free-thinking journalism and attend Independent events
In May, delegates at the NAHT conference voted in favour of a motion calling for schools to be supported when carrying out their duty under the Equality Act, which aims to protect people from discrimination, following protests against LGBT+ inclusive lessons.
Mr Whiteman added: "DfE guidance on relationships education does not go far enough to support schools in teaching children about the society we live in and the different types of strong and loving relationships which exist.
"The secretary of state has strongly encouraged primary schools to do this. But what is needed is an unequivocal expectation that all primary schools deliver relationships education – which is inclusive of all protected characteristics and treats the different types of relationships in our society equally."
A DfE spokesperson said: "Engagement between parents and schools plays a key role in the education of children. It allows everyone to understand what is being taught and why, and develops a shared set of values.
"However it does not mean that parents have a veto over curriculum content.
"We have been clear that children should be taught about healthy relationships in an age-appropriate way that respects everyone and prepares them for life in modern Britain."
Join our commenting forum
Join thought-provoking conversations, follow other Independent readers and see their replies