Lings Primary School teaches children how to run like animals in effort to encourage children who hate sports
Children who hate sport are learning that exercise can be fun, with a programme that gets them moving in mysterious ways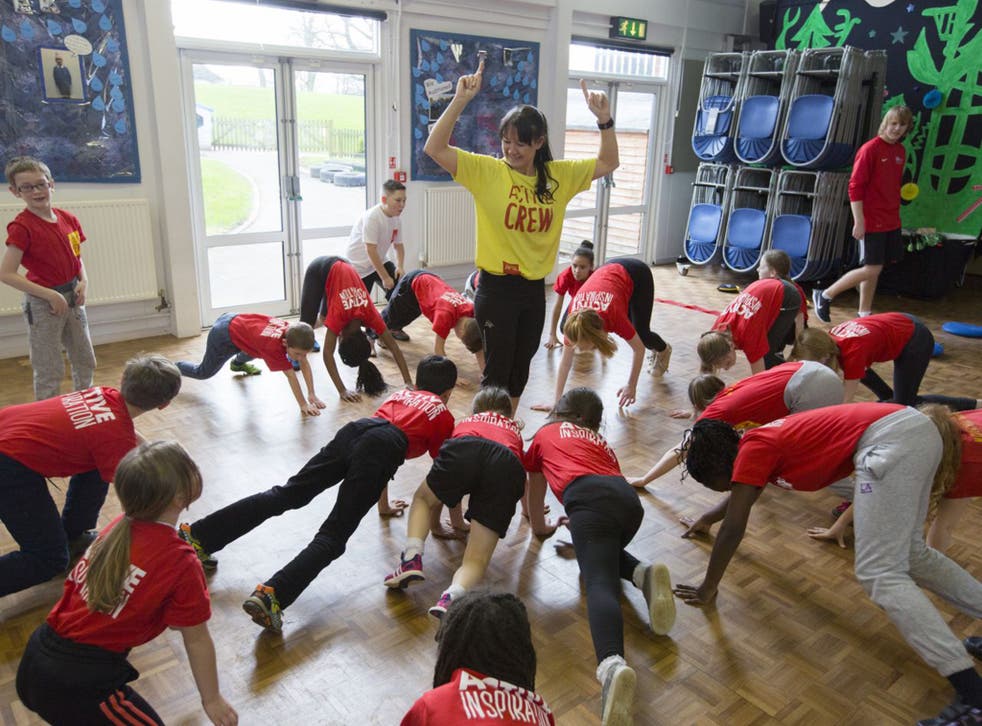 It's a perennial question for teachers: how do you get children who hate physical activity to take part in PE lessons?
A Northampton primary school believes it has the answer – and initial results are promising, according to the school. Designed to make the least active pupils take an interest in their fitness, a scheme has been introduced at Lings Primary School, one of 30 throughout the country to try out the radical new lessons. And not only have the pupils developed an interest in activities ranging from football to ballroom dancing, according to the school, but their school work has also improved significantly.
They also turn up on time – Lings now has the best attendance record in the county at 98 per cent – and results have improved: 86 per cent of pupils now achieve the required standard in English and maths tests for 11-year-olds, compared with only 44 per cent four years ago.
The turnaround has been achieved by simply making PE fun. Instead of climbing wall-bars and running on the spot, the pupils practice exercises such as moving like animals. One routine involves crawling around the floor like a bear and moving around like gorillas or caterpillars. In another the children try to maintain their balance on wobble boards made of rubber – all of which stretch their muscles and improve their fitness.
"We're sending two or three teams to sporting events," said Leigh Wolmarans, the head teacher. "Three years ago some of these kids would never even have put their names forward to play in them."
Noise levels in the lessons are high and, asked how they feel at the end of the session, they say "good", "tired", "hot", "sweaty" and relaxed".
Ashtun, a 10-year-old who is in his second year on the programme, has become a leader of the activities, helping those who have just started. "I used to be a bit nerve-racked when it came to certain things," he admitted. He has now developed a passion for ballroom dancing.
Chris Wright, head of health at the Youth Sport Trust, which designed the Active Crew Club programme with the support of Virgin Active, said: "In any school, you're looking at 30 to 40 per cent of children who are really engaged with sport, but there are 15 to 20 per cent who aren't active. It's a question of how we engage them.
"What we teach them is not sport-specific. We're just looking to develop their skills more broadly."
Lings, which has 250 pupils, is situated in the most deprived area of Northamptonshire. More than half its pupils are entitled to free school meals, compared with a national average of about 14 per cent. It was one of the 250 schools singled out by the Department for Education for failing their pupils the most.
Baroness Campbell of Loughborough, who chairs the Youth Sport Trust, said: "We want to show young people that physical activity is fun and a great way to learn skills which will stay with them for life."
To that end, Virgin Active aims eventually to bring its programme to 500,000 pupils.
Register for free to continue reading
Registration is a free and easy way to support our truly independent journalism
By registering, you will also enjoy limited access to Premium articles, exclusive newsletters, commenting, and virtual events with our leading journalists
Already have an account? sign in
Register for free to continue reading
Registration is a free and easy way to support our truly independent journalism
By registering, you will also enjoy limited access to Premium articles, exclusive newsletters, commenting, and virtual events with our leading journalists
Already have an account? sign in
Join our new commenting forum
Join thought-provoking conversations, follow other Independent readers and see their replies