Lords sound alarm over university 'privatisation' – but fees plan survives
Ministers accused of 'carpet-bombing' higher education but peers vote in favour of Coalition's policy of trebling costs from 201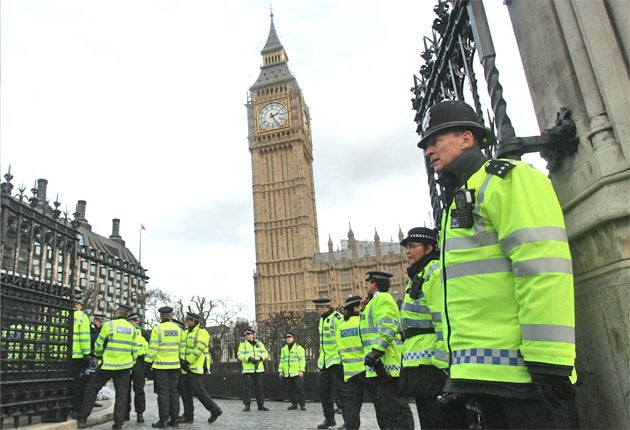 Plans to raise student tuition fees to up to £9,000 a year cleared Parliament last night after a heated House of Lords debate in which ministers were accused of destroying universities with swingeing cuts.
Attempts to delay or water down the increases were comfortably defeated – but only after protests from academics that the near-trebling of fees from £3,290 could deter teenagers from poorer backgrounds from taking degrees.
Critics protested that the rises – described by one peer as a "game-changer" for higher education – were being hurried through without proper consultation.
The debate followed last week's dramatic Commons vote in which the Coalition Government won a narrow majority for the planned rises which have prompted violent demonstrations across central London.
Last night a Labour attempt to block an increase in the basic level of fees to £6,000 was defeated by 283 votes to 215, a majority of 68. Peers then voted by 273 to 200, a majority of 73, to support raising the fee cap to £9,000 from 2012.
The Government insisted the increases were an essential element in moves to tackle Britain's huge debts. It will now attempt to switch focus in the new year to planned measures to boost the numbers of young people from less well-off backgrounds applying to universities.
Liberal Democrat peers maintained a greater show of unity than the party's MPs on the issue, but Baroness Sharp of Guildford, a former higher education spokeswoman, spoke out against the "sharp hike".
She said: "I do find myself in a dilemma, I don't hide that. I think there are elements of this package that are very fair and very right and very proper.
"But I end up by feeling that there are other elements in it which I don't understand and I think are unfair."
Lord Bilmoria, the former chancellor of Thames Valley University, told peers he recognised fees had to rise, but called for the increases to be phased in over several years to protect universities' excellence. He said: "We all know the finances in this country are in a dire, dire situation, we all know cuts need to be made."
But, speaking from the crossbenches, he added: "There are cuts and there is carpet-bombing."
He said: "This is no time for a sledgehammer – this is a time to nurture and protect this country's competitive edge."
A former higher education minister, Lord Triesman, accused the Government of attempting to drive through the "privatisation" of universities.
He said: "This decision will switch the concept of universities from being a public good, as they have always been through modern history, to essentially a private sector, market-driven by personal private investment.
"Stripped back to the realities, this is a 200 per cent starting fee hike and, for most, it will be a 300 per cent increase. It will result in all probability across the board in about a 300 per cent increase in student debt."
Lady Blackstone, a former education minister and a former master of Birkbeck College, said education was "an investment, not a subsidy". She said the plans had caused "misery and despair" among academics.
But Lord Henley, speaking for the Government, told the Lords that ministers had put together a "progressive package" which would benefit both students and universities.
He added: "We can no longer ask the taxpayer to continue the current level of higher education funding. We want to maintain a high quality university sector more responsive to the needs of students and which is underpinned by a progressive system of graduate contribution. What we are proposing will allow those universities and colleges that can attract students to get the high quality funding they need."
He received the backing of Lord Browne of Madingley, whose report on the funding of higher education – commissioned by the previous government – formed the basis of the proposals.
He said there was no evidence of higher fees deterring less well-off teenagers from going to university.
The Rt Rev John Saxbee, the Bishop of Lincoln, said: "It is simply counter-intuitive to believe students will commit to this size of debt for a benefit that cannot be guaranteed."
He called for a debate on whether allowing young adults to accumulate such debts was "morally defensible or socially sustainable".
Professor Lord Krebs, principal of Jesus College, Oxford, a crossbencher, said the proposal was "not justified and fair". He asked ministers: "How can you justify cutting public support for universities when we are already spending less as a proportion of... public spending than countries such as Hungary, Mexico, Poland or Brazil?"
The former Tory cabinet minister Lord Patten of Barnes, chancellor of the University of Oxford, said peers should know from experience that "the taxpayer isn't going to provide the money – so the only revenue stream left is the student".
The plans were approved by a majority of 21 in the Commons, but the vast majority of Liberal Democrat backbenchers opposed the rise.
Firth abandons Lib Dems
Colin Firth, the most prominent celebrity supporter of the Liberal Democrats, has turned his back on the party in protest over tuition fees.
The star of Pride and Prejudice campaigned alongside Nick Clegg in the general election seven months ago. But yesterday he took a swipe at policy switches made by the party since it entered into Coalition.
"My compass hasn't stopped spinning," Firth said at the Dubai Film Festival, where he was promoting his latest film, The King's Speech. "It's profoundly disillusioning if you are a student who has registered to vote simply because of what the Liberal Democrats were promising – and many, many did. It's one of the reasons I went in that direction."
Firth did not condemn Mr Clegg for striking the deal with the Tories but said the Coalition "made it difficult for us who thought progressive politics would be the way forward".
Nigel Morris
Join our commenting forum
Join thought-provoking conversations, follow other Independent readers and see their replies