Restore maintenance grants for poorest students to boost diversity on campus, university boss says
Exclusive: 'It could make a substantial difference to disadvantaged students nervous to take out a loan'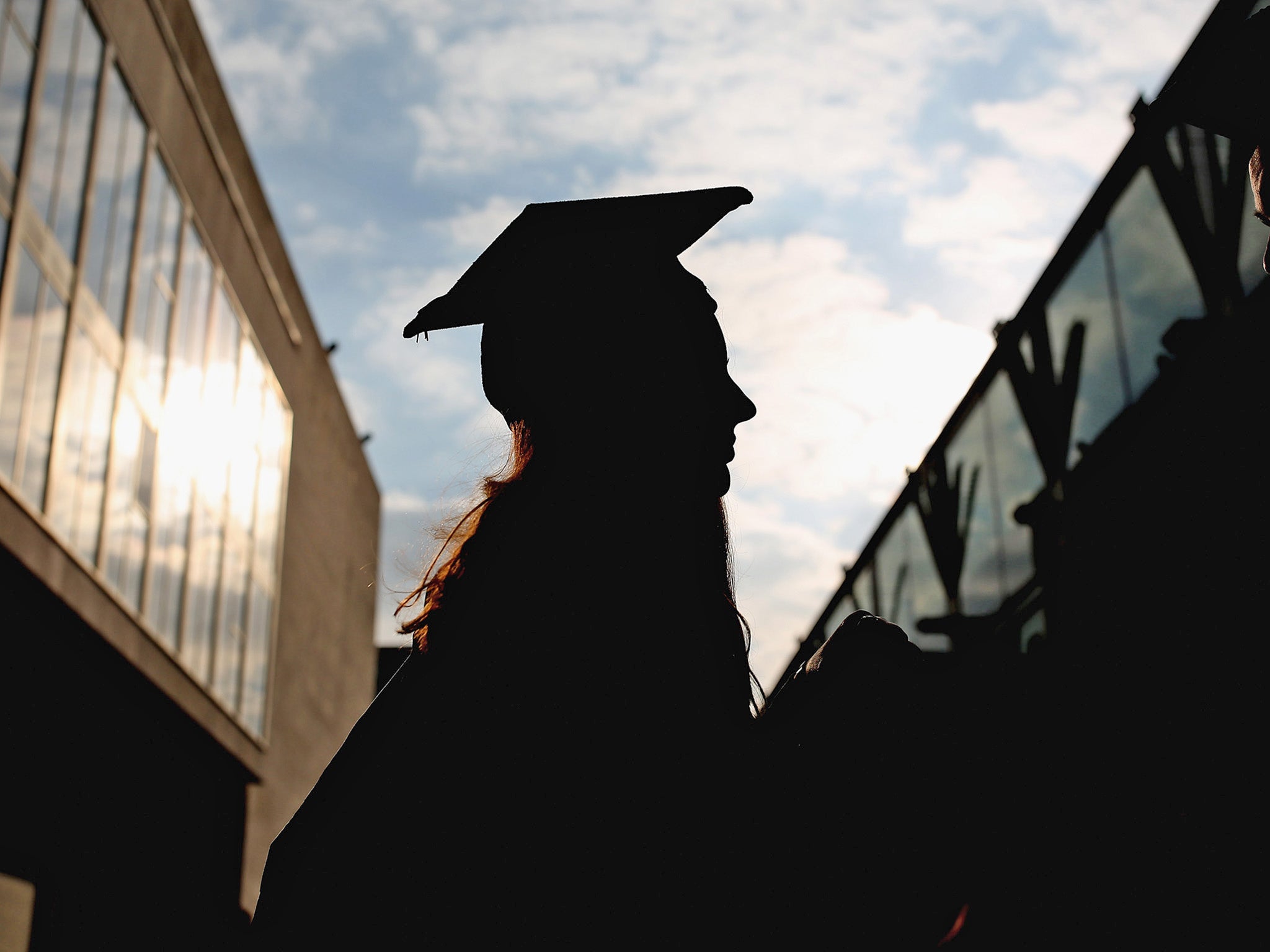 The government must bring back maintenance grants for poor students in order to improve diversity in higher education, according to leading universities amid a major row over admissions policies.
Tim Bradshaw, head of the Russell Group, which represents the most selective UK universities, called on ministers to make more money available to widen access, rather than "putting all the blame on universities".
His comments come as the group of 24 elite universities, which includes Oxford and Cambridge, are in the spotlight for failing to admit sufficient numbers of students from ethnic minorities and poorer backgrounds.
Ministers and the Office for Students (OfS) have criticised top universities for not making enough progress in their attempts to admit more students who are black or from less privileged backgrounds after it was revealed that some Oxbridge colleges had admitted no British black students.
Overall, just over 3 per cent of school leavers admitted to the most prestigious institutions last year were black – and just 6.5 per cent of the same intake came from the most disadvantaged areas in the UK.
But speaking exclusively to The Independent, Mr Bradshaw called on the OfS and the Department for Education to help boost student diversity and said reintroducing the grants, which were worth £3,500 a year, could make a "substantial difference" to young people "nervous" about taking on additional debt. The grants were scrapped by the government in 2016/17.
"I think if you give a grant to those students then you might encourage even more to consider applying for university in the first place and think it is actually something they can really aspire to – and that it won't land them in additional debt at the end of the day," Mr Bradshaw added.
The Russell Group will submit a number of proposals for how maintenance grants could be restored in England to the government's review into post-18 education funding
One option includes providing a "living wage" grant of £8,192 a year for students eligible for free schools meals, which they said would reduce the debt of eligible students by £27,800.
"It could be very targeted, really cost-effective and actually make quite a substantial difference to those from disadvantaged backgrounds who may inherently be very nervous about taking on an additional loan. Actually the grant could work in their favour," Mr Bradshaw said.
The Russell Group said it was too early to say whether the removal of the grants in 2016 had affected the number of students admitted to higher education from poorer households.
But when asked whether £9,250 a year tuition fees and the loss of maintenance grants could be putting students from poorer backgrounds off going to university, Mr Bradshaw admitted: "Yes it might be. The student loans system is very complicated and difficult to understand."
Student news in pictures
Show all 34
Welcoming Mr Bradshaw's suggestion that maintenance grants be introduced, Amatey Doku, National Union of Students (NUS) vice president for higher education, told The Independent that it was "a terrible mistake" for the government to have scrapped them.
But he called for the Russell Group to do more to improve diversity. Mr Doku said: "Devastatingly low entry numbers for black students, combined with a persistent attainment gap between black students and others, illustrate the specific problems that the UK's top institutions must tackle."
"The reintroduction of maintenance grants alone can only ever be part of the solution," he added.
The proportion of students from poor backgrounds – and the percentage of black students – going to some of the country's leading universities have dropped in the last year despite increased pressure.
Analysis of the latest Ucas figures for 2017 show that a quarter of the 24 Russell Group universities have seen the proportion of deprived school leavers they admit fall since 2016. And ten universities in the Russell Group saw the proportion of black 18-year-olds that they admit decrease in a year.
But the Russell Group said the overall proportion of state school entrants to their universities has increased more quickly over the past few years than for the rest of the sector – and the number of students from black and minority ethnic backgrounds has steadily increased.
Nicola Dandridge, chief executive of the OfS, said universities were in "a unique position to drive change" through outreach and financial support for students, warning that they would be expected to make improvements or have their tuition fees reduced.
She said: "Too often universities risk compounding inequalities rather than being part of the solution. So we will continue to put pressure on them to do better, especially the highly selective ones that the Russell Group represents, where there are still significant, entrenched gaps in access."
This week, Damian Hinds, the education secretary, called for more action to be taken as he highlighted that disadvantaged pupils are still under-represented at Russell Group universities.
Speaking at an event in London on Tuesday, Mr Hinds said it was "not acceptable" that 18-year-old applicants from the most advantaged areas of the country are "still nearly five-and-a-half times more likely" to enter the most selective universities than their disadvantaged peers.
In his first major speech on social mobility, Mr Hinds called on universities to do more to improve access for disadvantaged students. He announced that the OfS had been asked to identify the best approaches for getting these children into university – including the most selective.
He also highlighted that black and white disadvantaged pupils are "both similarly under-represented at the most selective universities – including the Russell Group."
He said that universities "need to go further," adding: "There's a lot of money being spent on these access programmes and so on and there's a very legitimate public interest in making sure that absolutely reaches out as deep into the country and to every group as it can."
A DfE spokesperson said: "Finance should never be a barrier to a young person's education, and we are seeing real progress, with disadvantaged 18 year olds 50 per cent more likely to enter full-time university in 2017 compared with 2009.
"We have increased the maximum grants and loans available to support students with costs, and disadvantaged students starting their courses this year will have access to the largest ever amounts of cash-in-hand support for their living costs. On top of this, from next year, universities are working with the OfS – backed by £860m funding – to encourage more young people from disadvantaged groups to apply to university and give them the support they need when they get there."
Join our commenting forum
Join thought-provoking conversations, follow other Independent readers and see their replies