More than 600,000 pupils being taught lessons by unqualified teachers, says Labour
The number of unqualified teachers has risen by more than 60 per cent in the past five years as a result of staff shortages in schools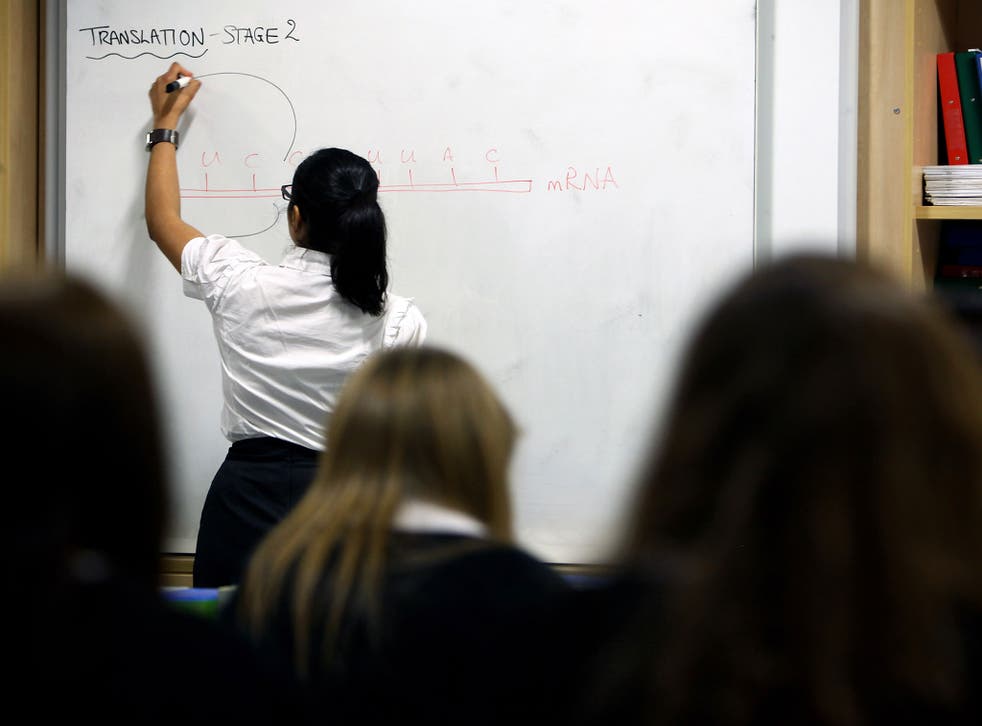 More than half a million pupils are being taught lessons by unqualified teachers, new analysis reveals, fuelling concerns over a growing crisis in teacher recruitment across the country.
Labour analysis of Government figures suggests as many as 613,000 state-school pupils are being given lessons from teachers who lack expertise in the subject.
The number of unqualified teachers has also risen by more than 60 per cent to 24,000, up from 14,800 in 2012, when the Government removed a requirement for teachers to be qualified in the specific subjects they cover.
This coincides with dramatic staff shortages seen across the sector, with more teachers leaving the profession than entering it for the second year running.
Labour condemned the findings, highlighting that the Government has missed its teacher training targets for the fifth year in a row.
Mike Kane, the shadow schools minister, said this failure to recruit and retain good teachers was putting children at risk.
"The Government have completely failed in their most basic of tasks and are clearly relying on unqualified teachers to plug the gaps," he said.
"Unqualified teachers have no guaranteed training in safeguarding children, controlling a class or adapting teaching to respond to the strengths and needs of all pupils," Mr Kane said.
"But under the Tories, they're responsible for the education of hundreds of thousands of our children."
UK news in pictures

Show all 50
While it is not uncommon for teachers who are qualified in one subject area to be assigned a second, other staff members including teaching assistants and native language speakers who do not hold a qualification in teaching are increasingly being pulled in to address staffing gaps, it has been reported.
Earlier this month it was revealed that more than a third of physics teachers to not have a degree in the subject, and more than a fifth of maths and English teachers hold no higher than an A-level qualification in the subject.
Department for Education data also reveals that children in many secondary schools in England are being taught other core academic subjects, including chemistry, geography and languages, by teachers lacking subject expertise.
The lack of science and maths teachers in particular has been of concern for schools leaders for some time, leading many to opt to assign staff to subjects outside of their area.
Geoff Barton, general secretary of the Association of School and College Leaders, said at the time: "There is a serious shortage of teachers in many subjects and schools have no choice other than to ask teachers to teach subjects in which they do not have a degree.
"These staff do an excellent job in difficult circumstances, and may be teaching students lower down the age range."
Teacher resorts to begging for school supplies
Press Association analysis of the same figures found that the proportion of geography teachers without a relevant post-A-level qualification has risen to more than a third (33.8 per cent), compared with 32.5 per cent five years ago.
It also found that in history around a quarter (24.9 per cent) are lacking in subject expertise, down compared with 2011.
Kevin Courtney, general secretary of the National Union of Teachers, said: "Children and young people deserve to be taught by a qualified teacher and we know parents agree."
A YouGov survey, commissioned by the union, of parents' views on education showed the overwhelming majority (80 per cent) would not want their children to attend schools that did not require their teachers to have professional teaching qualifications, he added.
The same survey also showed 73 per cent of parents believed employing unqualified teaching staff in free schools – state-funded schools which are outside of local authority – is a tactic "designed to save money, not improve standards".
Earlier this year, the Government relaxed immigration rules for computer science and general science teachers in a bid to address the teaching shortage, marked by experts as "critical".
Maths and physics were already on the shortage occupation list, governed by the Migration Advisory Committee, but chemistry teachers were removed from the list as they were no longer deemed an acute concern.
This is despite more than a quarter of chemistry teachers (25.1 per cent) last year holding no higher than an A-level in the subject.
"Under Labour all permanently employed teachers had to be qualified," said Mr Kane
"This Government changed the rules and scrapped that requirement, allowing schools to employ unqualified teachers, permanently threatening standards.
"There is nothing more important to a good education than excellent teaching. The Tories' failure on teacher recruitment is putting school standards at risk and it's our children who will pay for their mess."
Earlier this year, Education Select Committee MPs warned shortages in England had reached a "crisis" point, criticising the Government for failing to come up with a coherent plan to tackle a lack of staff in core subjects such as sciences and maths.
The shortage is set to worsen with pupil numbers at secondary schools expected to spike by more than 500,000 to 3.3 million by 2025.
A Department for Education spokesman said: "The number of teachers overall has risen by 3.5 per cent since 2010 and the proportion of qualified teachers in schools remains high.
"Nine out of 10 schools are rated good or outstanding and we have record number of teachers in our classrooms - 95 per cent of which hold qualified teacher status.
"The rest include some trainees working towards their professional qualifications as well as experts, such as leading scientists, sports people or musicians, who headteachers think can add value to individual lessons and enrich the learning experience for children."
Register for free to continue reading
Registration is a free and easy way to support our truly independent journalism
By registering, you will also enjoy limited access to Premium articles, exclusive newsletters, commenting, and virtual events with our leading journalists
Already have an account? sign in
Register for free to continue reading
Registration is a free and easy way to support our truly independent journalism
By registering, you will also enjoy limited access to Premium articles, exclusive newsletters, commenting, and virtual events with our leading journalists
Already have an account? sign in
Join our new commenting forum
Join thought-provoking conversations, follow other Independent readers and see their replies