Nick Clegg's free school call 'too late'
Monday 05 September 2011 16:58 BST
Comments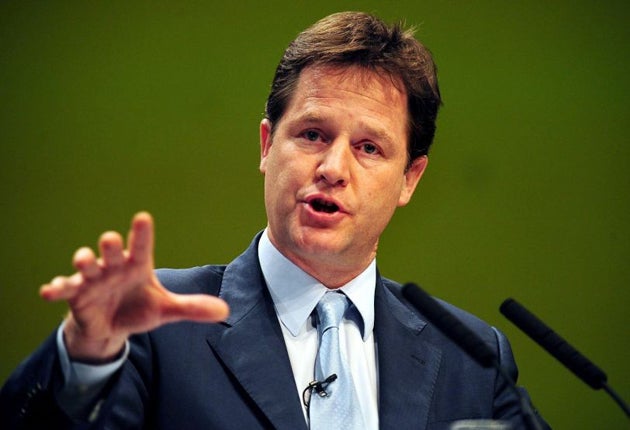 Nick Clegg's call for the Government's new free schools to be open to all and not run for profit may be "too little too late", union leaders warned tonight.
In a speech delivered as the first wave of the new-style schools prepared to open for the new academic year, the Deputy Prime Minister said that they would be acceptable only if they reduce social segregation.
He called on Education Secretary Michael Gove to ensure that the second wave of the free schools - to be announced within the next few weeks - are in poorer neighbourhoods or in areas with shortages of school places.
In a bid to reassure Liberal Democrat sceptics that the policy will improve social mobility, Mr Clegg insisted that he would never allow independent schools in the state sector to be run for profit.
Teaching unions raised concerns that the Government was already "very comfortable" with the idea of state schools being run for profit.
Chris Keates, general secretary of the NASUWT teaching union, said: "Today's appeal by the Deputy Prime Minister urging that free schools should be inclusive and should not be run for profit is welcome but may be too little too late.
"The sad fact is that the coalition Government is moving full steam ahead with an Education Bill which will allow all free schools and academies to apply their own rules to select pupils and to make a profit out of children's education."
Martin Johnson, deputy general secretary of the Association of Teachers and Lecturers (ATL), said: "Regardless of what Nick Clegg said this morning, the Conservative-led Government seems to be very comfortable with the idea of state-funded schools being run for profit. The Government is setting everything in place for this, and the only missing piece of the jigsaw is a legal clause."
The free schools policy is seen as a distinctly Tory strand of the coalition agreement, with Lib Dem activists voting against it at their party conference last year over concerns that it is socially divisive.
Under the reforms, parents, teachers, faith groups, charities and other organisations are allowed to set up their own state-funded schools, outside local authority control.
Mr Clegg acknowledged today that the programme is "controversial" and carries "risks", but added he was confident that these have been mitigated.
"Let me be clear what I want to see from free schools. I want them to be available to the whole community - open to all children and not just the privileged few. I want them to be part of a school system that releases opportunity, rather than entrenching it.
"They must not be the preserve of the privileged few - creaming off the best pupils while leaving the rest to fend for themselves, causing problems for and draining resources from other nearby schools. So let me give you my assurance: I would never tolerate that."
Mr Clegg said free schools would only be acceptable if they were improving social mobility and promoting "ability and drive not privilege and good connections".
He said he was pleased that half of the first schools are in deprived areas.
"Michael Gove will be making decisions on the second wave over the coming weeks. I want to see all of them in poorer neighbourhoods. Or in areas crying out for more school places."
Rejecting suggestions that private companies could run free schools for profit, the Lib Dem leader said: "To anyone who is worried that, by expanding the mix of providers in our education system, we are inching towards inserting the profit motive into our school system - again, let me reassure you: yes to greater diversity, yes to more choice for parents, but no to running schools for profit, not in our state-funded education sector."
The Tory Education Secretary, who has championed the flagship schools policy, said yesterday that the free school system did not need profit "at the moment".
"Nick Clegg and I are completely agreed on this. The Conservative election manifesto said that we didn't need to have profit at the moment. Nick doesn't believe that we need to have profit at the moment, and we don't," Mr Gove told BBC 1's Andrew Marr Show.
Asked today what was wrong with introducing for-profit schools, Mr Clegg told his audience at Southfields Community College in south-west London that people were likely to balk at the idea of the state funding private, profit-making companies.
He also defended his party against accusations it was "caving in" to the Conservatives on the issue of free schools, saying each party brought different things to education policy.
"We're trying to balance these different traditions and preferences and create the best of both," he said.
The first 24 free schools are opening this month.
The Department for Education also announced today that there are now 1,300 academies open across England, with 1,097 schools becoming academies since last September.
PA
Join our commenting forum
Join thought-provoking conversations, follow other Independent readers and see their replies