No buts, children should be taught to speak eloquently, says leading headteacher
Richard Garner
Friday 11 April 2014 05:48 Comments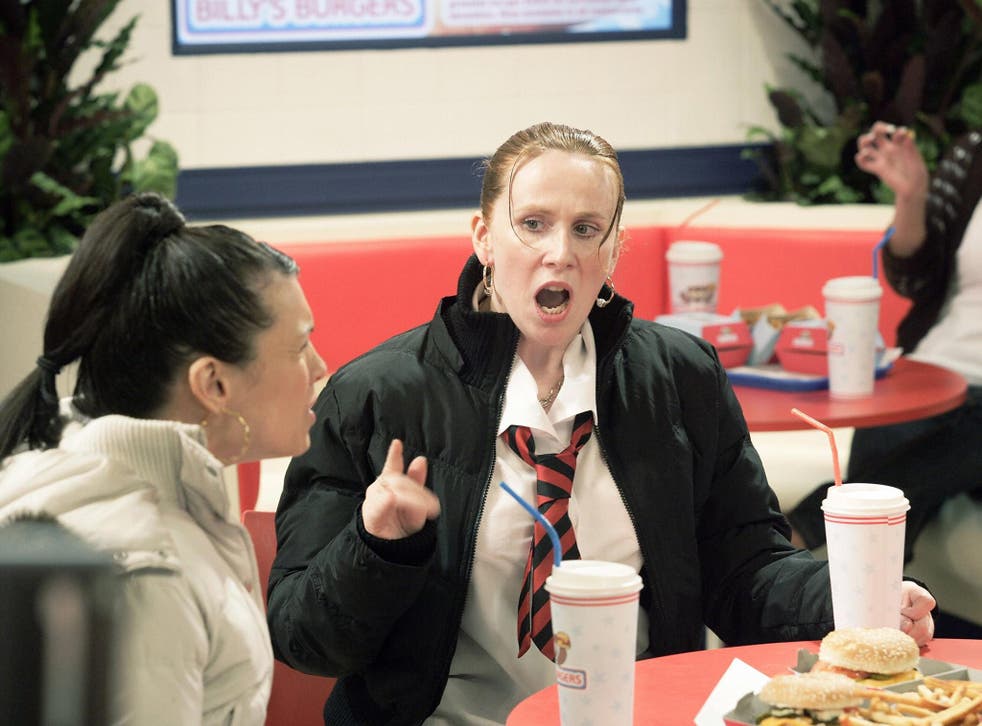 Talking is just an important a skill to learn as reading and writing to combat the image of the "grunting, monosyllabic teenager", a leading headteacher and former senior adviser to Tony Blair says today.
Peter Hyman, who runs School 21, a free school for four- to 18-year-olds in Newham in the East End of London, said learning to speak eloquently had now become a "moral issue" for schools.
It was the key that could unlock the door to helping young people find their way in the world and to employment, he argues in today's Times Educational Supplement.
The image of the monosyllabic teenager has been stoked up by fictional TV characters like Little Britain's Vicky Pollard with her catchphrase of "Yeah but no!" and comedian Harry Enfield's teenage character Kevin who asserts that everything is "so unfair".
Mr Hyman said that talk was "an undervalued area of literacy" which wrongly received less time in the curriculum than reading and writing.
He also criticised exam regulator Ofqual for deciding to remove marks for speaking and listening from the GCSE English exam, pointing out that oral exams were being give more weight in modern foreign languages qualifications. Yesterday Ofqual announced speaking would account for 25 per cent of the marks in modern languages.
"Speaking eloquently is a moral issue because to find your own voice both literally and metaphorically and be able to communicate your ideas and your passions is crucial to how they [young people] are going to be a success in the world," he said. "If you can speak and articulate yourself properly that will happen."
He added: "We've got to dispel the myth of the grunting teenager, the monosyllabic teenager that makes employers say 'I've got this person who I know on paper is quite good but they can't string a sentence together'."
He said that some people believed "the silent classroom is the good classroom" when in reality it meant "the death of learning, unless there's a particular reason for it".
He said he liked to go round classrooms in his school and hear children talking to each other, discussing things, debating and questioning. "High quality talk" was at the centre of his school's day - from morning assembly to round table classroom discussions with the spoken word "built into the DNA of the school".
Mr Hyman called for a "bigger debate" about the issue, adding: "I think there's too much of a fashion now of saying 'the quieter the better, that shows you've got behaviour under control'.
"I think that is completely the wrong way to go and we've got to put speaking up there on a completely equal footing with reading and writing."
His school has just begun a pilot project with Cambridge University aimed creating and testing a range of ways teachers can boost and assess their pupils' speaking skills.
It is one of a number of initiatives aimed at boosting young people's skills in debating, public speaking and other areas of speech.
Janine Ryan, of the English-Speaking Union, which has run 50 workshops in schools under the theme "discover your voice", said: "If the young people are silent, it doesn't mean they don't have anything to say... it can be that no-one has ever asked them for their opinions before."
Register for free to continue reading
Registration is a free and easy way to support our truly independent journalism
By registering, you will also enjoy limited access to Premium articles, exclusive newsletters, commenting, and virtual events with our leading journalists
Already have an account? sign in
Join our new commenting forum
Join thought-provoking conversations, follow other Independent readers and see their replies