Number of graduates receiving 2:1 or First-class honours degrees rises by over 80%, according to university guide
Jo Johnson recently said 2:1 classifications were becoming too common, allowing students to 'coast' through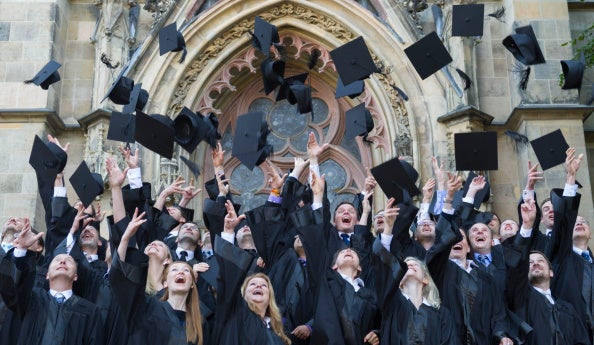 The number of graduates leaving university with either a 2:1 or First-class honours degree has risen by over 80 per cent and is 'spiralling out of control,' according to an investigation by a university guide.
Analysis carried out by The Sunday Times Good University Guide compared the number of the degrees awarded in 1998 with those given last year to find Liverpool John Moores University's rate had risen by a staggering 83.2 per cent – from 40.9 per cent in 1998 to 74.9 per cent in 2014.
Bournemouth University, Coventry University, and London South Bank all saw a surge of over 60 per cent, with the University of Kent at 60.
The Sunday Times has added how its findings have brought around allegations of grade inflation since £1,000-per-year tuition fees were first introduced by the Labour government of 1998.
Earlier this summer, Minister of State for Universities and Science, Jo Johnson, told Universities UK in a speech how 2:1 classifications at universities were becoming too common, allowing students to "coast" through.
Highlighting some facts he said he found "startling" at the time, he described how, since the 1990s, there has been a 300 per cent increase in the number of Firsts and said: "Over 70 per cent of graduates now get a First or 2:1 – up by seven percentage points in the past five years – and compared to just 47 per cent in the mid-1990s."
As well as this, almost half of university professors told a Guardian survey in May this year they had experienced pressure to round up student grades or to stop students from failing.
Join our commenting forum
Join thought-provoking conversations, follow other Independent readers and see their replies