Number of poor students attending UK's leading universities falls despite millions spent to encourage them to apply
Seven of the 24 universities in the more selective Russell Group of universities show a drop in the percentage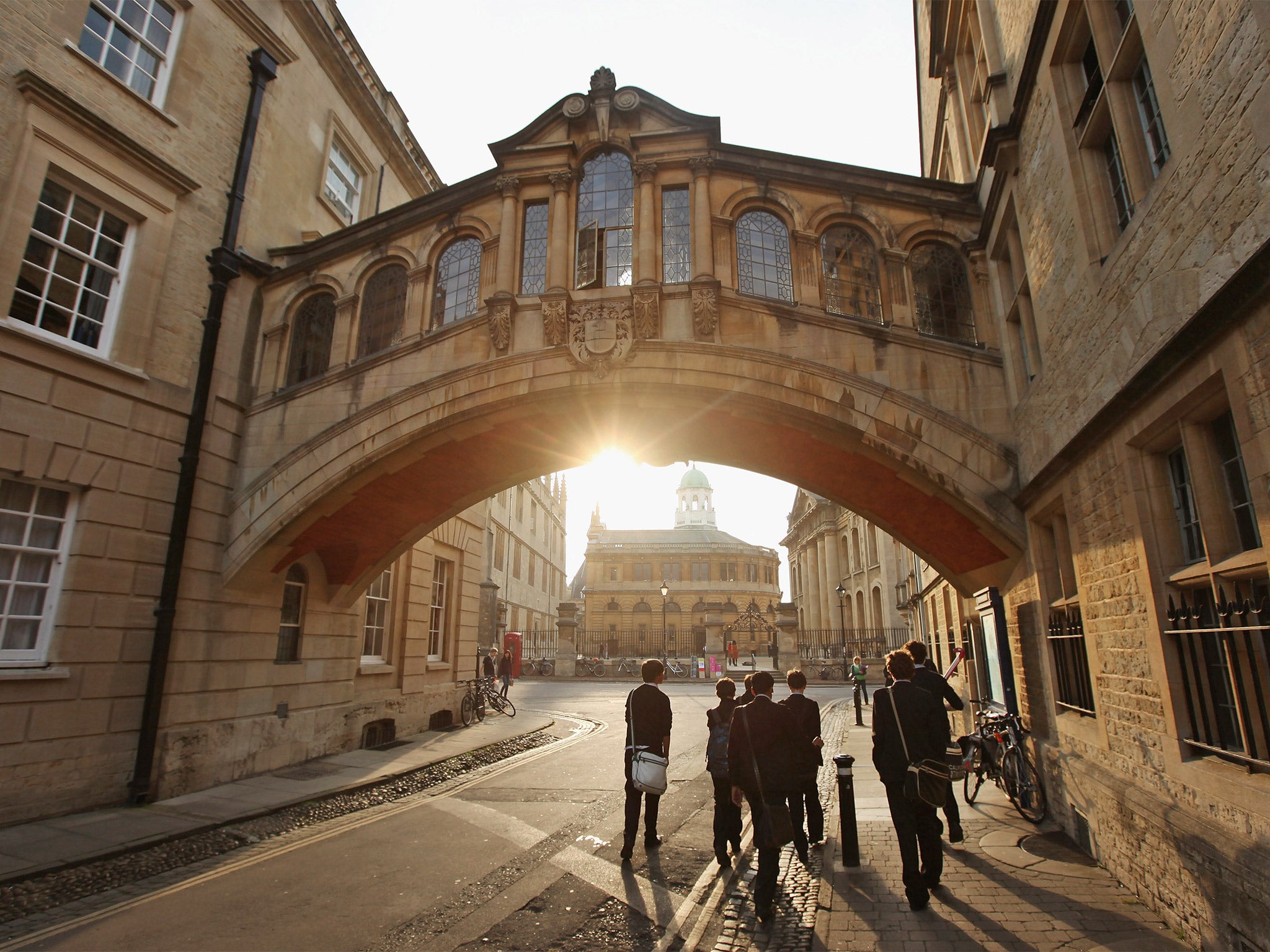 The proportion of students from poor backgrounds going to some of the country's leading universities has fallen in the past decade despite millions of pounds being spent encouraging them to apply, new figures show.
Seven of the 24 universities in the more selective Russell Group of universities - including Oxford and Cambridge - have seen the percentage of deprived pupils they admit fall, according to the Higher Education Statistics Agency.
The other five are Exeter, Durham, Imperial College, Glasgow and Queen's University, Belfast.
The figures cast a new light on the oft-repeated claim by ministers and universities that access for young people from disadvantaged areas has improved since the introduction of fees of up to £9,000 a year.
Whilst more poor children are going to university, the new figures indicate that most are winning places at middle and low-ranked institutions, not the most selective centres.
Universities Minister Jo Johnson said the figures showed a "worrying lack of progress" towards widening participation and urged top universities to "redouble their efforts" to boost social mobility.
The proportion of the student intake of Russell Group universities coming from poor backgrounds has gone up from 19.5 per cent in 2004/5 to 20.8 in 2014/5.
Over that time, non-Russell Group universities saw the proportion of their students coming from poor backgrounds increase much more significantly, from 32.5 per cent to 37.5 per cent.
The statistics released on 18 February also show that 77.2 per cent of undergraduates are from state schools, compared to 74 per cent in 2004/5. However, the figures show pupils from private schools are still two and a half times more likely to enter a leading university than their state school colleagues.
Lee Elliott Major, chief executive of the Sutton Trust - the charity which campaigns for equal access to university, said: "It is good to see that the proportion of state school students entering top universities has risen over the past decade.
"However, it is worrying that the access gap between those from poorer backgrounds and their more advantaged peers has actually widened at some universities.
"Today's figures tell us we need renewed and concerted efforts from Government, schools and universities alike to improve participation rates for the poorest students.
Nick Timothy, chief executive of the New Schools Network - the charity which supports free school, urged other universities to take a leaf out of Birmingham's book and set up their own free schools - where they could prepare students from poor backgrounds for the rigours of academic life. The percentage of students from low income backgrounds has gone up from 21.6 per cent to 22.8 per cent in Birmingham.
Of the 24 Russell Group universities, Oxford has the lowest proportion of entrants from the lowest social classes at 10 per cent followed by Cambridge with 10.2 per cent. Queen Mary University of London had the highest proportion with 37 per cent.
Some universities have been critical of the way HESA compiles its figures - which concentrate on the social class of applicants - claiming there are better ways to measure poverty, such as the proportion of students who have been entitled to free meals at school.
Oxford University said: "Our targets focus on what are arguably more precise - but also more challenging targets - categories of disadvantage.
"Overall the number of successful applicants who fall into any more or more of our target access categories is on the rise and more than 34 per cent of accepted UK candidates are from one or more of our target categories."
Dr Wendy Piatt, director general of the Russell Group, acknowledged: "There are still far too many children from disadvantaged backgrounds underachieving at school and receiving poor advice and guidance.
"It will take time, commitment and sustained action from a range of agencies to raise pupils' aspirations, increase attainment and improve the advice and guidance offered."
Russell Group members are particularly critical of secondary school pupils for encouraging their pupils to take the wring subject options at A-level - believing too many are opting to put them in for what are perceived as "easier" exams to boost their league table rankings.
Dr Piatt added: "Ensuring our doors are wide open to talented and able students from all backgrounds really matters to us and real progress is being made.
"Last year, 1,760 more students from low socio-economic backgrounds went to a Russell Group university than in 2009.The number of students eligible for free school meals going to our universities has doubled in the last four years and the number of black and ethnic minority students has increased by more than a third since 2012."
Last week, in advice to OFFA, the university access watchdog, Universities Minister Jo Johnson insisted it should concentrate on ensuring universities too in more white working class students and increased the numbers from ethnic minority groups.
He said: "These figures underscore a worrying lack of progress at some institutions and underline how vital it is that highly selective universities redouble their efforts to reach out to students from disadvantaged backgrounds."
A spokesman for Exeter University said: "We're deeply committed to widening participation."
A spokesman for Glasgow added it had undertaken "extremely successful outreach work to ensure we recruit the most able and ambitious students regardless of their socio economic backgrounds".
One in four of its intake came from the 40 per cent most disadvantaged areas - a better record than other institutions in Scotland.
Join our commenting forum
Join thought-provoking conversations, follow other Independent readers and see their replies