National Union of Students in new anti-Semitism row after series of offensive tweets
Exclusive: Candidates for top positions in UK students' union posted messages mocking and insulting Jews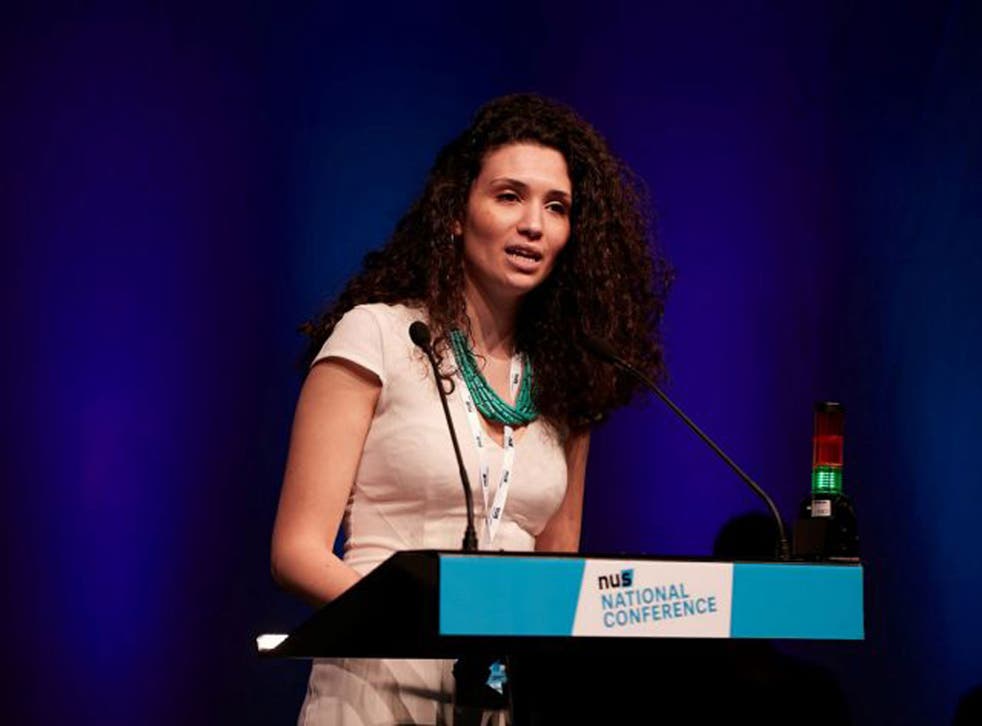 The National Union of Students (NUS) is embroiled in a fresh anti-Semitism row after three candidates holding or running for positions on its executive committee were revealed to have made offensive comments.
In online posts seen by The Independent, one current member of the union's National Executive Council shared a video mocking Jews as having big noses and being tight with money, while another publicly suggested Jewish people are tight-fisted and said he wanted to destroy Israel.
A third, who is seeking a position on the union's executive in elections being held this week, wrote an offensive Twitter message referring to Jews and using the phrase "Heil Hitler".
The Independent can also reveal that, during her time as a student at the University of Birmingham, Malia Bouattia, the current NUS president, was involved in hosting a play called "Seven Jewish Children" that has been widely criticised as anti-Semitic.
Ms Bouattia, who is seeking re-election, was last year accused of "outright racism" by the House of Commons Home Affairs Select Committee over comments she made relating to Israel. She had claimed the University of Birmingham was a "Zionist outpost" and criticised "Zionist-led media outlets".
The revelations come amid mounting concern about levels of anti-Semitism on university campuses. A survey by the NUS last month found a quarter of Jewish students in the UK live in fear of an anti-Semitic attack, while two thirds who had been the victim of crime at their place of study said they were targeted because of their faith.
The NUS annual conference, where it will elect its national officers for the coming year, begins in Brighton on Tuesday. Despite the deepening worries about anti-Semitism, a number of candidates seeking office have a history of making anti-Jewish and anti-Israeli comments.
Ali Milani, who is currently a member of the union's National Executive and is running to be its Vice President for Union Development, was accused of "deeply anti-Semitic" remarks after tweets emerged from 2012 and 2013 in which he said Israel has "no right to exist" and is "a land built on ethnic cleansing and colonialism".
Mr Milani, who is also president of Brunel University students' union, also made a comment about Jews and money, tweeting: "Nah u won't mate, it'll cost you a pound #Jew".
Mr Milani also appeared to defend the terrorist group Hamas firing rockets into Israel, writing: "Oh fuck off! Hamas firing into southern Israel was a retaliation!"
And he threatened violence against supporters of Israel, writing: "Just heard someone say 'Palestine. It's what they used to call Israel'. Is a punch in the throat justified?"
Another candidate running for a place on the NUS' National Executive Council, Sean O'Neill, posted on Twitter in 2012 using the hashtags "heilhitler" and "fuckslutskilljews" – apparently in an attempt at humour.
Meanwhile, another current NUS officer, LGBT+ Officer Noorulann Shahid, who uses the pronouns they/them, posted a link on Twitter to a comedy video that includes a number of anti-Semitic tropes and said they had "laughed out loud" at the clip.
The video, titled "Black and Jewish", is a parody of rapper Wiz Khalifa's song "Black and Yellow" and makes jokes about Jews having big noses and being stingy. It features two black women dressing up in traditional Jewish attire and singing lyrics including "my ass and nose, they're both big" and "don't spend no money but you know I'm rich". The tweet dates from 2012.
Mr Milani, Mr O Neill and Shahid, who are all part of a left-wing grouping that includes Ms Bouattia, have apologised for their comments.
But Josh Nagli, campaigns director at the Union of Jewish Students, said he was "appalled by these absolutely disgraceful comments, all of which are extremely offensive to Jewish students."
"The regularity of anti-Semitic comments being made by candidates is exceptionally worrisome and shows complete disregard for the welfare of Jewish students, as well as for the anti-racist, anti-fascist values that NUS and many of these individuals claim to uphold – particularly when those comments invoke the memory of the Holocaust", he said.
"These candidates should do the right thing now and step down from their elections.
"These comments should not be seen in isolation; they are reflective of a wider culture of wilful tolerance towards anti-Semitism from members of the far left of the student movement that has been present for a number of years."
"A year on from her election, Jewish students are still waiting for an adequate apology from the current NUS President. From her and from others in the movement, there is complete disdain shown towards anti-Semitism, with many questioning its very existence on campus and in society, undermining Jewish students' right to define what they deem anti-Semitic."
The NUS says that, under the leadership of Ms Bouattia, it is has made tackling all forms of hate crime a priority. The organisation has run a series of events to highlight issues including anti-Semitism and Islamophobia and says it is currently campaigning and encouraging students unions to become "hate crime reporting centres".
Ms Bouattia last year denied her language was anti-Semitic but apologised for any offence she had caused, saying she was "truly sorry" that "the language I used in the past was interpreted as anti-Semitic" and that she had "no intention to offend Jewish students or make them feel unsafe".
An internal investigation by an independent "complaint manager" appointed by the NUS found Ms Bouattia had unintentionally used language that "could be reasonably capable of being interpreted as anti-Semitic" in one instance, but dismissed claims her remarks had been anti-Semitic on three other occasions.
The Independent can now also reveal that, during her time as a student, Ms Bouattia was involved in hosting a play called "Seven Jewish Children" that has been widely criticised as anti-Semitic. At the time, she posted about the play on Facebook saying she was "directing this with my friend". She now claims she merely helped to promote it and was not its co-director. Another student contact The Independent to support this.
The "Seven Jewish Children" production was organised as part of Israel Apartheid Week events in 2010. In a Facebook post, the now NUS president called the play "powerful" and "very relevant".
The play, by Caryl Churchill, was written as a response to the Israeli attack on Gaza in January 2009. It does not include the words Israel, Israelis, Zionism or Zionist but several mentions, including in the title, of Jews.
After viewing Seven Jewish Children at an earlier showing at the Royal Court Theatre, the Jewish Chronicle's theatre critic, John Nathan, wrote: "For the first time in my career as a critic, I am moved to say about a work at a major production house that this is an anti-Semitic play."
The play is accused of perpetuating the centuries-old, anti-Semitic blood libel that suggests Jews enjoy killing innocent people, particularly children.
Ms Churchill has denied her play is anti-Semitic, saying it is about Israel rather than Jews.
After being contacted by The Independent, Mr Milani said: "I have apologised unreservedly for these comments before and I do so again. They do not reflect how I see the world today. These tweets are from an incredibly long time ago - when I was 16 to 17 years old.
Mr Milani said his language had been "unacceptable" but that going to university had given him the "political education" he needed to understand he was wrong.
Mr O Neill, a student at Oxford University, said: "I was absolutely horrified to see this tweet. It flies in the face of my commitment to anti-fascism and anti-sexism."
"It was five years ago, and I have no recollection of writing it. I can only assume it was an incredibly distasteful inside joke, or a reference to something someone else said the night before.
"I wholly, unreservedly apologise for having ever associated myself with these truly vile hashtags. I am ashamed, and reach out to all groups affected to say sorry."
Shahid said: "What I said was not acceptable. I sincerely and unreservedly apologise to Jewish students for the video I shared and comments I made on Twitter. I wrote the tweet a long time ago when I had a limited amount of political education and understanding, and I'd never make such comments again as I am committed to unlearning all types of offensive and oppressive language.
"I am particularly ashamed for sharing the parody video which perpetuates anti-Semitic stereotypes and I cannot apologise enough for doing this. I apologise to anyone who was hurt by my tweet."
Crime of fashion? Galliano arrested over 'anti-Semitism'

Show all 2