Schools should be accountable for exam results of pupils they 'off-roll', Labour says
'Some of the most vulnerable children are being let down by an increasingly fragmented system'
Eleanor Busby
Education Correspondent
Tuesday 18 September 2018 16:51 Comments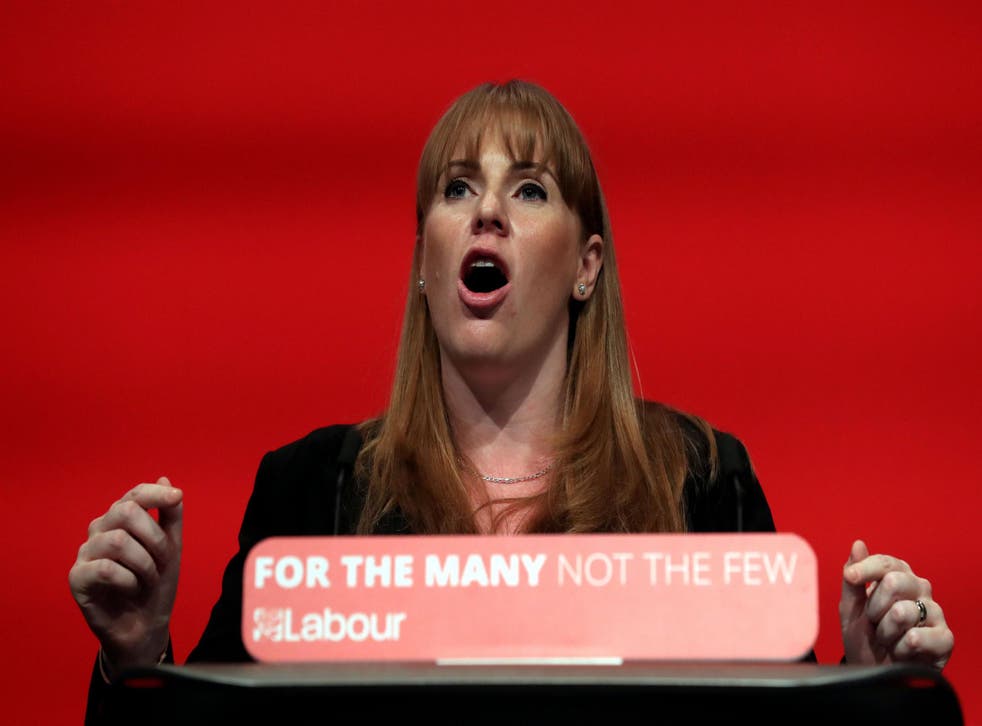 The Labour Party has vowed to tackle the scandal of "off-rolling" – where students are removed from the school register in a bid to improve exam results and league table ratings.
Angela Rayner, the shadow education secretary, announced that Labour would make schools accountable for the exam results of students who leave until they find another permanent school.
The proposal hopes to remove the "perverse incentive" where schools benefit from losing pupils, ensuring that no school is able to get rid of a pupil without consequence, the party said.
It comes after Ofsted raised concerns about "off-rolling" amid allegations that some schools are playing the system and getting rid of students who might do badly in their GCSEs.
Recent analysis from the schools watchdog identified 300 schools with high levels of pupil movement between year 10 and the time that they sit their GCSE exams – and it found half of the 19,000 pupils who left a school between year 10 and 11 last year did not reappear at another state school.
Speaking ahead of the Labour Party conference next week, Ms Rayner said: "Teachers and heads want to do the best for all their pupils but too often they find themselves caught in a system that doesn't reward them for doing the right thing.
"As it is, some of the most vulnerable are being let down or falling between the gaps of an increasingly fragmented system and out of education altogether. There needs to be a clear responsibility for these children, and accountability for their educational outcomes."
Labour would also like to close a funding loophole that allows schools to receive funding for pupils before they are counted towards exam results – as they say it creates a window in which pupils can be off-rolled without consequences for the school.
Ms Rayner added: "We must all take responsibility for our must vulnerable children, and that is why we will be reforming the accountability system to support them, while working with schools to move towards a system that is cooperative and does not drive workload, and giving them the resources they need to support all their pupils.
"That is why Labour will close the loopholes and end the perverse incentives. This will ensure that there is no unintended reward for so-called off-rolling and give schools an investment in ensuring that excluded pupils move on to the best possible provision."
As Labour made the announcement, the headteacher of the school featured in TV series Educating Greater Manchester resigned after allegedly being accused of deliberately "off-rolling" students.
Drew Povey, who was executive head of Harrop Fold School, criticised the council for taking a "heavy handed" approach when they suspended him in July over what he deemed to be administrative errors.
In a post on Twitter, Mr Povey said two to three pupils had been incorrectly coded as "off-roll" – but he insisted the school did not gain financially and it had a "negligible" impact on exam results.
Salford Council refutes the allegation that the suspension was a "personal vendetta" against Mr Povey.
UK news in pictures

Show all 50
In July, the Commons Education Committee warned an increasing number of students were being "abandoned" by the schools system due to a rise in formal exclusions and off-rolling.
Damian Hinds, the education secretary, has also condemned the practice saying he heard "many stories" of schools using informal exclusions to get rid of pupils with special educational needs.
The government has launched a review into exclusions – after the numbers have risen to its highest point in nearly a decade. It could look at off-rolling, as well as permanent exclusions.
Meanwhile, Ofsted has ordered inspectors to crack down on the use of off-rolling and it has developed a model to see where exceptional levels of pupils have been moved before their exams.
Register for free to continue reading
Registration is a free and easy way to support our truly independent journalism
By registering, you will also enjoy limited access to Premium articles, exclusive newsletters, commenting, and virtual events with our leading journalists
Already have an account? sign in
Join our new commenting forum
Join thought-provoking conversations, follow other Independent readers and see their replies