Oxbridge universities 'given greater say than other institutions' on pensions cuts driving higher education strike
Small, wealthy colleges were each given same weighting as large universities in consultation on changes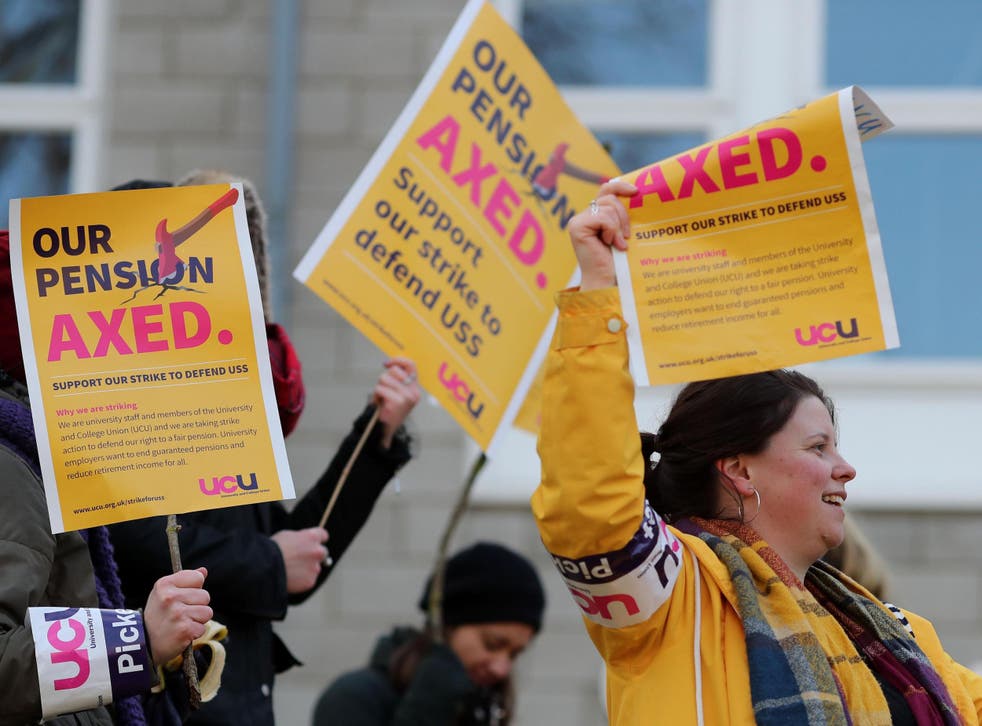 Pension cuts driven by Oxbridge colleges provoked the strike by tens of thousands of university lecturers which is expected to affect more than a million students this week, according to a union and academics campaigning against the changes.
The University and College Union (UCU) claimed Oxford and Cambridge university colleges were "able to manipulate" proposed changes to the terms of staff pensions because they were each counted as separate employers in a survey used to set the policy.
Union members at 64 UK institutions held the first of 14 days of planned strikes after voting in favour of industrial action on Thursday.
Staff walked out in protest at proposed changes to the Universities Superannuation Scheme (USS), the sector's main retirement fund.
Universities UK (UUK), which represents higher education employers, maintains that the pension scheme has a deficit of more than £6 billion that cannot be ignored, and that it has met union officials more than 35 times to discuss reforms.
It wants the USS to switch from a defined benefit scheme, which gives staff guaranteed pensions, to a defined contribution scheme, where their retirement income would be subject to fluctuations in the stock market.
UCU said the proposals would leave the typical lecturer £10,000 worse off each year after retirement. Young academics will be the worst affected and could lose up to half their pensions, according to the union.
Those figures have been disputed by UUK, which argues there is a legal duty to put a credible plan in place by the summer to reduce the deficit.
The changes were put forward following a consultation of university employers. Of the 116 institutions that responded, 42 per cent said they wanted a lower risk of pensions losses – used to set the level of employer contributions – than initially proposed by the scheme's managers.
At least 16 Oxford colleges, as well as Cambridge and Oxford universities themselves, are known to be among those who called for less risk. The small, wealthy colleges were given the same weight in the survey as larger institutions with far more employees, which campaigners claim, distorted the level of support for the pensions overhaul.
"It can't be right that, in a scheme where risk is supposed to be shared between institutions, Oxbridge employers seem to have had a far greater say in the future of the pension scheme than others," said Sally Hunt, UCU general secretary.
"Vice-chancellors at other USS universities should surely question how two universities have been able to manipulate Universities UK's hardline position in this way.
"Its's about time they stood up for their staff and spoke out against the current proposal, rather than letting the views expressed by a minority of institutions be used to drive through these damaging changes."
UK news in pictures

Show all 50
Michael Otsuka, a philosophy professor at the London School of Economics who first raised the issue of Oxbridge's "inflated" weight in the survey, said the pension changes were "based on a misleading UUK prospectus regarding the level of opposition among employers to investment risk".
He added: "It should be a special concern for USS members beyond Oxford and Cambridge if these two institutions exercised such disproportionate influence."
UUK said it had consulted with each employer that participates in the pension scheme.
A spokesman said: "Oxbridge colleges didn't distort the risk position. They are entitled to their view as an employer in the scheme."
​He added: "The changes proposed will make USS secure, and sustainable, safeguarding the future of universities. University staff will still have a valuable pension scheme, with employer contributions of 18 per cent of salary, double the private sector average. This makes strike action very disappointing. UUK remains at the negotiating table, but so far UCU has refused to engage on how best to address the funding challenges facing USS."
Hundreds of thousands of university workers are understood to be enrolled in the USS pensions scheme, mainly those working at older institutions established before 1992.
UCU said it expected tens of thousands of its members to take part in walkouts, with over a million students affected and 575,000 teaching hours lost.
Strikes will take place on 22 and 23 February, with more in the coming weeks if there is no resolution, building up to a five-day walkout in the week beginning March 12. The union warned action could continue into the summer exams period if the issue is not resolved.
Thousands of students have signed petitions demanding compensation from universities for classes lost.
Ms Hunt said: "The scale of these unprecedented strikes reflects just how destructive the proposals would be for staff pensions and their anger at university leaders to come back to the table to negotiate.
"Despite the fact that over a million students are going to be affected, university employers have been unwilling to reconsider their position and look at reasonable alternatives which would give staff security in retirement.
"Nobody is taking this action lightly, but the ball remains firmly in the employers' court. If further disruption is to be avoided, university leaders must put further pressure on their representatives to get back to the table for meaningful discussions with UCU."
​Universities Minister Sam Gyimah called on UUK and UCU to work together to resolve "this damaging and avoidable impasse".
Join our new commenting forum
Join thought-provoking conversations, follow other Independent readers and see their replies