Oxford and Cambridge universities accused of 'social apartheid' over failure to offer places to black students
Labour MP David Lammy charges elite institutions with racism after Freedom of Information request reveals systemic failings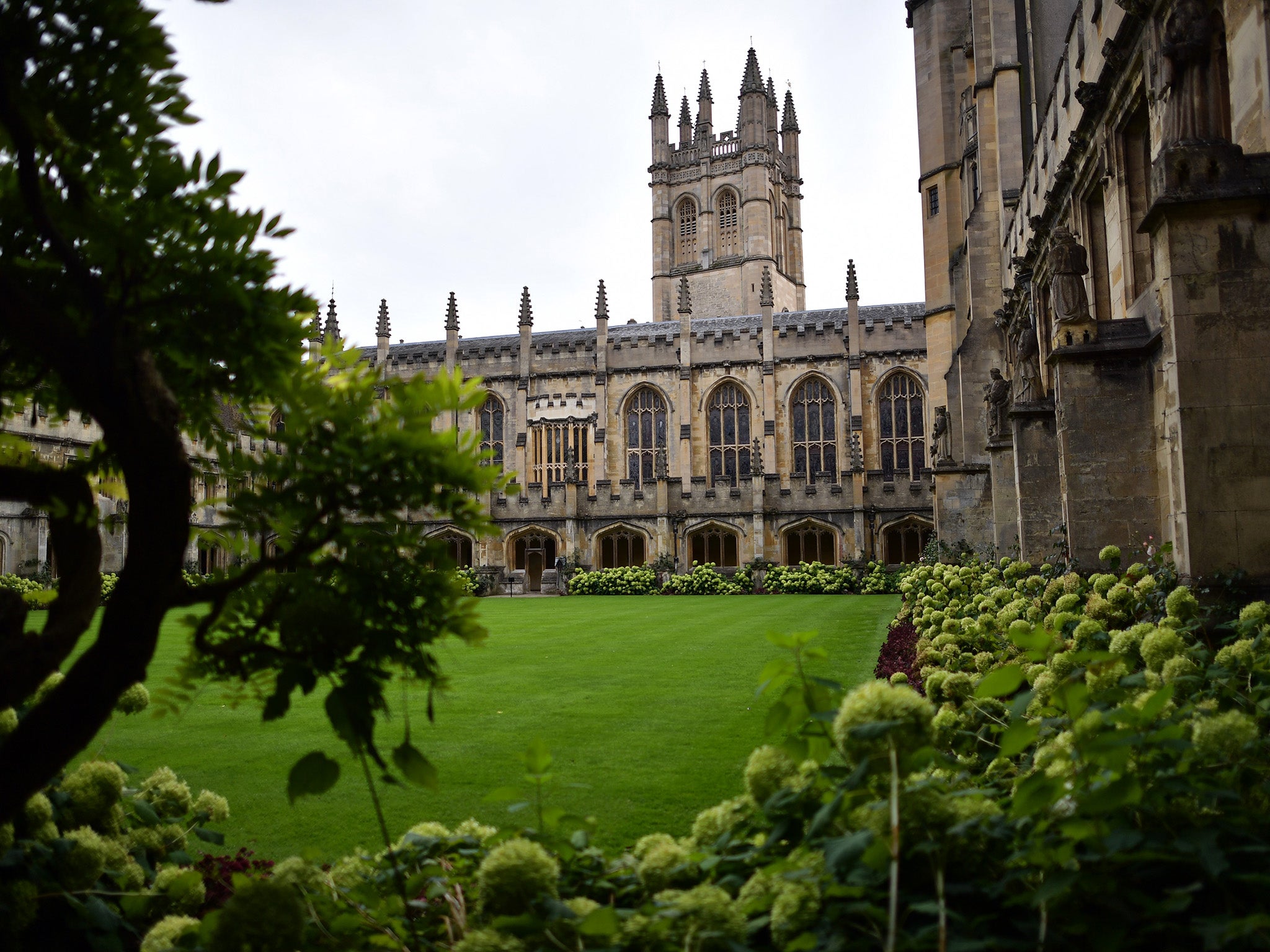 Thirteen Oxford University colleges failed to make a single offer to black A-level applicants over a six-year period, new figures have revealed.
Labour MP David Lammy, the former higher education minister, accused the red brick establishment of "social apartheid" after obtaining the figures through a Freedom of Information (FOI) request.
The data also shows that between 2010 to 2015 only three of Oxford's 32 colleges made an offer to a black A-level applicant every year.
Oriel college made just one offer during that same period to a black student.
Meanwhile figures for Cambridge University reveal that for each of the six years, on average, a quarter of colleges failed to make any offers to black British applicants.
Less than 1% of offers went to Pakistani applicants, and in 2015, 14 of Cambridge's 29 colleges did not make a single offer to a Pakistani applicant.
Mr Lammy said the numbers reveal that Oxford and Cambridge are hugely unrepresentative of the country, and is calling for reforms to the Oxbridge admissions process.
"This is a social apartheid," he said.
"Overall, the picture painted by this data is of two institutions that overwhelmingly draw their students from a privileged minority in the South of England and are complacent at best about taking steps to widen participation and access."
Mr Lammy said there are nearly 400 black students getting three As or better at A-level every year.
"Difficult questions have to be asked, including whether there is systematic bias inherent in the Oxbridge admissions process that is working against talented young people from ethnic minority backgrounds," he added.
The data obtained through Mr Lammy's FOI also shows that 48% of Oxford offers went to applicants from London and the South East, compared to 15% from the North, 11% from the Midlands and 3% from Wales.
More than 48% of Cambridge offers went to applicants from London and the South East, in contrast to 17% from the North, 12% from the Midlands and 2% from Wales.
Mr Lammy said the Oxbridge geographic and regional divide is "shocking", and that they are "failing to live up to their responsibilities as national universities".
Acknowledging that some individual colleges and tutors are taking steps to improve access, he said in reality "many Oxbridge colleges are still fiefdoms of entrenched privilege, the last bastions of the old school tie".
Calling for reforms, Mr Lammy said moves such as a centralised admissions process and the roll-out of foundation year programmes could help to address the balance.
Speaking to The Guardian, a spokesman for Oxford said fixing the issue would be "a long journey that requires huge, joined-up effort across society - including from leading universities like Oxford - to address serious inequalities".
The university told the newspaper that students from black and minority ethnic backgrounds made up 15.9% of its 2016 UK undergraduate intake, up from 14.5% the year before.
"We're also working with organisations such as Target Oxbridge and the newly formed Oxford black alumni network to show talented young black people that they can fit in and thrive at a university like Oxford. All of this shows real progress and is something we want to improve on further," the spokesman said.
A spokesman for the University of Cambridge said its admissions decisions are based on academic considerations alone.
"We are committed to admitting the best students who will thrive on our courses," he added, revealing it spends £5 million a year on access measures, which includes work focused with black and ethnic minority students.
"The greatest barrier to participation at selective universities for students from disadvantaged backgrounds is low attainment at school.
"We assess the achievements of these students in their full context to ensure that students with great academic potential are identified," he said.
"Widening participation further will require government, schools, universities, charities, parents and students to work closely together. We will continue to work hard with all parties to raise aspirations and attainment to improve access to higher education."
The university said in 2016, 39 black British students were admitted for undergraduate study, and that between 2007 and 2016 the number of black British students accepted annually has increased by 30%.
PA
Join our commenting forum
Join thought-provoking conversations, follow other Independent readers and see their replies