Half of parents asked to pay extra fees for 'free' 30 hours childcare policy, survey finds
'Families on the lower end of the income scale are the ones who are likely to suffer as a result'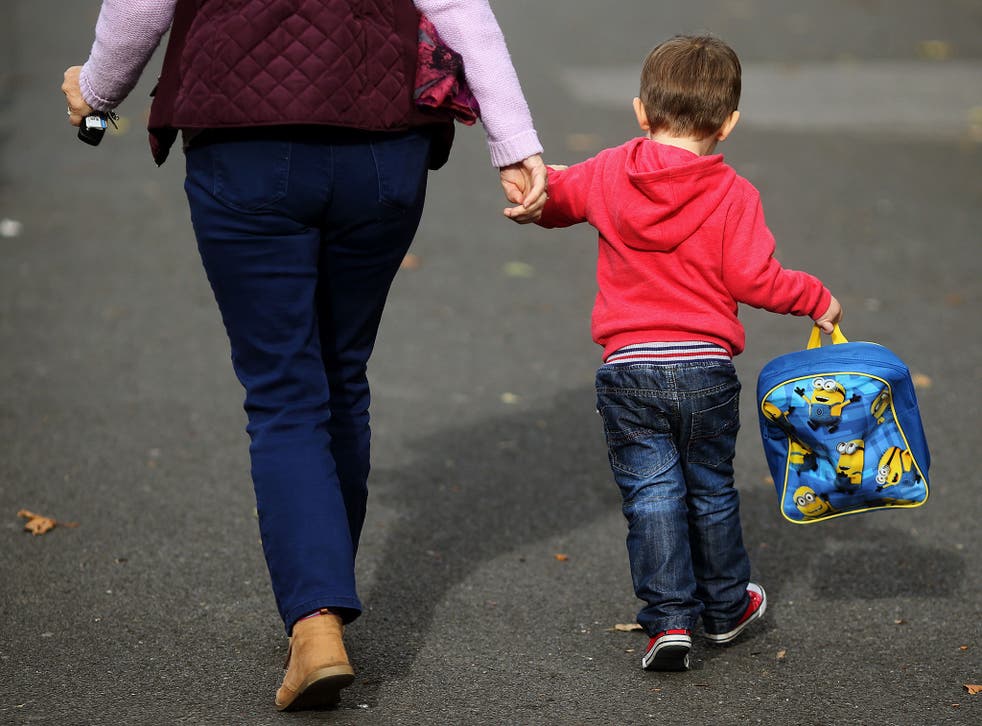 Nearly half of parents have been asked to pay additional fees since taking up the government's flagship offer of 30 hours of free childcare, according to new research.
Just over a third of childcare providers plan to increase parent fees for non-funded hours even further over the next year and a fifth plan to introduce additional charges, the report from the Pre-school Learning Alliance and Mumsnet also found.
The findings come at the end of the first year of the government scheme, which offers working parents of three and four year olds in England, 30 hours' free childcare a week.
Four in 10 nurseries, pre-schools and childminders fear they may have to close within the next year as a result of the policy, according to the study, which also found that just under half (45 per cent) of parents accessing 30-hours places have been asked to pay additional fees for non-funded hours because of a lack of funding.
Sue Shuttleworth, supervisor at St. Mary's Pre-School in Sevenoaks, in Kent, said: "We have had to increase our hourly rates for all parents, and fees for two year-olds are now higher than three- and four-year-olds – the first time we have ever had to do this. Parents provide a packed lunch and food for snack time. This is just keeping us sustainable at the moment, but we don't know how long this will last as the minimum wage, pension payments increase.
"The 30 hours is creating a two-tier system where only those who can afford it will be able to access early years education and those from more deprived backgrounds will not."
Neil Leitch, chief executive of the Pre-school Learning Alliance, said: "The fact is that even those providers who are technically managing to make the 30 hours work are often only able to do so by introducing or increasing additional fees and charges. Is this what the government meant when they promised parents 30 hours of 'free childcare'?"
He added: "And while better parents may be able to shoulder these unexpected costs in the short-term, those on the lower end of the income scale – the families that the government claims to be so committed to supporting – are the ones who are likely to suffer as a result. How many increasingly expensive 'additional costs' will providers be forced to introduce, how many providers will be forced to close their doors, before government admits there's a problem?"
Justine Roberts, Mumsnet founder and CEO, said: "The idea behind giving working parents 30 free hours of childcare is, in theory, a good one. But any scheme needs to be backed up by sufficient planning and funding and our users are telling us this simply isn't happening.
UK news in pictures

Show all 50
"Given the benefits working parents bring to the economy it's not good enough that nearly half of recipients are having to pay additional fees for non-funded hours."
Defending the scheme, Nadhim Zahawi, the minister for children and families said that more than 340,000 children had benefited from the scheme in its first year, "meaning that thousands of hardworking parents are saving up to £5,000 a year on their childcare bills."
She added: "We are spending more than any other government on childcare support with £1 billion extra funding a year to deliver all of this government's free childcare offers. We continue to monitor delivery costs and we have commissioned new research to provide further information on the costs around childcare."
Register for free to continue reading
Registration is a free and easy way to support our truly independent journalism
By registering, you will also enjoy limited access to Premium articles, exclusive newsletters, commenting, and virtual events with our leading journalists
Already have an account? sign in
Register for free to continue reading
Registration is a free and easy way to support our truly independent journalism
By registering, you will also enjoy limited access to Premium articles, exclusive newsletters, commenting, and virtual events with our leading journalists
Already have an account? sign in
Join our new commenting forum
Join thought-provoking conversations, follow other Independent readers and see their replies