Pimlico Academy graffitied after protesting students 'threatened with expulsion'
Exclusive: 'Expel the racist headmaster,' one wall reads
Nadine White
Monday 19 April 2021 15:51 Comments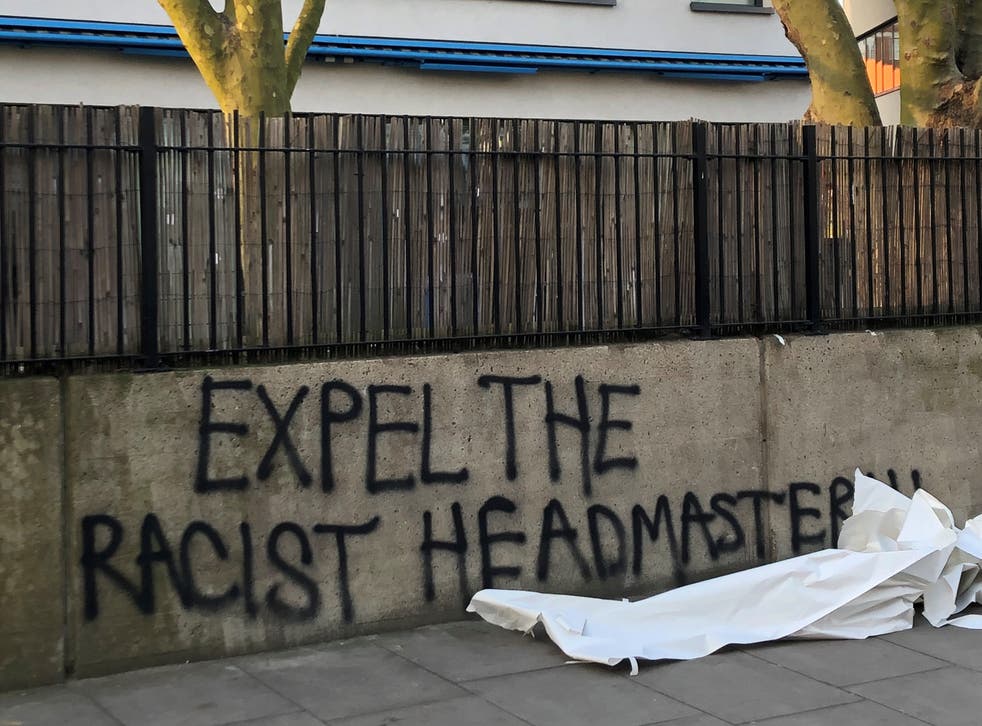 A London secondary school accused of racism has been sprayed with graffiti for the second time in less than a month.
It comes after Pimlico Academy students protested last month over changes to the curriculum, the flying of a union flag outside the building and a uniform policy which appeared to discriminate against Black and Muslim students.
The school's uniform policy has since been revised, and headteacher Daniel Smith agreed to remove the flag, but students who organised the demonstration have reportedly now been threatened with expulsion.
Pupils and parents involved in the action have reportedly been ordered to attend a disciplinary meeting today.
The graffiti, which reads: "They want to expel the students for speaking out" and "Expel the racist headteacher", appeared on Monday morning and has since been covered over by the school.
A by-passer who shared photographs of the graffiti with The Independent said: "Male staff members in suits were frantically walking around (clearly panicking) when they saw the graffiti, staff had been stationed outside to stop the kids from revealing what lay under the paper. Talk about a cover-up.
"Meanwhile students who organised the protests are very scared.
"This is so grim. The senior management have used the half term to regroup and re-exert their power."
The uniform policy introduced by the head after he took over leadership last year said that hairstyles that "block the view of others" would not be allowed, and that hijabs "should not be too colourful", sparking the initial protests.
Last September, a union flag erected outside the school was also ripped down and set alight by pupils, according to The Guardian.
In a statement after the protests, Mr Smith said: "The right to protest is a civil liberty which, in the United Kingdom, we all enjoy, one that was hard-fought for and which not everyone in the world is fortunate to have.
"Our students are bright, courageous, intelligent young people, passionate about the things that matter to them and acutely attuned to injustice.
"I admire them hugely for this though I regret that it came to this."
The redrafted uniform policy says hair must be maintained "in a conventional style", but there is no mention of styles that "block the view of others".
It adds that headscarves and turbans must be black or navy blue, but there is no mention of "colourful".
Pimlico Academy has been contacted for comment.
Register for free to continue reading
Registration is a free and easy way to support our truly independent journalism
By registering, you will also enjoy limited access to Premium articles, exclusive newsletters, commenting, and virtual events with our leading journalists
Already have an account? sign in
Join our new commenting forum
Join thought-provoking conversations, follow other Independent readers and see their replies