Poorer students increasingly more likely to drop out of university early, figures show
Students from disadvantaged and ethnic minority backgrounds still less likely to pass their degree with a good grade, according to university admissions watchdog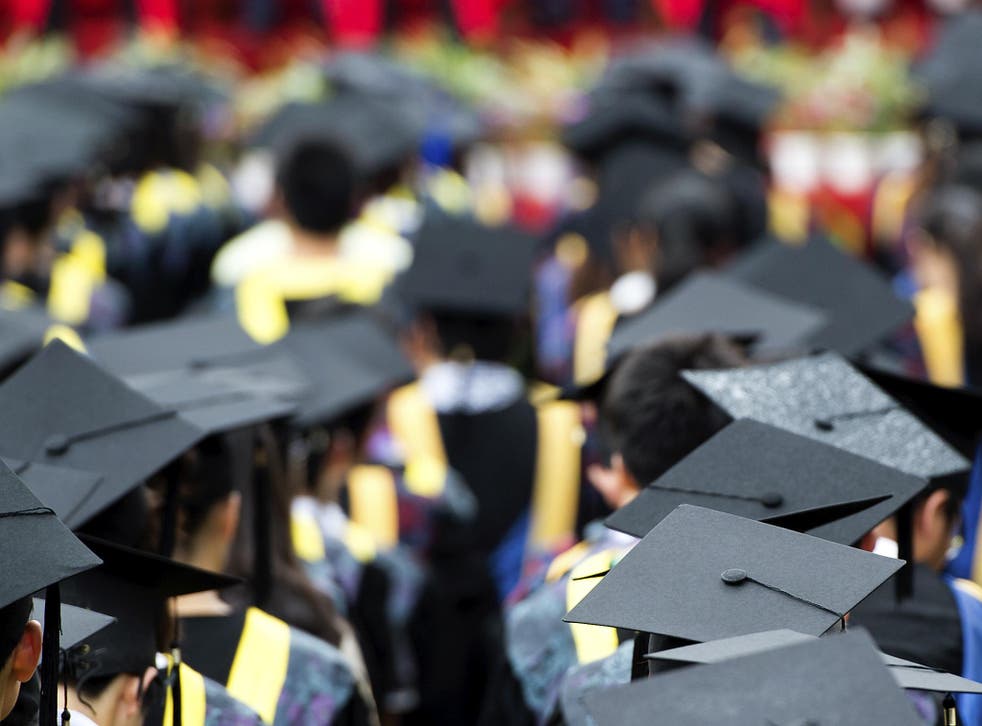 Increasing numbers of disadvantaged students are dropping out of university before finishing their degree, latest figures reveal.
The proportion of young people from poorer families who do not continue after their first year has reached its highest level for five years, according to a report by the Office for Fair Access (Offa).
Universities are under increasing pressure to improve social mobility within application procedures, but a student's chances of gaining at least a 2:1 still varies significantly depending on their ethnic background.
​Offa director Les Ebdon said it was a "disgrace" that a student's degree classification should be linked to their ethnicity.
Speaking to industry leaders at Buckingham University's Festival of Higher Education ahead of the report's publication, he said the watchdog had seen a significant increase in the amount of money being spent on access for poorer students, however, including support for students going into graduate employment after university.
Offa's report looks at the progress universities and colleges have made in widening participation in higher education – encouraging more disadvantaged young people to study for a degree – against the commitments and targets institutions made in their 2015/16 "access agreements".
Institutions wishing to charge higher tuition fees, up to a maximum of £9,250, must sign an "access agreement" with Offa.
The report concludes: "While more disadvantaged young people are in higher education than ever before, the numbers of those students leaving before completing their studies has risen for the second year in a row."
Official data shows that in the 2014/15 academic year, 8.8 per cent of young, full-time disadvantaged undergraduates did not continue in higher education beyond their first year, up from 8.2 per cent the year before, and the highest level since 2009/10.
QS World University Rankings: top 10 UK institutions

Show all 10
In comparison, in 2014/15, less than 5 per cent of those from the richest backgrounds terminated their studies early.
"The gap between the non-continuation rates of the most advantaged and most disadvantaged students has widened in the past year," the report noted.
"The significance of this for students is huge. Higher education can be a transformational experience that opens doors to rewarding careers and social mobility, but this is only the case if students achieve successful outcomes."
The report also found the non-continuation rate for black students is almost 1.5 times higher than it is for white and Asian students.
While more than three quarters (76 per cent) of Caucasian students graduated with a first or a 2:1, only 52 per cent of black students did the same, it added.
Speaking ahead of the Offa report's publication, Professor Ebdon said: "If we look at outcomes that students achieve, by ethnic group, we can see that there's a 15 percentage point difference between the likelihood of obtaining a first or 2:1 if you come from a black and minority ethnic group, than if you come from a white group.
"I think it's an absolute disgrace that the class of degree that you get should depend on your ethnicity," he told the Buckingham University conference.
He later said: "It's not just about getting in, it's about getting on.
"What we want is both access and success, so I am concerned, I am concerned that universities are doing enough to support students from different backgrounds when they get into university."
Responding to the figures, Sir Peter Lampl, Founder and Chairman of the Sutton Trust, said they highlighted continued problems at some of the UK's most elite universities.
"Despite £725m being spent on access initiatives, progress is still slow on access and retention for low and moderate income students," he said.
"It is even more worrying that there is no sign of improvement in access for mature and part-time learners.
"Mature and part-time study is a huge engine for social mobility. We need to halt the decline in the numbers of these students as a matter of urgency."
Universities minister Jo Johnson said: "The Offa report demonstrates that universities are rising to the challenge and supporting more students from disadvantaged backgrounds into and through higher education.
"However, there is still more work to do to ensure no student is missing out.
"The Higher Education and Research Act will build on this progress by requiring providers, including the most selective institutions, to publish application, drop out and attainment data broken down by gender, ethnicity and socioeconomic background, holding them to account for their performance and helping students to make informed choices about where they go to study."
Register for free to continue reading
Registration is a free and easy way to support our truly independent journalism
By registering, you will also enjoy limited access to Premium articles, exclusive newsletters, commenting, and virtual events with our leading journalists
Already have an account? sign in
Register for free to continue reading
Registration is a free and easy way to support our truly independent journalism
By registering, you will also enjoy limited access to Premium articles, exclusive newsletters, commenting, and virtual events with our leading journalists
Already have an account? sign in
Join our new commenting forum
Join thought-provoking conversations, follow other Independent readers and see their replies