University graduate in seven-year battle with Home Office after being 'robbed' of post-study visa
'This process has turned my life upside down. I feel so hopeless,' former student says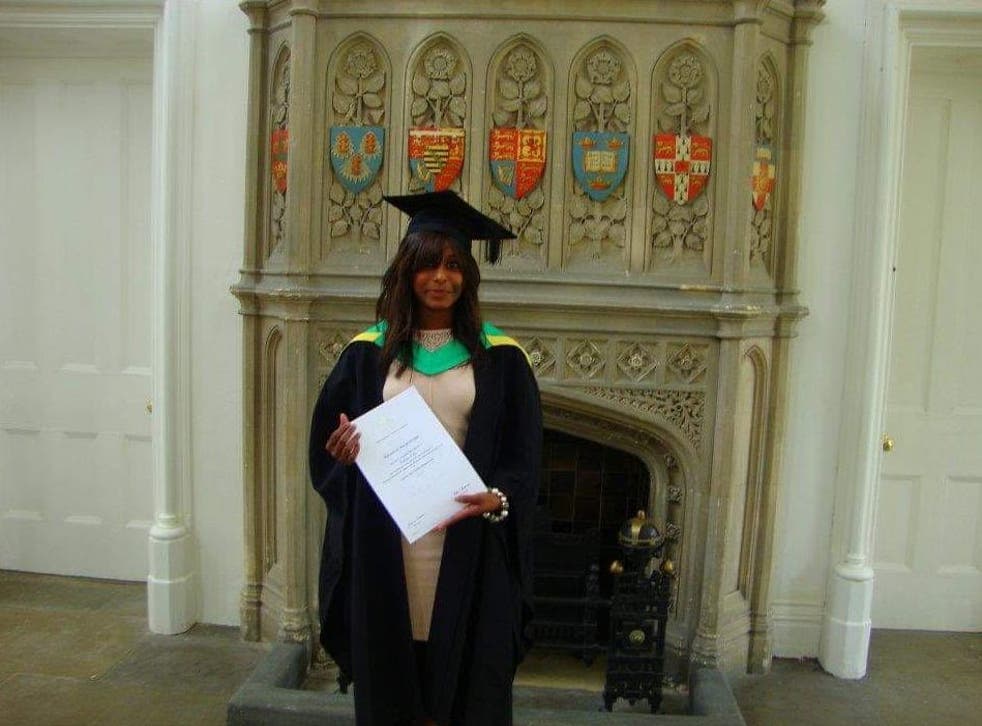 A graduate of a UK university is embroiled in a seven-year legal battle with the Home Office after the promise of a post-study work visa was "robbed" from her just weeks before she completed her degree.
Mahe Henadeerage decided to leave Sri Lanka and pay tens of thousands of pounds to study in the UK after she was told she woud have two years to amass work experience after finishing her course.
But in April 2012, the government scrapped the post-study work visa, which allowed international students to stay in the UK and work for up to two years after graduation.
The Nottingham Trent graduate missed the application window for the "dream" opportunity as her degree did not end until May.
Ms Henadeerage came to England to pursue a career in sustainable fashion, but the government's reforms made it difficult for her to get a job as she had less time on her visa.
UK news in pictures

Show all 50
Seven years on, her life is still in "limbo" amid a lengthy and costly battle with the Home Office.
She was given hope in 2014 when a first-tier tribunal judge said there was an arguable case for leave to remain be granted on the basis of disruption to the graduate's six-year plan.
But the Home Office appealed the ruling and won. The 32-year-old, who has been in Britain for 11 years, is now waiting to fight her case once more in a new hearing in the autumn.
Ms Henadeerage, who lives with her sister in the UK and who does volunteering work with a charity, is worried that she will be deported back to Sri Lanka where she no longer has a home or any family.
"I am here in this country within the legal framework. England is my home now. I have not committed any crime. I have been a model citizen volunteering in my local community," she said.
"I feel like my entire future has been robbed. The best part of my 20s have been in limbo fighting for something that should've been an obvious solution.
"This process has turned my life upside down. I feel so hopeless and I feel like my worth is nothing. I have lost so much in terms of my family's money and my future I could've had, which I can't get back."
Earlier this month, the home secretary said he backed an amendment tabled by former universities minister Jo Johnson to allow international students to stay in the UK for up to two years.
Sajid Javid called for an end to the four-month restriction introduced by Theresa May when she was home secretary, adding that it made no sense to send "some of the brightest and most enterprising people in the world straight home after their time here".
The government acknowledged the cap had caused issues earlier this year when it announced that it would extend the post-study leave period from four months to six months.
But organisations representing universities and students say it does not go far enough, and they argue a two-year visa must be reintroduced to send a more "welcoming" message to overseas students.
Manish Khatri, co-founder of the Post-study Work Visa Now campaign, said international students were now looking to study in Australia, Canada and the US, rather than the UK, because of the limited offer.
On the six-month extension, he said: "I don't think it will make a difference. The employer will look at it and see that they only have six months on their visa max. It doesn't help much in the long run."
Even with the restrictions brought in by the Home Office in 2012, agents are still targeting young people overseas, who bring in large fees to UK universities, and promising them employability, Mr Khatri said.
"Universities have to be clear about what they can offer. People that come here are told they will be able to find a job," he told The Independent.
Ms Hendareeage was one of the young people who decided to study in the UK after being "sold a dream of opportunity". She was told that the country's post-study visa would make easier to get a job.
She added: "There needs to be some sort of accountability. You can't swindle people. You can't say there's one thing and then when we arrive here with that trust it's a different story.
"They used the post-study two-year work visa as a marketing tool and a promotion. I felt like I had been tricked and robbed of the opportunity and money."
Nazek Ramadan, director of Migrant Voice, said: "The damage to the lives of those thousands of students like Mahe denied the chance to work in the UK is immeasurable – but there's a financial cost too that can be measured."
A recent report from the Higher Education Policy Institute (HEPI) estimates that £150m in revenue is lost each year because of the government's restrictions on post-graduation employment in 2012.
Ms Ramadan added: "If this government is serious about attracting international students – and we would remind them that they contribute far more to our country than cash – the insular, anti-migrant logic underpinning all UK immigration policy must be replaced with an open-minded attitude and a set of policies to match, starting with this visa."
Yinbo Yu, international students' officer at the National Union of Students (NUS), said: "It is clear that the hostile environment has had negative economic, educational, and human impacts, in particular to students on the basis of both heritage and nationality.
"We welcome international students and would encourage the government to make changes to ensure that they are treated in a way that is equitable and inclusive."
Support free-thinking journalism and attend Independent events
A Universities UK spokesperson warned an "uncompetitive post-study work offer" had curbed growth in international enrolments and called for an extension of at least two years.
They said: "Universities UK has proposed an improved post-study work system for graduates, who are massive contributors economically and culturally.
"While the government's International Education Strategy is a positive step, we can do more to send a strong message of welcome."
A Home Office spokesperson said: "The UK has a world class educational system, which continues to attract leading talent from across the globe.
"There are no limits on the number of international students who are welcome to study here and this is evidenced by the fact that university student visa applications are at the highest level on record.
"Our White Paper builds on our already strong student offer by extending the time students can stay post-study to find employment, going beyond the recommendations of the independent Migration Advisory Committee."
Register for free to continue reading
Registration is a free and easy way to support our truly independent journalism
By registering, you will also enjoy limited access to Premium articles, exclusive newsletters, commenting, and virtual events with our leading journalists
Already have an account? sign in
Register for free to continue reading
Registration is a free and easy way to support our truly independent journalism
By registering, you will also enjoy limited access to Premium articles, exclusive newsletters, commenting, and virtual events with our leading journalists
Already have an account? sign in
Join our new commenting forum
Join thought-provoking conversations, follow other Independent readers and see their replies