Private school fees soar to £160,000 per child, research finds
School fees rocketed by an average of 21 per cent over the last five years, up from £10,983 in 2011 - an increase that is 8 per cent above inflation
Dominic Harris
Sunday 28 August 2016 00:07 Comments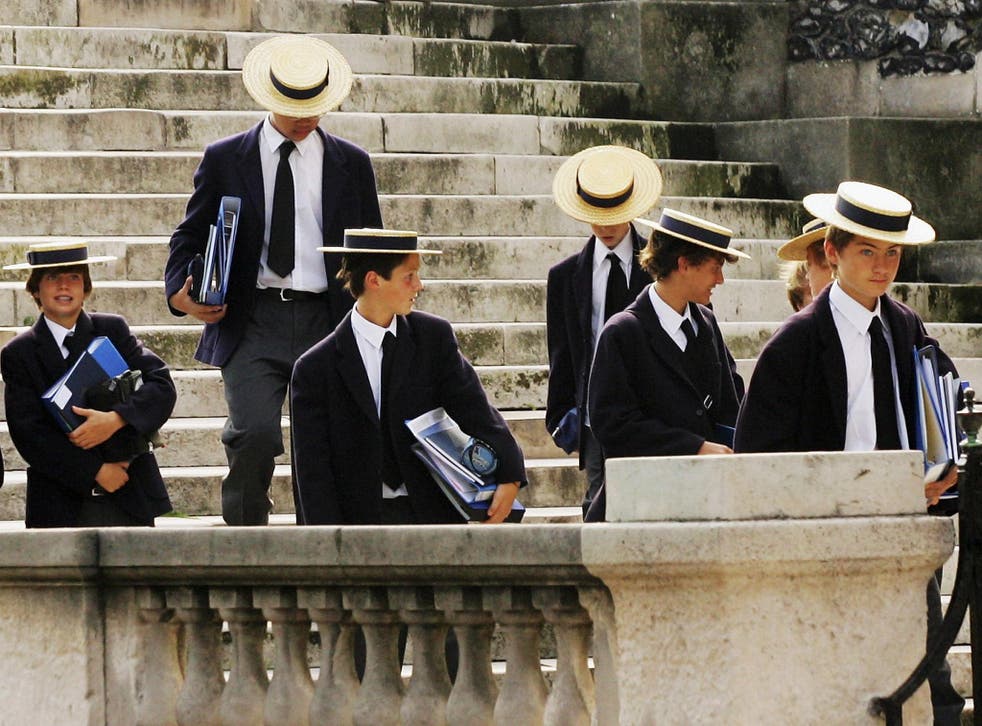 Parents face a bill of almost £160,000 to have their children privately educated amid the soaring cost of fees in recent years.
The average cost of a private school education for a day pupil who started reception in 2003 and left after sixth form in 2016 is £156,653, according to research by Lloyds Bank Private Banking.
Annual fees have almost doubled in that time, with the average cost of sending a child to private school for a year rocketing from £7,308 in 2003 to £13,341 today, a rise of 83 per cent.
In London parents have seen fees rise by 25 per cent in the last five years alone.
But costs have risen far more than average earnings, putting an enormous strain on families who want to choose private education for their children.
School fees rocketed by an average of 21 per cent over the last five years, up from £10,983 in 2011 - an increase that is 8 per cent above inflation.
The steep hike means that the £13,341 school fee accounts for almost 40 per cent of the average full time earnings of £34,545, a marked change from in 2003 when fees amounted for 28 per cent of earnings.
Despite the increasing financial burden on families, pupil numbers at private schools remain largely unchanged over the last five years.
Those going to senior school - between the ages of 11 and 16 - have fallen by 3 per cent, but numbers going to private sixth forms have grown by 10 per cent, and those at junior schools have gone up by 6 per cent.
Sarah Deaves, private banking director at Lloyds Bank, said: "All parents want the best for their children and a good education is no exception.
"A place at a private school is a huge financial commitment, almost an eye-watering £157,000 for just one child, from reception to finishing the sixth form as a day pupil.
"With average annual fees at £13,341 per child and the compulsory school leaving age now 18 years, many families may well feel some strain.
"It has, therefore, become increasingly important that parents, and sometimes grandparents, plan their finances as early as possible if they want a private school education for their children."
The research, based on data from the Independent Schools Council and the Office for National Statistics, showed that private schooling in London was the most expensive in Britain, costing £179,145 to educate children from the age of five until they are 18.
UK news in pictures

Show all 50
Parents in the North paid the least, at £126,609 for 13 years of fees.
In London, school fees have almost doubled since 2003, rising 97% from £8,016 to £15,828 today, compared to the lowest increase over the same period in the West Midlands, a rise of 66 per cent from £6,984 to £11,580.
But there is help for parents, with around 160,000 children getting assistance for their fees - almost a third of all pupils at fee-paying schools, not just day pupils - that is worth more than £850 million a year.
The vast majority of this assistance, 85 per cent, comes from schools themselves.
PA
Register for free to continue reading
Registration is a free and easy way to support our truly independent journalism
By registering, you will also enjoy limited access to Premium articles, exclusive newsletters, commenting, and virtual events with our leading journalists
Already have an account? sign in
Join our new commenting forum
Join thought-provoking conversations, follow other Independent readers and see their replies