Britain 'increasingly divided' with most influential people five times more likely to have gone to private school
'Old boys' network still holds back less privileged people,' says shadow education secretary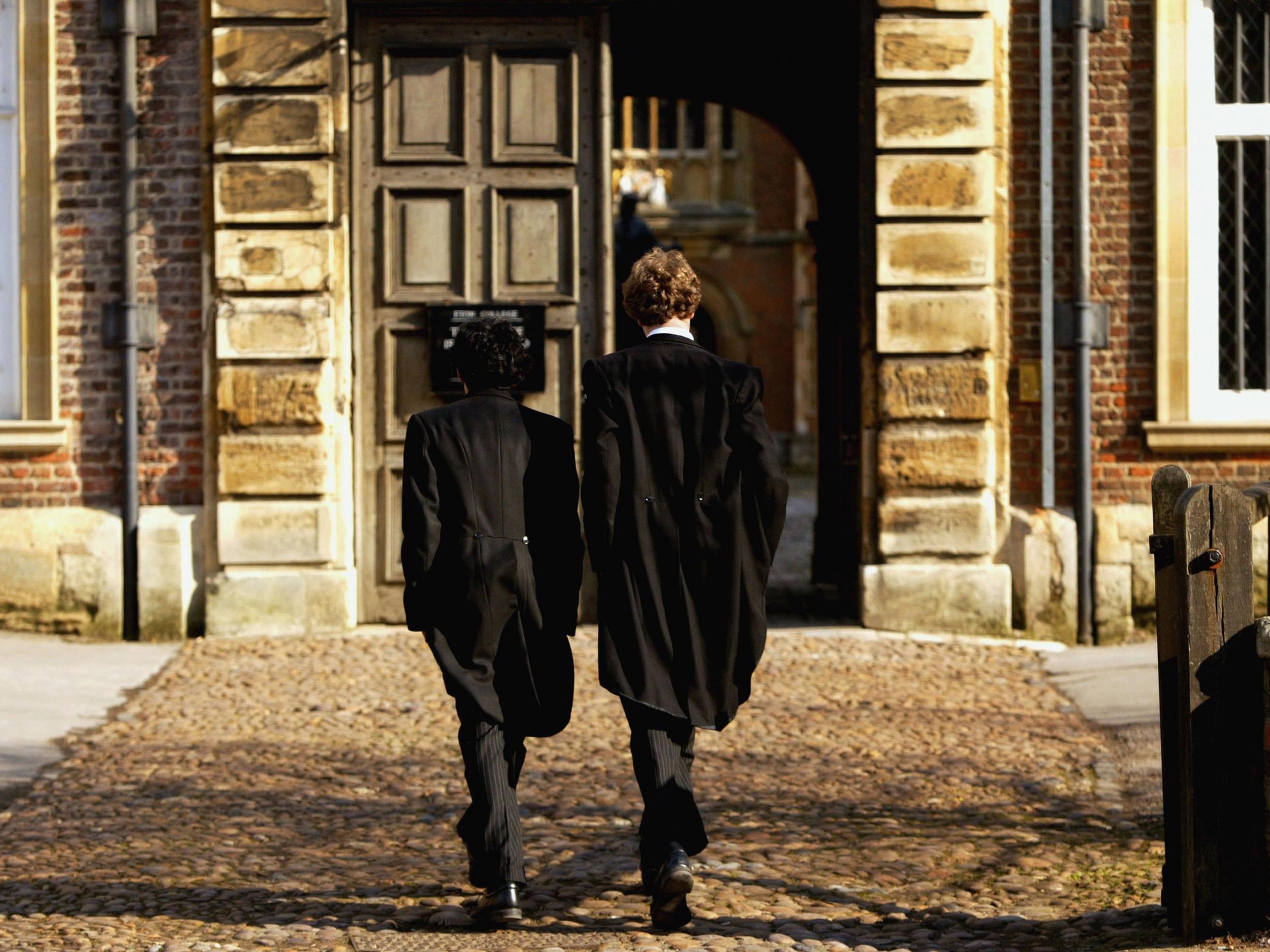 Britain is an "increasingly divided" society where the country's most influential people are five times more likely to have gone to a fee-paying school than the general population, research suggests.
Social mobility across the UK is "low and not improving", a report warns, as figures show a rise in the proportion of privately educated cabinet ministers and members of the Lords since 2014.
The study, from the Sutton Trust and the Social Mobility Commission, reveals that 7 per cent of Brits attended private school, compared with 39 per cent of those in positions of power.
The cabinet, at the time of analysis in spring 2019, was composed of nearly two in five (39 per cent) independently educated members – up from 36 per cent five years ago.
Meanwhile, 9 per cent of shadow cabinet members were educated at a private school – a fall from 2014 when 22 per cent of Ed Miliband's shadow cabinet were privately educated.
The Elitist Britain report, released as Old Etonian Boris Johnson and former Charterhouse head boy Jeremy Hunt vie to be the next prime minister, looked at the backgrounds of 5,000 individuals.
It found a number of public bodies are still dominated by private school alumni – including senior judges (65 per cent), civil service permanent secretaries (59 per cent – a rise of 4 percentage points) and the Lords (57 per cent – a rise of 8 percentage points).
There has been "isolated pockets of positive change" over the past five years with a slight decline of private school over-representation, but "persistent inequality" remains, it says.
It adds that power rests with a "narrow section of the population" – the 7 per cent who attend private schools in Britain and the 1 per cent who graduate from Oxford and Cambridge.
Nine professions saw the number of privately educated employees rise since 2014. And across all the categories, those who were privately educated were only underrepresented among footballers.
Sir Peter Lampl, founder and executive chairman of the Sutton Trust, said: "Britain is an increasingly divided society. Divided by politics, by class, by geography.
"Social mobility, the potential for those to achieve success regardless of their background, remains low. As our report shows, the most influential people across sport, politics, the media, film and TV, are five times as likely to have attended a fee-paying school."
Women are also underrepresented across all the top professions – making up just 5 per cent of FTSE 350 chief executives, 16 per cent of local government leaders and 24 per cent of senior judges.
But for those that do make it to the top, their education journeys often look different to those of men as they are less likely to have attended Oxbridge than their male counterparts.
The report calls for universities to adopt contextual admissions, for companies to pay for lengthy internships and for private schools to open their doors to bright children who cannot afford fees.
Kevin Courtney, joint general secretary of the National Education Union, said it was "simply unacceptable" that the school or university you attended, and the wealth of your parents, is the biggest indicator of future employment, wealth and status.
"Britain is a deeply divided and unequal class-based society with those in the most powerful and prestigious professions much more likely to have attended private schools and Oxbridge than the country as a whole, despite these institutions educating a tiny minority of the population," he said.
Angela Rayner, Labour's shadow education secretary, said: "For too long our top professions have been a closed club, dominated by a wealthy and privileged elite who attended the same private schools.
"The old boys' network and the old school tie still hold back talented and hard-working people from less privileged backgrounds.
"Under the Tories, the privileged remain privileged while people from working-class backgrounds are denied opportunities to get on."
Dr Wanda Wyporska, executive director of The Equality Trust, told The Independent: "The replication of privilege, wealth and position within the same elite class of people going to the same schools and universities shows that the rhetoric of social mobility is flawed.
"We should concentrate on lifting living standards and educational standards for all our young people, not just those who are poor but bright."
Support free-thinking journalism and attend Independent events
She added: "This is a largely male crony culture, a comfortable club for those who already have a huge amount of advantages in life who are preserving their positions at the top.
"We need a high-quality, well-funded education system for all our children and an end to the narrow, lack of diverse thinking at the top."
A Department for Education spokesperson said: "For too long professions like law, politics and journalism have been dominated by independently schooled people. By making sure that our state schools offer a comparable education to private schools we will drive down these inequalities.
"The gap between state funded schools and independent schools has never been smaller. Eighty five per cent of state funded schools are now rated good or outstanding – compared to 68 per cent in 2010 and academies across the country like Brampton Manor in East London are rivalling the results of prestigious private schools. This has been driven by a range of reforms focusing on levelling the playing field and strengthening education from the bottom up."
Join our commenting forum
Join thought-provoking conversations, follow other Independent readers and see their replies