Privileged students six times more likely to secure places at top UK universities than most disadvantaged peers
New analysis of more than 13 million university applications has shown a continued disparity between the number of students from disadvantaged backgrounds being offered places at top institutions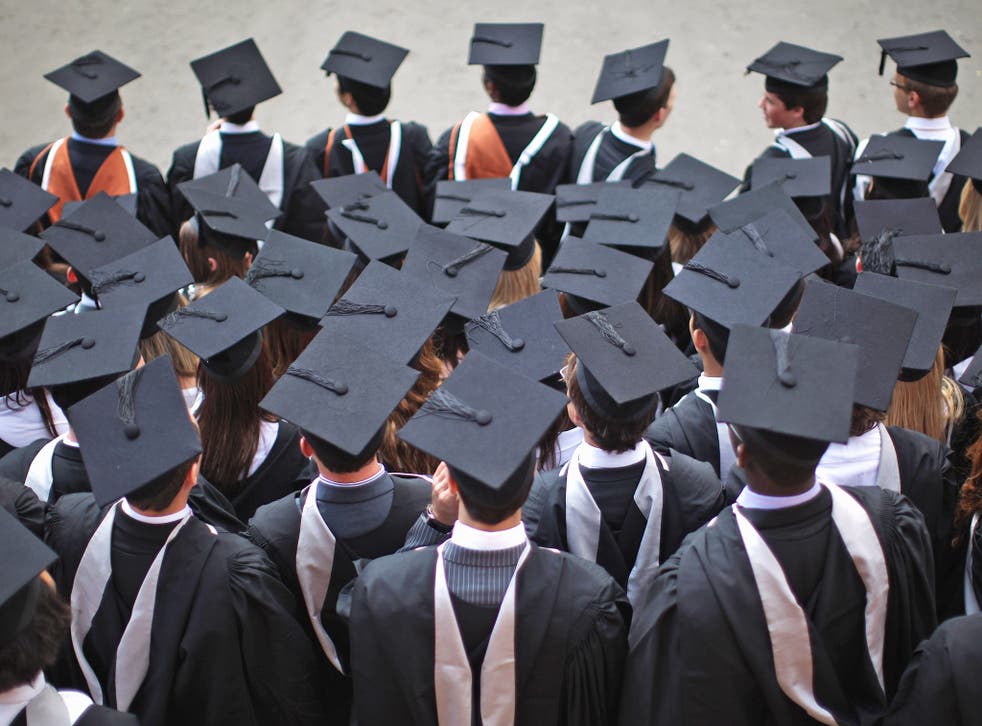 Students from the wealthiest areas of the country are more than six times more likely to secure places at top UK universities than those from disadvantaged social backgrounds, new figures have revealed.
In a breakdown of data from 132 of the UK's largest universities, students of all ages living within the top 20 per cent most advantaged areas were 2.4 times more likely to enter higher education, and had greater chance of their applications being accepted.
Teenagers from the most advantaged backgrounds were around 14 times more likely to be offered a place at Oxford University in 2015, and 16 times more likely to secure a place at the University of Cambridge, which admitted only 65 18-year-olds from the UK's most disadvantaged areas in 2015.
The figures, released as part of a new equality report from UCAS admissions body, have furthered concerns from education experts about a persistent gap between rich and poor candidates, as well as the opportunities available to disadvantaged students.
Commenting on the new analysis, Sir Peter Lampl, Chairman of the Sutton Trust and of the Education Endowment Foundation, said: "It's seriously concerning to see such a strong correlation between your background and your chance of getting an offer, particularly at our leading universities."
"Today's figures tell us that we must not get complacent about inequalities of access. We need to see a renewed effort from universities, government and schools to improve outreach work, subject choices and attainment for those from less advantaged backgrounds."
UCAS analysts studied data from more than 13 million applications to create the first equality report of its kind, pre-empting David Cameron's calls for greater transparency in the admissions process.
The report takes into account how likely UK students are to be offered a place and enter university in relation to their gender, ethnicity and social background.
Other findings showed that white students were underrepresented in just under half of all universities studied; however there was also a noticeable low entry rate from people of black ethnicity to higher tariff institutions.
The gap between the number of men and women entering higher education was said to have reached "record levels", with women more likely to enter 90 per cent of the UK's largest universities over men.
Professor Les Ebdon, Director of Fair Access to Higher Education, said of the report: "I do not accept that an applicant's ethnicity or where they come from should be a barrier to attending university."
He added: "Publishing this data is a real step forward for widening access. It increases transparency, and helps universities to evaluate what they do so they can get to the heart of what has most impact."
"The Prime Minister has set ambitious goals to increase the rates of young people from disadvantaged backgrounds entering higher education. This data will aid understanding of individual universities' progress towards the Prime Minister's targets, and help us identify those with the furthest still to go."
In January, the Prime Minister accused top institutions including Oxford University of not doing enough to attract applicants across all social backgrounds and noted that Oxford accepted just 27 black British students in a single year.
Data released from UCAS details however that the number of 18 year old students of Black ethnicity being offered places at Oxford has risen each year since 2012, in contrast to all other ethnic groups.
The number of Asian applicants being awarded places fell by 1.8 per cent last year, while the number of offers made to mixed race students fell by 3.1 per cent overall. White British applicants had reduced offer rates of 0.2 per cent in the 2014-15 academic year.
Universities UK said they planned to take into account the problems in admissions equality as highlighted by the report.
Dame Julia Goodfellow, President of Universities UK and Vice-Chancellor of the University of Kent, said: "Publishing more data will not necessarily solve some of the long-standing problems in access to and participation in higher education. It will, however, allow universities to identify issues and solutions specific to their own institutions. It will allow us also to look at the picture across the sector."
Register for free to continue reading
Registration is a free and easy way to support our truly independent journalism
By registering, you will also enjoy limited access to Premium articles, exclusive newsletters, commenting, and virtual events with our leading journalists
Already have an account? sign in
Register for free to continue reading
Registration is a free and easy way to support our truly independent journalism
By registering, you will also enjoy limited access to Premium articles, exclusive newsletters, commenting, and virtual events with our leading journalists
Already have an account? sign in
Join our new commenting forum
Join thought-provoking conversations, follow other Independent readers and see their replies