Funding for poorest pupils 'cut by more than £220m' in real terms since Tories came to power, figures reveal
Exclusive: Decline will have 'damaging' effect on disadvantaged children, unions and MPs warn
Eleanor Busby
Education Correspondent
Saturday 21 September 2019 14:47 Comments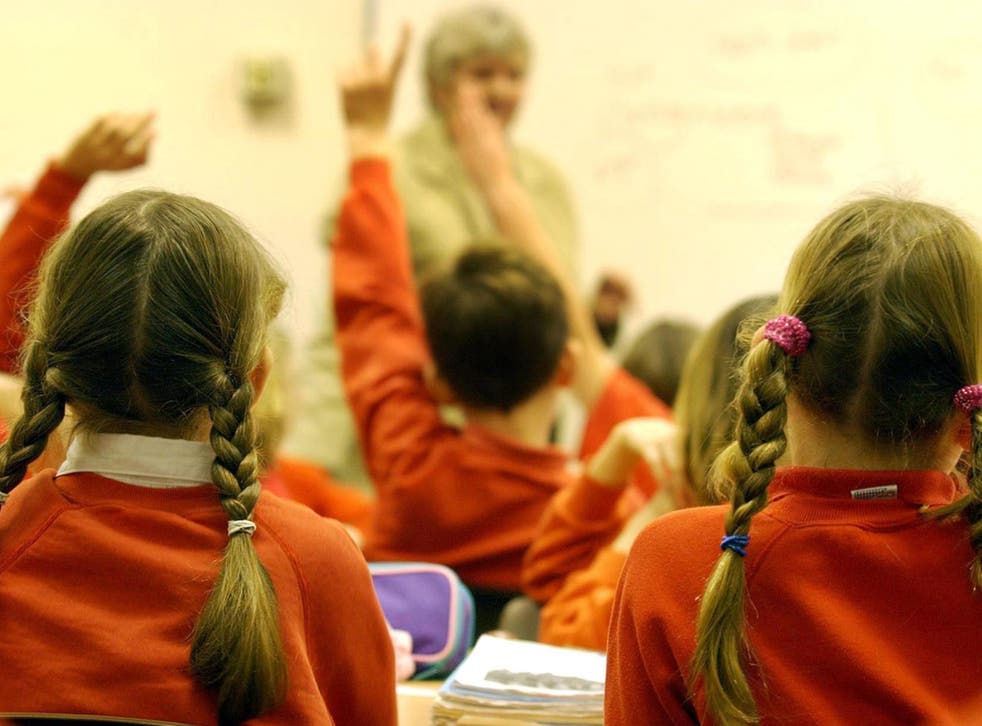 Funding for the poorest children in England's schools has been cut by more than £220m in real terms since the Conservatives came to power, analysis suggests.
Pupil premium money, which is given to schools to help support the most disadvantaged pupils, will have declined by 8.4 per cent in real terms by 2020, figures shared with The Independent show.
In London, it will have fallen by 18.6 per cent overall between 2015 and 2020 and by more than a fifth in inner London, according to House of Commons library research for a Labour MP.
The pupil premium, which is handed to schools for each child eligible for free school meals (FSM), will be worth £220m less by the end of this school year than in 2015, figures show.
It comes despite a manifesto commitment from the Conservatives to protect the pupil premium.
UK news in pictures

Show all 50
Pupil premium rates have been frozen by the government since 2015 – which means the real value of the allocation to schools in England has fallen in recent years.
The decline will have a "damaging" effect on the most disadvantaged children and will threaten any progress made in closing the attainment gap, unions and MPs suggest.
It comes after a report from the children's commissioner revealed that the number of teenagers who have left education without basic qualifications has risen to nearly 100,000 – and a growth in pupils eligible for free school meals who failed to achieve these targets is said to be behind the rise.
The research – which found that the attainment gap between disadvantaged children and their peers is widening – revealed that the number of FSM children who have left education at the age of 18 without the basic benchmark qualifications has risen from 28 per cent to 37 per cent since 2015.
Julia Harnden, funding specialist at the Association of School and College Leaders (ASCL), told The Independent: "It is important the government addresses this damaging decline because the pupil premium provides invaluable support for our most vulnerable students."
The government should increase the pupil premium budget by £570m by 2022-23 in order to restore funding to its 2015 level, the headteachers' union argues.
Matthew Pennycook, Labour MP for Greenwich and Woolwich, said some schools in his constituency had lost more than £80,000 – which is enough to employ several teachers or teaching assistants.
"It's often those extra staff who have the time to focus on the most vulnerable children," he said.
On the research carried out for him, Mr Pennycook added: "This is yet further damning evidence that parents, pupils and teachers are being let down as a result of Tory cuts to their schools, and it's the most disadvantaged children that are paying the heaviest price."
Recent research from the Sutton Trust revealed that some schools have been forced to use pupil premium funding to plug gaps elsewhere in their finances amid a squeeze on school budgets.
Sir Kevan Collins, CEO of the Education Endowment Foundation (EEF), said real-term cuts facing schools "seriously endangers" efforts to improve outcomes for the most disadvantaged pupils.
He said: "The gap in outcomes between disadvantaged pupils and their more advantaged classmates is the biggest test facing the English school system today.
"Any real-terms decline in this stream of income could exacerbate [teacher recruitment and retention] issues, which are disproportionately affecting the most disadvantaged schools.
"Improving teaching – by recruiting and retaining effective teachers and supporting every teacher to keep improving – should be the top priority for pupil premium spending," Sir Kevan said.
Last month, Boris Johnson pledged to invest more than £14bn into the schools sector over three years after warnings of a "funding crisis". But it did not mention uprating the pupil premium.
Support free-thinking journalism and attend Independent events
Speaking from the Labour Party conference, the shadow education secretary Angela Rayner said: "Boris Johnson has twice stood on an election pledge to protect the pupil premium, yet this research shows there is now a £200m black hole in real-terms funding.
"The worst thing about this cut is that it hits hardest those children who most need extra help and the schools that serve them."
A Department for Education spokesperson said: "The pupil premium has not been cut. The amount spent on the pupil premium to help disadvantaged pupils has more than trebled from £705m to almost £2.4bn since 2011-12.
"It's entirely normal for allocations to schools each year to fluctuate as the number of eligible children changes."
The spokesperson added: "This government has also announced a £14bn investment in schools over three years – the biggest cash boost for a decade."
Register for free to continue reading
Registration is a free and easy way to support our truly independent journalism
By registering, you will also enjoy limited access to Premium articles, exclusive newsletters, commenting, and virtual events with our leading journalists
Already have an account? sign in
Join our new commenting forum
Join thought-provoking conversations, follow other Independent readers and see their replies