Pupils entered for GCSE exams a year early are likely to get lower grades, Ofqual chief warns
Headteachers predict 'significant turbulence' in this year's results
Richard Garner
Thursday 22 August 2013 15:11 Comments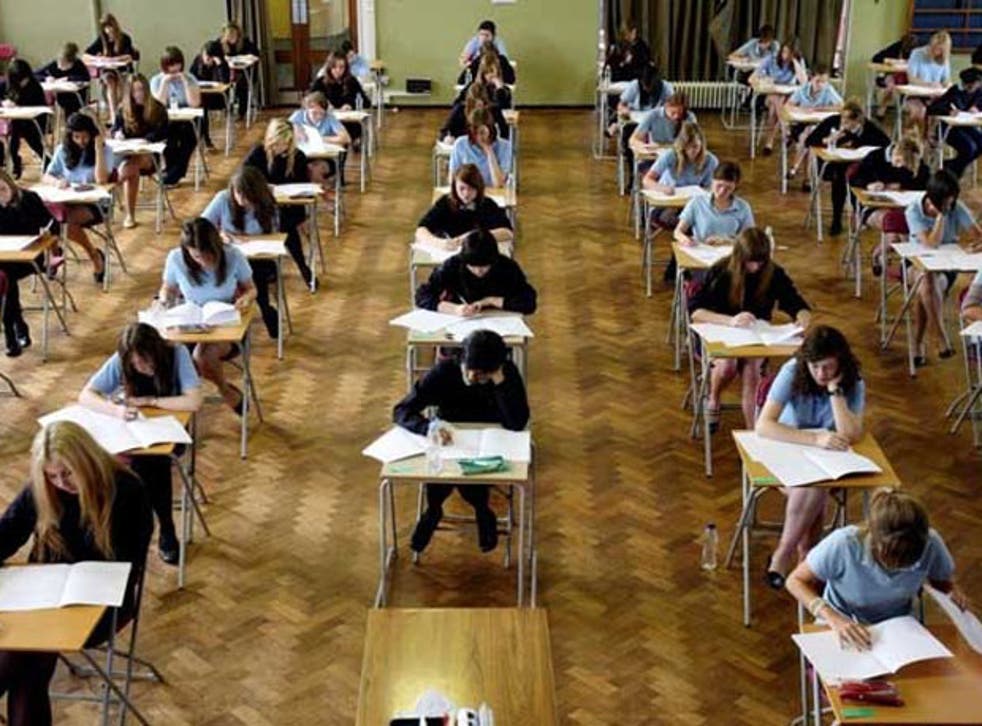 Thousands of pupils put in for their GCSE exams a year early are likely to get lower grades, the head of the exams regulator Ofqual is warning.
Chief executive Glenys Stacey's warning comes as headteachers talk of "significant turbulence" in this year's results as several key factors point to a drop in pass rates as 600,000 teenagers receive their results this morning.
Figures show record numbers of pupils have been put in for their exams early - in maths around 23 per cent of the cohort are sitting the exam in Year 10 instead of 11 - in the hope they can bank a crucial C grade pass and then concentrate on other subjects.
However, the trend - which is worrying ministers - is one of several this year likely to herald a drop in the pass rate at least in key subject areas. Early indications show pass rates in physics, chemistry and biology - where papers have been harder this year - are falling.
In a blog on the exam regulator Ofqual's website, Mrs Stacey, warns: "Younger students may well be less ready for GCSEs than those who are a year older and so they may not do so well."
In addition, pupils put in for multiple exams in the same subject (for the same reason - may also be in the same boat. "They may perform differently in each one or they may be more or less prepared," she said.
Labour produced a document saying some pupils had been entered for maths exams up to seven times in an attempt to ensure they got a crucial C grade pass in at least one. "There has been a dramatic increase in GCSE maths multiple entries over the last two years," said its education spokesman Stephen Twigg, "and Ofqual are warning that the numbers are set to rise again this year."
It estimated the cost of putting pupils in for multiple exams was nearly £11 million last year.
Another reason for a potential drop in pass is the fact that science exams (biology, physics and chemistry) were more difficult to pass this year so that "logically we are expecting a small drop in achievement", she added.
Results on Thursday are expected to confirm a drift towards taking more traditional academic subjects - prompted by Education Secretary Michael Gove's English Baccalaureate ranking for league tables. This, again, is likely to make it harder for some pupils to secure top grade passes. Mrs Stacey says: "With the increased popularity of the traditional subjects we can expect that some students may will find it more challenging than others."
In her blog, Mrs Stacey also reveals Ofqual has insisted to the exam boards that they need to set grade boundaries in maths "that reflect quality of work expected at key grades".
That follows a letter sent to the exam boards earlier this year in which Ofqual warned: "Several key grade boundaries were set at such low marks that candidates' performance did not sufficiently reflect the relevant grade descriptions."
The language is similar to that used over English last year when the grade boundaries for those sitting the exam in June were raised because of a surge in candidates achieving top grade passes in January. A subsequent investigation found the barrier had been set too low.
This year, the grade boundaries are based on those set for last June's candidates - prompting headteachers to fear some candidates expecting a C grade pass will be disappointed.
The Association of School and College Leaders warned that all these factors pointed to "significant turbulence" in this year's exam results.
Brian Lightman, its general secretary, said the exam system was in a "serious state". It was no longer possible to assume that children taking the same subject years apart would get the same grade for the same standard of work.
"It's going to be very difficult for universities, for employers, for parents and students to understand when the exam system is going through this constant change and there are more changes down the line."
Headteachers are worried that the changes will make it harder for them to reach minimum government targets for performance at GCSE - raised this year from 35 per cent of pupils getting five A* to C grade passes to 40 per cent.
As a result, experts are warning that more than 200 schools could fail to meet them - facing them with the prospect of an enforced inspection by education standards watchdog Ofsted and an enforced change to academy status with a new sponsor being appointed to run the school and the head being sacked.
Ministers are understood to be concerned over the practice of putting pupils in for exams early and entering them for several exams in the same subject - and are considering asking education standards watchdog Ofsted to look into the subject.
A drop in the pass rate would be the second year in succession that grades have fallen. Last year the percentage of pupils getting five A* to C grade passes fell from 69.8 per cent in 2011 to 69.4 per cent. Maths and science subjects were amongst those dropping.
A spokeswoman for the Department for Education said: "Abuse of multiple entries is one of the reasons why this Government's reforms of GCSEs are so badly needed.
"Schools should not be entering children for exams early and then for re-sits or other exams in the same subject: it is not good for pupils and should not happen."
She said changes to league table measures would give schools credit for each extra grade a pupil achieved and not just focus on the C/D borderline and added: "Ofsted now challenge the use of inappropriate early and multiple entry to GCSE exams during inspection.
"We are considering further action to discourage this practice."
Register for free to continue reading
Registration is a free and easy way to support our truly independent journalism
By registering, you will also enjoy limited access to Premium articles, exclusive newsletters, commenting, and virtual events with our leading journalists
Already have an account? sign in
Join our new commenting forum
Join thought-provoking conversations, follow other Independent readers and see their replies