University racism inquiry criticised for including anti-white abuse
'Institutions are living in the past and have failed to learn from history,' watchdog warns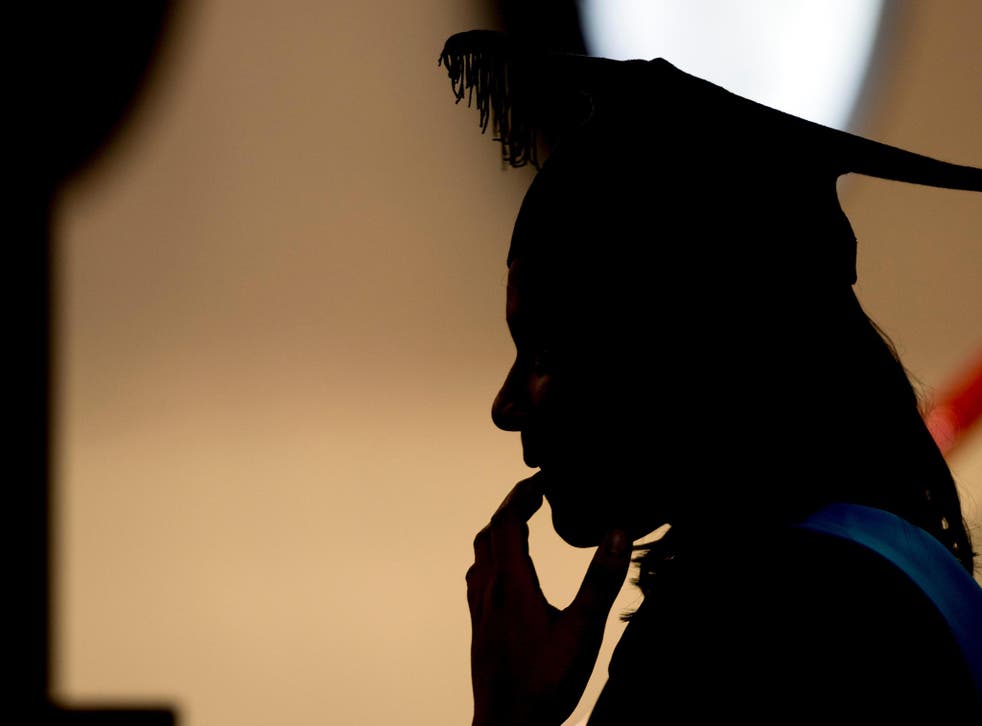 The equality watchdog has come under fire for including anti-white abuse in its inquiry into racial harassment across UK universities.
Academics and student leaders have criticised the Equality and Human Rights Commission (EHRC) for featuring examples of harassment against white students and staff in their report on racism.
The inquiry found that nearly a quarter (24 per cent) of ethnic minority students experienced racial harassment at a UK university since starting their course, compared to 9 per cent of white students.
The report – which criticised universities for being "oblivious" to the racial harassment occurring at an "alarmingly high rate" on their campuses – also highlighted examples of anti-English sentiment.
White English students and staff in Scottish and Welsh universities had experienced abuse, the inquiry found. One white English member of staff said Welsh colleagues had called him a negative slur for English people.
Student news in pictures

Show all 34
"I've never come across so much racism as when I moved to Wales," he said.
Fope Olaleye, the black students' officer at the National Union of Students (NUS), claimed that the EHRC had ignored pleas for anti-white harassment to be excluded from their report.
They tweeted: "I remember sitting at one of the round tables and a bunch of students and myself had to explain in excruciating detail that 'anti-white prejudice' should have no place in a report on racial harassment but I see we were not listened to."
Speaking to The Independent, they said: "By conflating xenophobia, Anti-English sentiment and prejudice alongside the racism faced by students of colour in the EHRC report, it has done a disservice to the work currently being done on race equity in the UK."
Priyamvada Gopal, a reader in the faculty of English at Cambridge University, accused the EHRC of placing anti-English sentiment on par with black students' experiences in white-majority institutions, adding that the report was "dangerous".
Helen Carr, head of equality at the University and College Union, said: "It's unfortunate that the report's inclusion of harassment against white people risks distracting attention from the high levels of racism experienced by BME staff and students.
"To ensure we can tackle these issues effectively, it's important that harassment linked to nationality or immigration status as opposed to ethnicity is explicitly recognised as such."
The inquiry, based on a survey of 1,000 students and interviews with staff, comes after a series of high-profile racist incidents have taken place on UK campuses in recent years.
Black students' experiences have been in the spotlight – with racist chants in student halls and a banana being thrown at a black graduate hitting the headlines.
An investigation by The Independent revealed that the number of racist incidents in universities across the UK surged by more than 60 per cent between 2015 and 2017.
In recent weeks, a University of Leicester student was reported to be pictured wearing a white T-shirt with the hand-written slogan "Hitler wanted my kind alive" during a social event.
Students at the University of Southampton were also filmed chanting racist songs on a bus during a football social, according to student news reports.
The report from the EHRC suggests up to two-thirds of students did not report racist harassment to their university as some had no confidence the incident would be addressed.
Some universities are reluctant to admit the prevalence of racial harassment on campus for fear of reputational damage or putting off potential students, it adds.
Rebecca Hilsenrath, chief executive of EHRC, said: "It is considerably disappointing to discover that, instead of being progressive and forward-thinking, [universities] are living in the past and have failed to learn from history. No one should ever be subjected to racial harassment in any setting.
"Our report reveals that not only are universities out of touch with the extent that this is occurring on their campuses, some are also completely oblivious to the issue. This isn't good enough."
The watchdog is calling on the universities to ensure that students and staff are able to report harassment and that their complaints procedures are fit for purpose.
Earlier this month, a report from Universities UK (UUK) said institutions have been prioritising sexual harassment and gender-based violence but less status has been given to race-based incidents.
At the time, Professor Julia Buckingham, president of UUK, called on university leaders to take "urgent action" over the issues and make it a "top priority".
She said: "There is no place for racial harassment on a university campus, or anywhere else – and I find it sad and shocking how many people are still subject to it. Universities must be places where all students and staff are able to flourish and we must intensify our work to ensure this happens."
Support free-thinking journalism and attend Independent events
On the criticism of the inclusion of anti-white abuse, a spokesperson from the EHRC said: "We have used the definition of race under the Equality Act which includes race, ethnicity and nationality. Our report is very clear that racial harassment predominantly impacts Black and Asian students.
"We received a small number of examples of anti-English sentiment at Scottish and Welsh universities, offensive comments about Gypsy and Irish Traveller students and examples of antisemitic slurs for both staff and students. To ignore these issues raised with us would have been wrong.
"While this is not a form of harassment widely reported to us during the inquiry, there is no place for racial harassment anywhere in society and universities must have systems in place to ensure that everyone can reach their full potential through education. Our recommendations are designed to ensure that universities can appropriately address and tackle racial harassment in all of its forms."
Additional reporting by PA
Join our new commenting forum
Join thought-provoking conversations, follow other Independent readers and see their replies