University of Reading tells people unhappy it is going to give scholarships to refugees to 'jog on'
'We are proud and unapologetic to offer these scholarships, joining with institutions around the country offering support for refugees to access education'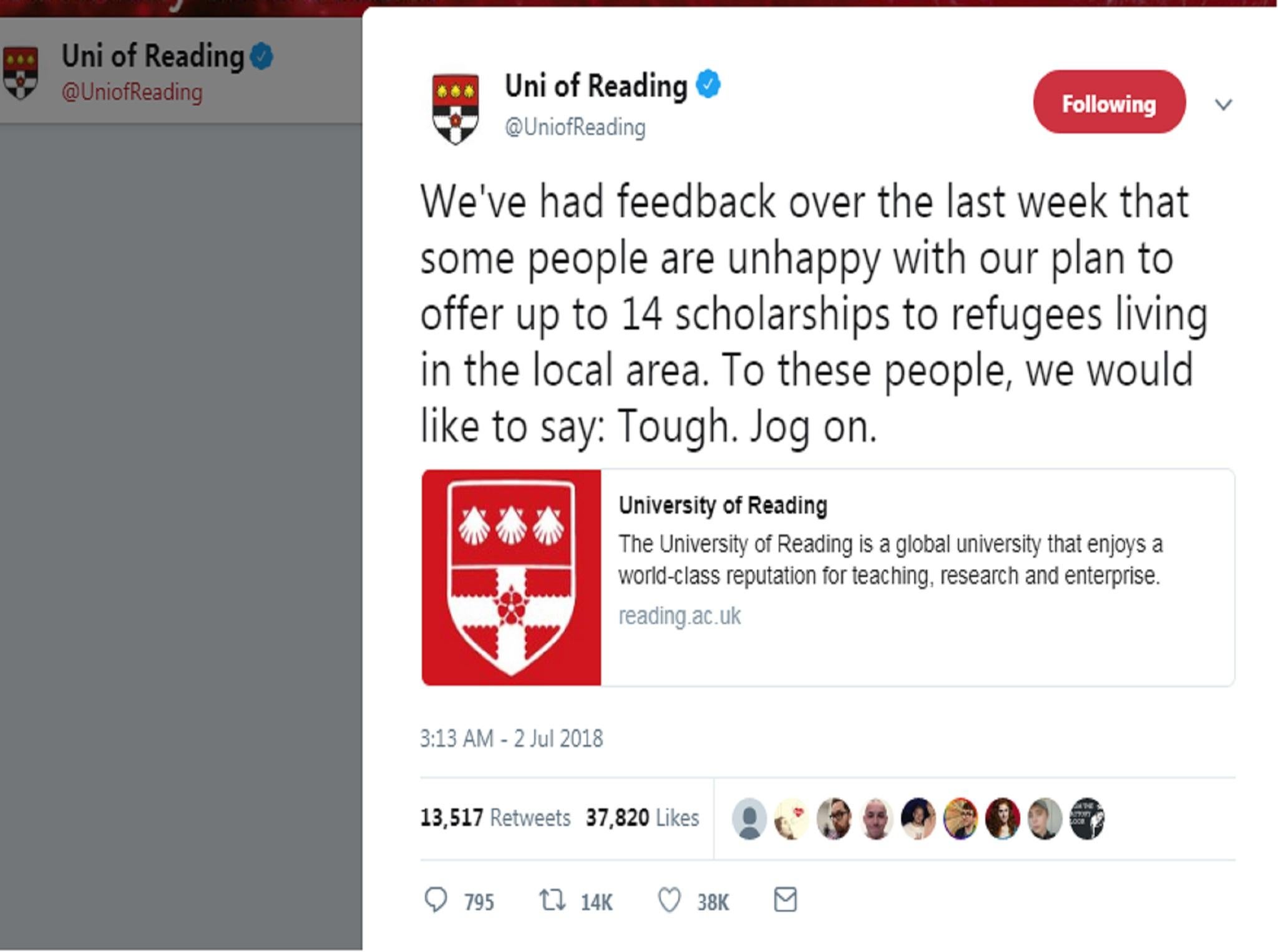 The University of Reading has told critics of their plan to offer scholarships to refugees to "jog on".
The university's official Twitter account hit back at those who are "unhappy" with their new scheme which will give up to 14 refugees living in the local area a chance to study at the institution.
"To these people, we would like to say: Tough. Jog on," the University of Reading tweeted.
The university has been praised for the tweet with some people offering to donate to the scheme.
Other users called on other universities to do something similar – which prompted the University of York to declare its support.
But the post – which has been shared thousands of times on Twitter - has also received some criticism.
One person questioned why scholarships were not being given to underprivileged people in Britain. The university pointed out there was a bursary for students from low-income families.
Others questioned whether it was a "suitable" tweet from a professional institution.
The scholarship scheme, developed with Reading Refugee Support Group (RRSG) and Reading University Students' Union, will provide up to 14 places for refugees in the area.
Gaby Couchman, deputy manager at RRSG, said: "We work with a number of refugees in Reading who have a strong desire to engage with higher education in the UK.
"These are often young and highly educated people who have had their studies interrupted due to conflict and persecution in their home country. We look forward to supporting our clients into higher education and beyond."
Professor Robert Van de Noort, pro-vice-chancellor for academic planning and resource, told The Independent: "Universities are places for people from all over the world and from all walks of life.
"We welcome to Reading those fleeing violence and persecution in their own countries and we value the contribution those seeking sanctuary can make to the university and the town in general."
He added: "The launch of these scholarships is another practical step the university has taken to welcome and integrate all people into our communities, our activities and our culture.
"We are proud and unapologetic to offer these scholarships, joining with institutions around the country offering support for refugees to access education, which is a welcome addition to our existing range of scholarships available for a variety of students."
Join our commenting forum
Join thought-provoking conversations, follow other Independent readers and see their replies