Revamped language GCSEs will see students discuss tattoos and German thrillers
The new syllabus will be offered to English schools from September 2016 if approved by exams watchdog Ofqual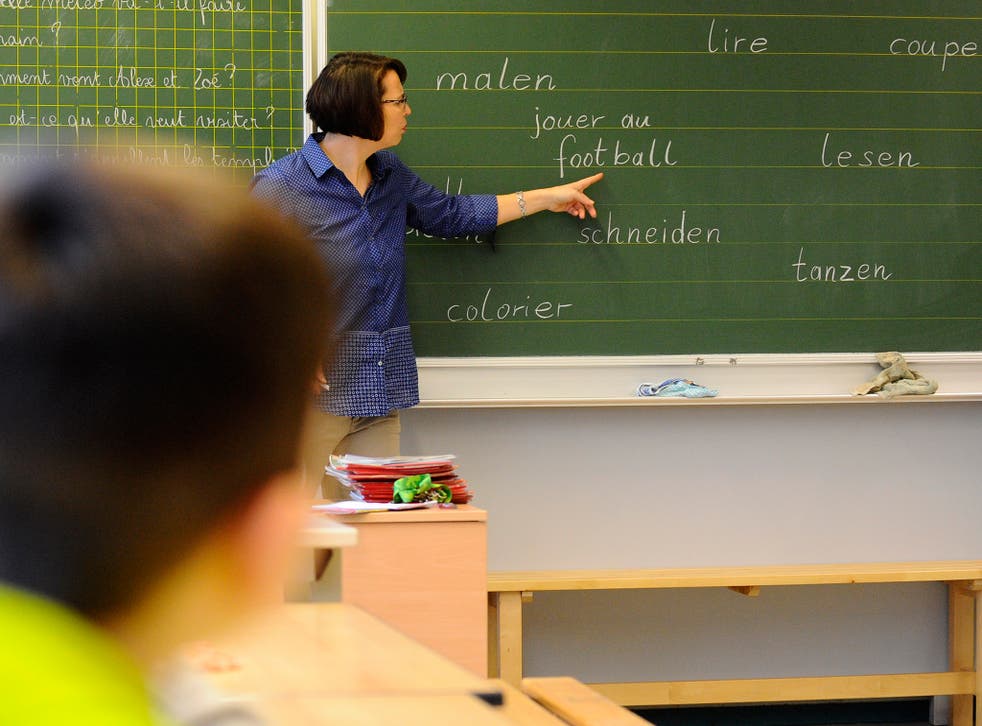 For decades GCSE language students have wearily committed to memory such vital vocabulary as "I eat a grapefruit every morning" in search of the skills to engage their French or German counterparts in sparkling conversation.
But the era of "Je mange un pamplemousse tous les matins" is heading to the linguistic poubelle in favour of racier topics from tattoos to the Olympics as part of an effort to halt the dramatic slide in Britons learning a foreign tongue to 16 and beyond.
The OCR exam board yesterday unveiled a new GCSE syllabus for modern languages which aims to replace the stultifying focus of traditional courses on describing the school days of "Mathilde" and "Franz" or booking a hotel room in Madrid with real-life content designed to appeal more to teenagers.
Where once mastery of the words for "tank top" and "pencil case" reigned supreme, candidates will now be asked to discuss German thrillers and offer their thoughts on such propositions as: "A mon avis un tatouage discret est une expression de ta personnalité" - ("In my opinion a discreet tattoo is an expression of your personality").
The formal abolition of the "la plume de ma tante" school is designed to reinvigorate language teaching by making the content of lessons more relevant to both pupils and the situations in which they will deploy their skills.
As one teacher told the exam board: "Students are not really going to meet somebody in a cafe in Paris and describe their entire family."
Katherine Smith, who has lead the design of the new OCR courses, said: "We want more youngsters to be interested in learning a foreign language and to move on from some of the quite babyish topics that have dominated in the past such as describing your bed or school day or what you eat for breakfast.
"Students need skills that are transferable across different types of content rather than being made to work on one cliched topic to the point of boredom."
The new approach, which will be offered to English schools from September 2016 if approved by exams watchdog Ofqual, will use authentic material such as film reviews, blog postings, tweets about the Olympics and newspaper articles for comprehension exercises and further learning.
It will also borrow heavily from the techniques perfected for English as a Foreign Language (EFL) courses, including an underpinning of grammatical structures such as tenses and the ability to ask questions, as part of a skills-based approach which will abolish the learning of long vocabulary lists from "abeille" to "volaille".
Sherlock's in, but Mockingbird is out: AQA's GCSE set texts

Show all 18
The syllabus will also introduce for the first time a requirement for GCSE students to study a short extract from foreign literature. The OCR's draft courses include passages from Eugene Ionesco's La Cantatrice Chauve (The Bald Soprano) and Daniel Kehlmann's Ruhm (Fame).
At the heart of the new approach is a desire to halt and eventually reverse the trend which has seen numbers continuing a modern language through school to university tumble in recent years.
Entrants for language degrees fell by 16 per cent in the six years since 2008, with the numbers signing up for German and French courses falling by 34 per cent and 25 per cent respectively in the same period.
The numbers studying GCSEs have also steadily declined since Labour abolished the requirement for teenagers to study a language to 16 in 2002.
Ms Smith, a languages teacher, said: "We are missing out as English speakers by not acquiring languages. These kinds of skills can take you a long way and our youngsters are missing out."
Register for free to continue reading
Registration is a free and easy way to support our truly independent journalism
By registering, you will also enjoy limited access to Premium articles, exclusive newsletters, commenting, and virtual events with our leading journalists
Already have an account? sign in
Register for free to continue reading
Registration is a free and easy way to support our truly independent journalism
By registering, you will also enjoy limited access to Premium articles, exclusive newsletters, commenting, and virtual events with our leading journalists
Already have an account? sign in
Join our new commenting forum
Join thought-provoking conversations, follow other Independent readers and see their replies