Parents told that sick children must sit all Sats exams as calls for boycott grow
'It is much wider than just an exam pressure when you walk into that room. We are talking about the whole pressure cooker of the entire school environment'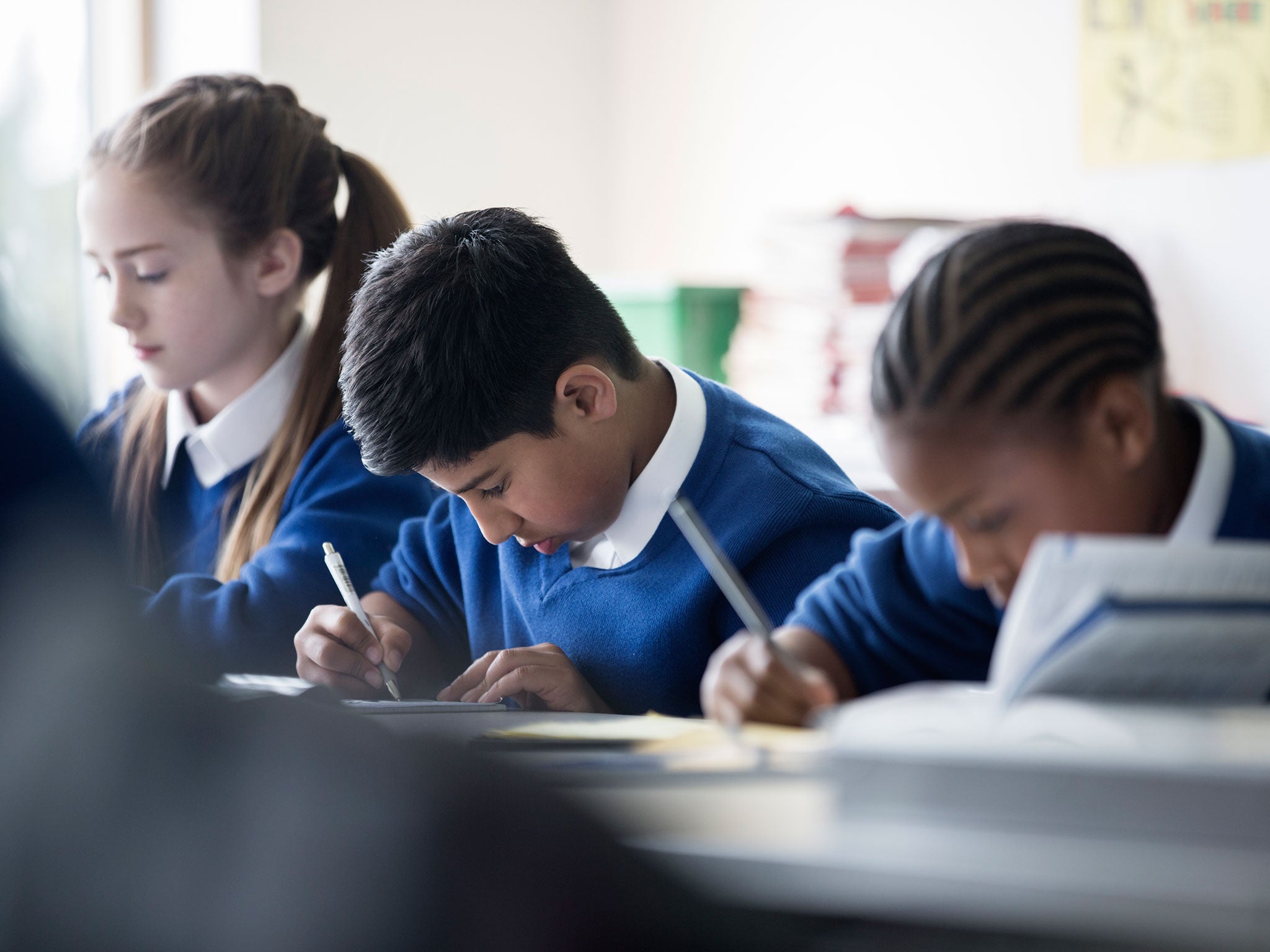 Parents are being told that sick children should sit their Sats tests, even if they need to rely on first aiders for extra support during exams.
As calls for a boycott on the exams grow, parents are urging headteachers to put their "duty of care ahead of accountability data" and to play an "active part in fighting back against this system".
The Independent revealed last month that more than 5,500 parents downloaded a letter which sets out plans to withdraw their 10 and 11-year-old children from the Sats when they take place in a fortnight's time.
Dr Bernadka Dubicka, chair of the faculty for child and adolescent mental health for the Royal College of Psychiatrists (RCP), said it was "unacceptable" for heads to ask ill children to sit exams.
She said that exam pressure can be "harmful" to some younger children, and she added that exam stress has contributed towards rising numbers of young people with mental health problems.
"We have had such a rise in demand for adolescents in crisis, we don't have much time and resource to see younger children that could benefit from early intervention," she added.
Mother Sam Ashton said her "heart sank" when she read a letter from her daughters' head which said all children should take the Sats tests – and even unwell children should sit the exams.
The correspondence, from East Wittering Community Primary School, in West Sussex, said ill children could take the test with a first aider – and a scribe would be provided for children who had broken a limb.
The letter said: "Please let me know at the beginning of each test day if your child is unwell as often we are able to help.
"In the case of an unforeseen injury (eg breaking an arm), we are able to provide a scribe.
"Where it is a minor illness, we are able ... to consider the use of a timetable variation (eg child can take the test, in the presence of a first aider if needed, and then be collected and returned home at the end of the test).
"In exceptional circumstances, schools are able to administer the test outside of school (eg at the pupil's home)."
Ms Ashton, whose daughter is set to sit the exams, described the letter as "horrifying".
She told The Independent: "As a parent it is quite distressing to see that in black and white."
Susan Parker, headteacher of the primary school, said: "Our parents and carers have appreciated the support we are able to offer including extra first aiders on hand if needed.
"I want to make sure parents are aware that I am not allowed to authorise absences during statutory exams but I also try to reassure them that extra support is available if needed."
Natasha Devon, former government mental health champion, also said she had received more calls from primary schools to do work around anxiety. "When you talk to both teachers and parents they say that academic anxiety has now overtaken more traditional concerns like body image," she said.
School leaders are writing to parents insisting that pupils must attend classes during holidays and that children who are ill must sit the tests, campaigners say.
This week Labour MP Emma Hardy asked schools minister Nick Gibb whether it was time to ease the pressure on young children who, she said, were suffering from anxiety because of Sats – which are used by the government to asses schools.
She said: "It is much wider than just an exam pressure when you walk into that room. We are talking about the whole pressure cooker of the entire school environment."
A spokesperson for the More Than A Score coalition – which represents 18 education and parents' organisations – said they are hearing from more parents this year who want to boycott the Sats.
A letter from campaigners – calling on heads to support them with the boycott – has been sent ahead of the annual conference of the National Association of Head Teachers (NAHT) on Friday.
Paul Whiteman, general secretary of NAHT said: "School leaders share many of the concerns that parents have about Sats. But we're making progress by working collaboratively with the Department for Education to look at all aspects of assessment, from primary all the way through to secondary."
He added: "Our members have a statutory duty to make sure all pupils in their schools who are eligible and can sit the key stage one or key stage two national curriculum tests, do so."
Julie McCulloch, interim director of policy at the Association of School and College Leaders (ASCL), said: "ASCL is extremely concerned to hear accounts of high levels of anxiety among children taking Sats. However, the solution to this issue is not to boycott these tests.
But she acknowledged that the "high-stakes nature of these tests can create a pressurised environment which, in some cases, unduly affects children".
A Department for Education spokesperson said: "The tests are intended to help schools understand where pupils need more support and to assess schools' performance. We trust schools not to put undue pressure on pupils when administering the assessments, and certainly not at the expense of their wellbeing."
Join our commenting forum
Join thought-provoking conversations, follow other Independent readers and see their replies