Automatic Covid isolation for school pupils 'to end from September'
Thousands of pupils have missed school because another has tested positive for Covid-19
Ashley Cowburn
Political Correspondent
,
Alastair Jamieson
Tuesday 29 June 2021 09:19 Comments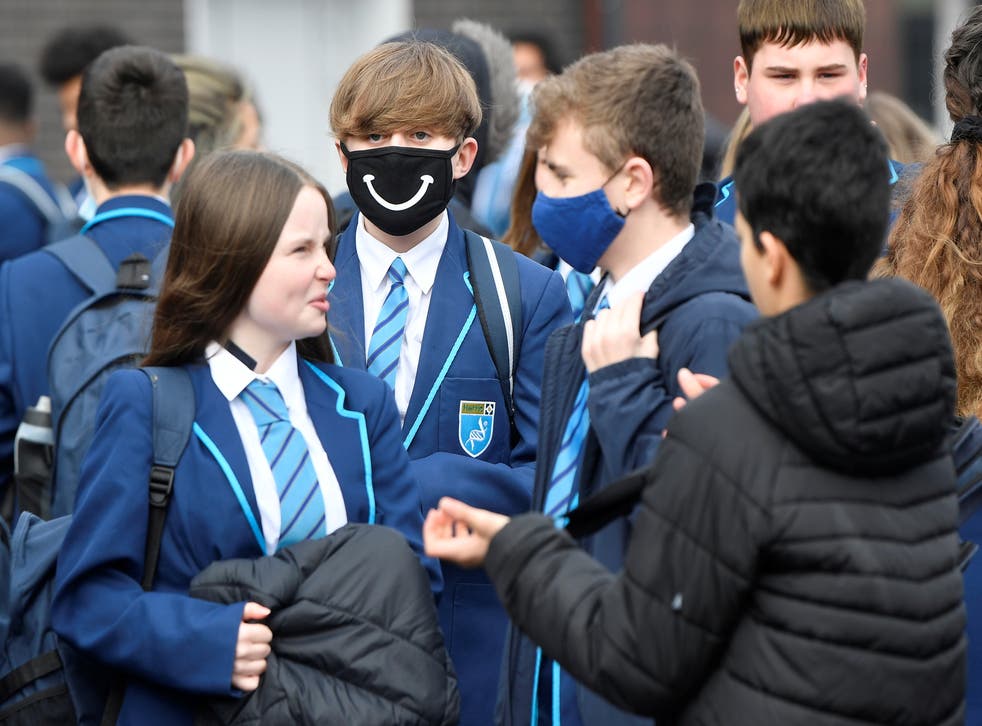 School pupils may be spared from being forced to automatically self-isolate after contact with a positive Covid case under new rules which could come in force after the summer holidays.
Nick Gibb, the schools minister, said on Tuesday that the government was considering using daily testing as an "alternative" to the existing rules under which children are forced to quarantine at home if anyone in their school bubble tests positive.
A quarter of a million children missed school in a single week this month because of either Covid-19infection, self-isolation or school closures.
According to The Guardian, which first reported the plans, the new system will aim to keep pupils in school as much as possible will be in place when England's new school year begins in September.
Pressed on the issue on Sky News, Mr Gibb said the government was currently carrying out trials of daily contact testing as a "possible alternative to self-isolation".
He suggested around three per cent of school children were currently away from the classroom due to self-isolation, saying: "That's lower than the autumn. It tends to correlate with the number of infections in the community."
Mr Gibb added the government will look at the results of the trial and also vowed to make a decision on replacing the existing rules for school ahead of the 19 July target date to end all legal Covid restrictions in England.
"We have to do everything we can to minimise the risk of transmission of this virus," he said.
On Monday, the new health secretary Sajid Javid said he has asked officials for "fresh advice" on the issue, adding that the existing policy is "having a huge knock-on impact" on children's education.
"I will hopefully be able to say more on this as soon as possible," he said.
Their remarks came as Dame Rachel de Souza, the new children's commissioner for England, said the need for children to go in and out of isolation is "a really big issue" and is proving "incredibly frustrating" for pupils and teachers alike.
"With bubbles, I think everybody would like it if we could get back to normal, as soon as possible. Obviously we have to be safe, and we have to take advice, but it's very, very restrictive," she told The Daily Telegraph.
Separately, teachers are being warned to prepare for the return of on-site Covid testing in the new school year – a source of concern for teaching unions. New guidelines on Covid-19 testing were published by the government on Monday.
Paul Whiteman, general secretary of school leaders' union NAHT, said: "Once again secondary schools are being put on standby to set up what are effectively fully-fledged Covid testing centres. The government must not underestimate the scale of this task and the likely disruption for pupils as they return in September.
"At the very least, what we need to see this time round is schools being given the proper support they need and an acceptance that this will take some time to work through.
"It is becoming increasingly clear that there is a strong chance it will not be 'business as usual' for schools next term and the government will need to take into account the additional pressures they will be having to deal with."
On catch-up plans for school children, Mr Gibb also said that a review was under way into how effective it would be to increase the length of the school day to allow children to catch up with missed learning due to the pandemic.
"We know that the best catch up of course happens every day in school with children at school in those classrooms."
"But we're also conducting a review right now of the evidence about extending the school day and time spent in school to understand how that would work, how effective it would be if we were to increase the length of the school day."
Register for free to continue reading
Registration is a free and easy way to support our truly independent journalism
By registering, you will also enjoy limited access to Premium articles, exclusive newsletters, commenting, and virtual events with our leading journalists
Already have an account? sign in
Join our new commenting forum
Join thought-provoking conversations, follow other Independent readers and see their replies