School leavers fear failure more than younger teenagers, says study
The study describes 'worrying discrepancies' in the happiness levels of girls and boys by the age of 18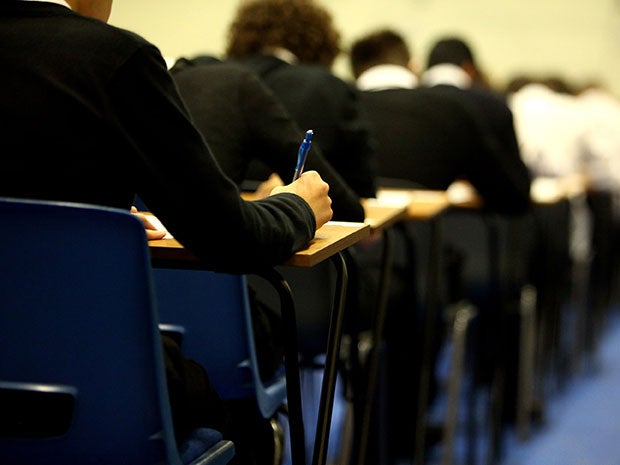 Teenagers are far more fearful of failure by the time they leave school than they were at 14, according to a new study.
They are three times more likely to think their school is only preparing them to succeed in exams rather than life, it adds. A total of 31`per cent believed this compared with just 10 per cent of 14-year-olds.
The study of 1,000 14 to 18-year-olds by the independent think tank, Demos, reveals what it describes as "worrying discrepancies" in the happiness levels of girls and boys by the age of 18.
Only 39 per cent of female students report feeling happy (compare with 50 per cent of boys). In addition, 68 per cent say they feel "prone to failure" compared to 49 per cent of boys.
The school where pupils rate their teachers
Show all 2
It says the Government must take steps to encourage pupils to develop a more confident "growth" mind-set to encourage ambition and increase their self-belief.
It cites the philosophy of an award winning free school, School 21 in the East End of London, which promotes character development as a key issue and says that "the people in school and in life who are valued are those that can show grit and resilience: who can take on challenging tasks and don't give up when faced with setbacks but instead continue to strive to develop".
The report concludes: "School leavers are far less happy than 14-year-olds. Eighteen-year-olds are half as likely to be happy as 14-year-olds at 33 per cent against 60 per cent."
The report says the fear of failure is spread across all classes, adding: "There is little evidence of any significant differences in resilience, happiness or mind-set as a result of socio-economic status.
"Our survey suggested little difference between those receiving free school meals and those not receiving free school meals in these areas."
Louise Reynolds, the report's author, said: "This report shows that mind-sets matter - they can hold us back or propel us forward to achieve more. This insight needs to be applied more systematically in our education system.
"It's time to act to ensure that all young people, including those from disadvantaged backgrounds, have the opportunity to develop mind-sets for growth, both inside and outside of education."
Education Secretary Nicky Morgan stressed the importance of schools concentrating on character building and resilience as well as academic performance during the election campaign - and has initiated an awards system for the schools who focus best on these areas.
Join our commenting forum
Join thought-provoking conversations, follow other Independent readers and see their replies