'Ray of sunshine in quite gloomy picture': Headteachers and pupils on the return to school
'We want to hear laughter in the corridors,' one headteacher says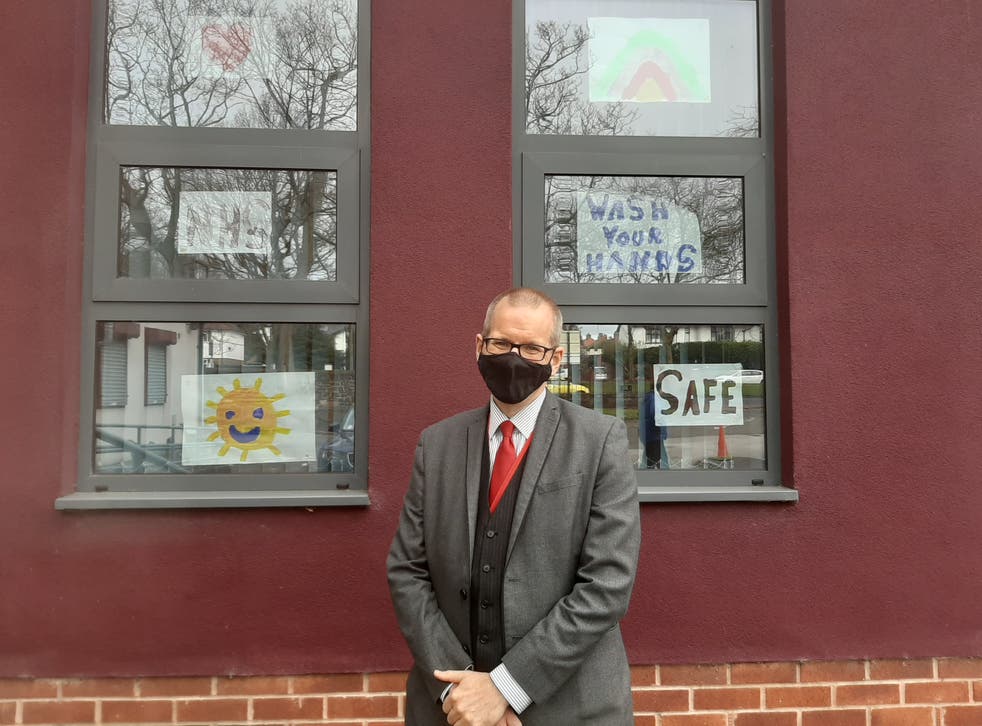 "It's good to be back to normal life," Alfie Skyner-Andrews, a student in Liverpool, tells The Independent.
The Year 8 student, like many others in England, returned to school on Monday after spending two months learning at home, as all pupils were allowed back in the first step of England's roadmap out of lockdown.
"I was excited for today," he says. "We haven't been to school for a long time."
Alex Whittingham, in the same year at Liverpool's St Margaret's Church of England Academy, says he did not feel "excited" as such. It was more about "just feeling normal, getting back", he said.
But while 8 March marked the first step back to normality, pupils were once again adapting to school life during the coronavirus pandemic.
Imran Jjuko, also in Year 8 at the Liverpool school, arrived at school an hour early, forgetting he was only meant to start school at 10am as part of the staggered timetable for different years - introduced last term to limit mixing.
"I had to come back," he tells The Independent, laughing. "I forgot the time I was supposed to be here." 
All pupils in England were allowed to return to class on 8 March, after schools moved online to all but vulnerable and key worker children in early January as England went into its third lockdown over the coronavirus pandemic.
But secondary schools have been allowed to stagger their return over a week, to help them manage the logistical challenge of rolling out mass asymptomatic testing onsite, with all pupils onsite by 15 March.
Oasis Academy Leesbrook, a secondary school in Oldham, is bringing back a different year group each day from Tuesday.
"It's going to be normal again," Subhan Rauf, a Year 10 student who has been in school during lockdown - says. "I'm just looking forward to seeing everyone again."
Even though the school had good engagement with online learning during lockdown, Sarah Livesey, the school's principal, saidshe cannot wait for all pupils to be back.
"We want them back doing face-to-face lessons, we want to hear laughter in the corridors," she says.
Calming music can be heard in the school hall, which is now lined with tables covered in Covid-19 testing kits.
Charlotte Brookes, a Year 8 pupil, told The Independent she did not fancy the idea of getting a test at first, after friends had told her putting the swab up noses felt "weird".
But when school put forward mass testing, she thought she "may as well" go for it, "just to protect everyone".
"It's just another measure alongside other measures we have in place," Gavin Dixon, the deputy principal said, adding the rollout - which uses lateral flow tests - was "not an opportunity to relax anything".
Over the first two weeks of term, secondary school and college pupils are being asked to take three Covid-19 tests on site and one at home, after which they will then be sent home-testing kits to do twice-weekly.
For the oldest year groups at St Margaret's Academy in Liverpool, testing was carried out on the Friday before pupils returned, while the three youngest years got tested on Monday - when all years, except for Year 9, were in back in school.
"We wanted to lose as little learning time as possible," Stephen Brierley, the headteacher of the school tells The Independent.
Bringing back the the majority of pupils on the same day "did not make too much difference", he says, as the school day is "such a staggered existence" - with different start, finish and break times for each year, meaning pupils in different years largely avoid each other.
"I think there's more excitement in the school, but there is still a bit of nervousness and apprehension to being in school, being around a lot of people," Jack Cookson, a Year 11 at the school - which is a boys' school until sixth form - tells The Independent.
He says it is "nice to know we have been tested" but there are still worries about being in close contact with others, and "possibly losing two weeks" of in-person school if told to self-isolate.
As the school - and others across the country - starts their return to normal, headteacher Mr Brierely offers a word of caution. While he says it is "rightly a time to celebrate" and "good we appear to be coming out of things", he adds: "It is a ray of sunshine in quite a gloomy picture."
He is worried people may lose sight of the value of education - having been told to stay away for months - and about getting pupils to catch-up on learning, having seen so much disruption over the past year.
Year 8 pupil Imran told The Independent he was happy about the school return because some pupils "have fallen behind" during lockdown.
"If we're all moving together at the same pace," he says, "we can maybe regain what we lost."
"It is nice to be able to come back into school, write out on a piece of paper, talking to people," Jack in Year 11 says. "I didn't expect it, but I actually am quite happy to come back into school."
Join our new commenting forum
Join thought-provoking conversations, follow other Independent readers and see their replies