Government criticised over 'dangerous' proposals encouraging teachers to 'use reasonable force' to curb bad behaviour
Plans to also reduce teaching assistants show 'shocking ignorance' to their value, union says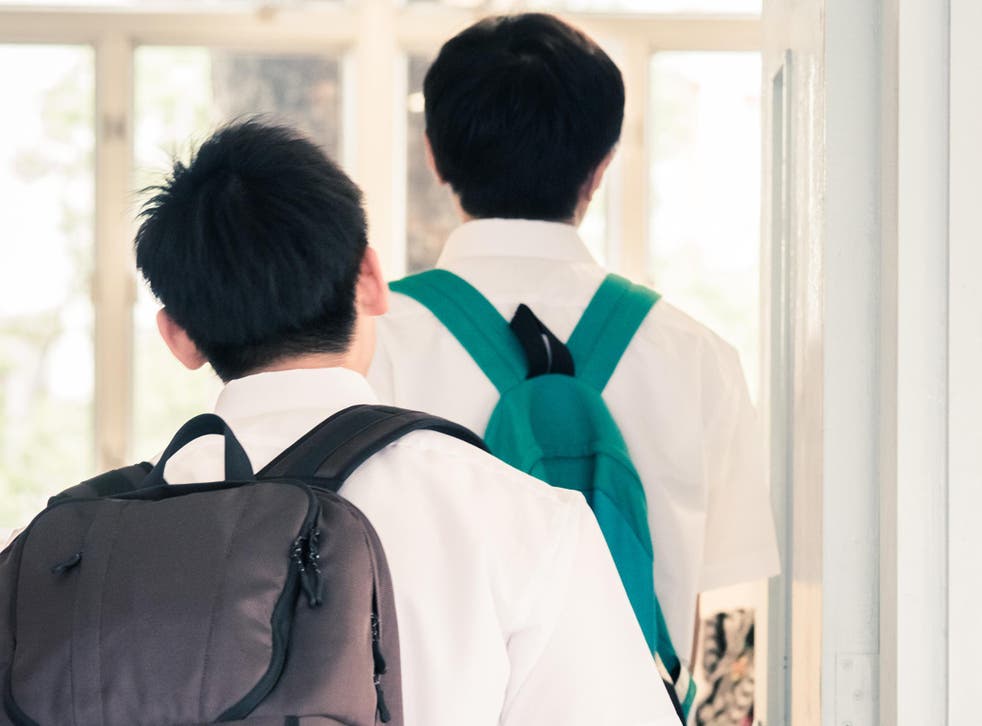 Ministers have been accused of setting a "dangerous" precedent over proposed education reforms that would encourage teachers to "use reasonable force" against unruly pupils.
The plans are part of a suite of measures to crack down on bad behaviour in schools, according to a leaked report.
The largest teaching union in the UK has criticised the proposals – which suggest using additional physical contact – for being ill-defined.
Mary Bousted, joint general secretary of the National Education Union, said: "Teachers and school staff are already able to use 'reasonable restraint', but the leaked proposals of 'reasonable force' implies [more kinds of] physical contact.
"This seems dangerously open to interpretation – what one person considers to be 'reasonable' another person may not. We don't want teachers exercising reasonable force, we want well-disciplined schools which are well funded."
UK news in pictures

Show all 50
A confidential briefing document from the Department for Education, seen by The Guardian, suggests heads will be backed to confiscate mobile phones, issue same-day detentions and exclude disruptive children to tackle ill-discipline.
The number of teaching assistants (TAs) could also be reduced, and more free schools could be rolled out alongside a further push for more academies.
The plan to cut back on TAs has come under fire, with GMB union saying it shows "shocking ignorance" to their value in the classroom.
Geoff Barton, general secretary of the Association of School and College Leaders, said he hopes the focus on tackling poor behaviour in the briefing paper "is not an election gimmick".
He said: "The reality is that most behaviour is already good and that schools and colleges are already safe and disciplined environments."
The briefing note, dated 22 August, includes a £3.5bn funding announcement for schools and plans to increase teachers' basic pay to at least £30,000 by 2022.
The headline figure is broken down into an additional £2.8bn for primary and secondary schools up to the age of 16, including £800m for children with special educational needs and disabilities (SEND).
The details for an extra £800m for sixth form and further education colleges are still under discussion with the Treasury, according to The Guardian.
Academy trusts would be offered £24,000 in incentives to take over struggling schools, and schools rated "outstanding" would no longer be exempt from regular inspections, the leaked paper suggests.
But the Department for Education (DfE) said it did not recognise the "figures" and said priorities would be announced "in due course".
The leaked DfE paper includes a major focus on poor behaviour in schools.
"We will back heads to use powers to promote good behaviour including sanctions and rewards; using reasonable force; to search and confiscate items from pupils (including mobile phones); impose same-day detentions; suspend and expel pupils; ban mobile phones," the document states.
On the funding plans, Mr Barton said: "Schools and colleges will welcome any genuine improvement to funding after a period of austerity which has been extremely challenging and has caused a great deal of damage.
"But they will need some convincing that any funding commitment really does address the crisis and isn't simply part of a strategy for a forthcoming general election."
The leaked paper was also said to contain evidence that No 10 and the DfE had calculated that there are too many TAs working in the education system.
"No 10 and HMT (the Treasury) have been keen to publicly express concerns about the rising number of TAs and set out government's commitment to more effective deployment of TAs being integral to more efficient use of school spend," it states.
The document allegedly advises against going public with the proposed cuts, warning it would "undermine the 'hearts and minds' aspect of the announcement" with parents, teachers, heads and special educational needs and disabilities (SEND) campaigners who value TAs.
Angela Rayner, shadow education secretary, called the alleged details of the briefing "concerning".
She said: "It is concerning that this leaked document shows senior Tories casting doubt on the value of teaching assistants and suggesting that more cuts are on the way, despite the vital work they do, such as supporting children with special education needs."
Rehana Azam, national secretary for public services at GMB union, which represents TAs and other school support staff, said: "Teaching assistants make an invaluable contribution to the lives of often vulnerable children and it is completely out of touch to state otherwise.
"These reported comments betray a shocking ignorance of the value that teaching assistants bring to schools and the communities they serve."
Support free-thinking journalism and attend Independent events
A DfE spokesperson said: "We do not comment on leaks. We will announce further information on our domestic priorities in due course."
The document has been revealed as chancellor Sajid Javid prepares to make his first round of spending pledges next week, with schools, hospitals and police all set for a pay boost.
Mr Javid has now revealed he will deliver a spending review earlier than expected on Wednesday 4 September.
Register for free to continue reading
Registration is a free and easy way to support our truly independent journalism
By registering, you will also enjoy limited access to Premium articles, exclusive newsletters, commenting, and virtual events with our leading journalists
Already have an account? sign in
Register for free to continue reading
Registration is a free and easy way to support our truly independent journalism
By registering, you will also enjoy limited access to Premium articles, exclusive newsletters, commenting, and virtual events with our leading journalists
Already have an account? sign in
Join our new commenting forum
Join thought-provoking conversations, follow other Independent readers and see their replies